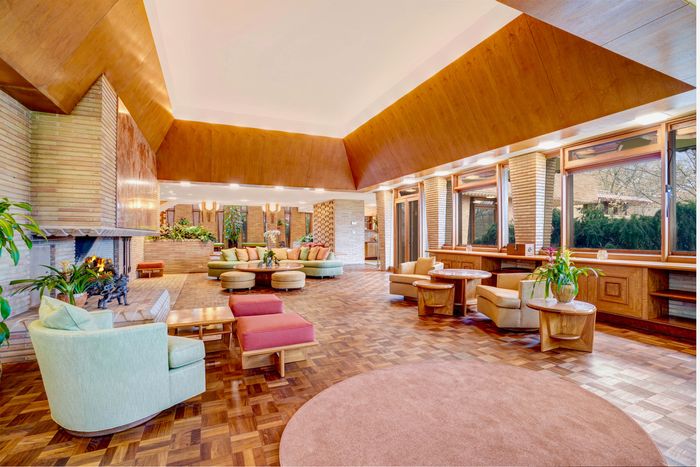 Photo: Visual Marketing and Design
Clothing retailer Daniel Kessler had always imagined living in an original Frank Lloyd Wright house were he ever to make enough money. Unfortunately, by the time he did, in 1966, Wright was six years dead. So Kessler and his wife, Helene, instead turned to one of Wright's apprentices, John Rattenbury, and the firm that was created to continue Wright's legacy, Taliesin Associated Architects, to build their family a home in Maplewood, New Jersey.
On the largest lot on a shady street filled with Tudors and Colonials, Rattenbury constructed a brick design that closely follows the Prairie style popularized by Wright with its long horizontal rooflines, an open floor plan with large terraces off most rooms, and 36 skylights that bring the outdoors in.
In the two-story foyer, sculpted teak ceilings and a grid of square skylights loom overhead, while a 25-foot-long teak pendant designed by Wright reaches all the way down to the billiard room on the lower level. Meant to resemble a tree with wood reflectors as "leaves," the pendant includes 56 teak light boxes with hinges that swing open for bulb replacement.
The terrazzo-floored foyer leads to a sunken living room with an eight-foot fireplace surrounded by Italian marble. Both rooms capture the 1960s so perfectly they were featured in The Marvelous Mrs. Maisel's third season, when the series created its own talk-show dance party modeled after Hugh Hefner's Playboy After Dark. Rattenbury also went all in on other Wright trademarks, like built-in bed frames and shelves, teak parquet floors, and a library with a sunken fireplace and a wet bar behind brass piano-hinged doors.
In a 1986 interview with the Times, Helene Kessler said many of the home's most functional (and interesting) elements were created at her insistence. A frequent criticism of Wright-designed homes is that the kitchen and bedrooms are often cramped or unlivable and have little storage. Not the Kessler home. Rattenbury had to be pushed to build what he saw as an unnecessary walk-in pantry in the kitchen and storage drawers in the built-in dining-room hutches that could accommodate Kessler's oversize silverware. The kitchen also has a fixed automatic flour sifter, and all the bathrooms feature built-in scales and magazine racks. In the foyer, a hidden phone closet swings out from the wall. All of these original details remain.
The house first listed in June 2019 for just under $3 million, and it has been on and off the market — with two price drops — ever since. According to listing agent Ben Garrison, potential buyers in past years felt the house and property were too large, especially in a neighborhood where most of the (much smaller) Colonials go for around $600K. At its new $2 million price tag, the Kessler house is still the most expensive listing in Maplewood. Even at a time when homes in this New Jersey suburb are on average selling for 4 percent above asking, the median sold price remains $766,000. This time, though, the listing includes 66 custom-designed pieces of furniture worth at least $140,000, including side tables, three unique hassocks (small ottomans), and a vintage green Harvey Probber sofa.