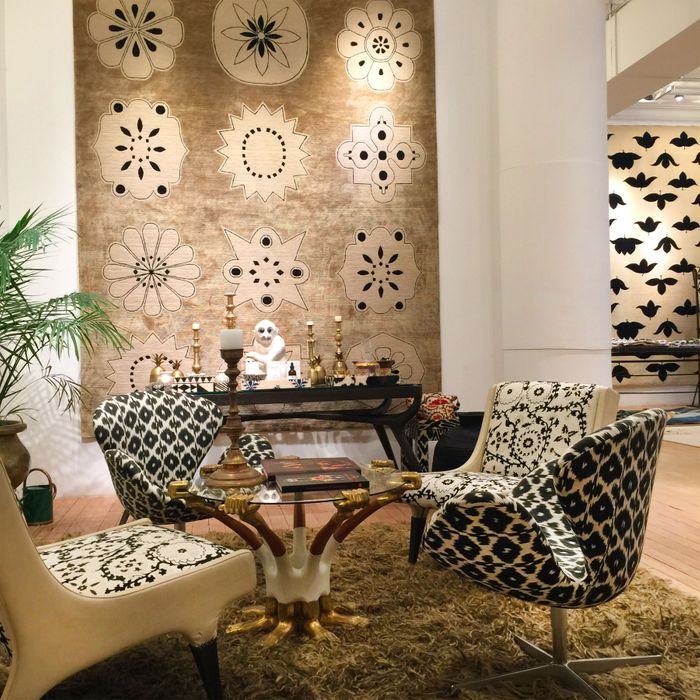 Madeline's Weinrib's New York showroom.
Photo: Courtesy of Madeline Weinrib
I sat with Madeline Weinrib at the table where she works in the corner of her colorful showroom overlooking Fifth Avenue, last Friday afternoon, while she told me she had decided it was time to close her business.  "This has been an enormous decision, and it hasn't come overnight," she said quietly.
Already I was mourning the loss of her glorious feast of handmade carpets and textiles, which she has produced for 20 years since launching her first collection in 1997. "Well, this business didn't really start as a business," she continued. "It was a way to express myself. I am a painter, and when I started with the textiles it grew organically into a business." Weinrib intends to get back to painting, and even though she is closing her showroom in New York and San Francisco soon, she will be opening a studio in New York this summer, where all sorts of creative endeavors will be in the offing.
One can't help but feel this announcement is foreboding, and that it signals the end of an exuberantly creative era. Weinrib's designs were created with artisans throughout the world, and the state of commerce in the world is driving companies that have built niche businesses in specialized hand-crafted products to reevaluate the playing field. The internet has made it all too easy to hijack handmade designs, the making of which takes a lifetime to learn through communities of artisans passing knowledge and technique from one generation to another.
Madeline said she agonized about how she could meet her business needs while staying true to the guiding beliefs she built her company on. "Now if I wanted to change what was important to me, I could do it," she mused. "I could fall into a larger company. I explored all sorts of options, having a larger company run my operation. I explored selling my company, changing the way I produced, but nothing felt right."
The more I listened to this mega-successful entrepreneur, the more I felt that although this closing heralds the end of one phase of her creative output, there will be more to come in ways that even she doesn't know yet. Until then, Weinrib and her office are readying her showrooms in San Francisco and New York for the mother of all closing sales — of everything you have ever coveted. It's one line you'll want to be at the front of along with her fans like Kate Hudson, Miranda Kerr, and jewelry designer Rebecca de Ravenel. Stay tuned.
Below, Weinrib shared some of her favorite pieces and memories of her travels.