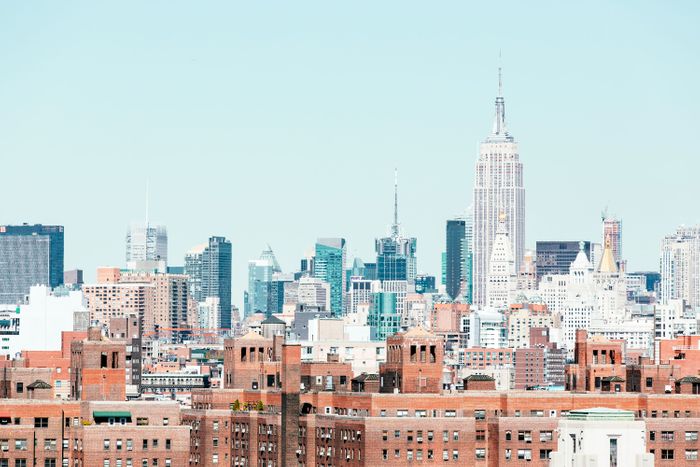 Photo: Alexander Spatari/Getty Images
Manhattan Asking Rents Are Finally (Actually) Dropping
In the third quarter of 2020, Manhattan's median asking rent fell below $3,000 — to $2,990 — for the first time in nine years. The significant drop (down 7.8 percent from last year) is driven by record-high rent cuts, according to a new StreetEasy report. With apartments sitting empty — currently there are over 72,000 Manhattan listings — landlords keep slashing prices as they try to snag tenants.
"Landlords across the city, but particularly in Manhattan, have to be willing to face some really hard hits if they want to fill their units," StreetEasy economist Nancy Wu said in a statement. This past quarter, 44.7 percent of listings were marked down.
The other boroughs also saw elevated price reductions among rentals (30.7 percent of listings were discounted in Brooklyn — a record high — and 26.6 percent in Queens), and a drop in median asking rents year-over-year (2.5 percent in Brooklyn and 2.2 percent in Queens). Wu's takeaway is that New Yorkers would rather live in another borough for less money as they work remotely. But if you've been dying to get — or get back to — a Manhattan apartment, now might be the time.
The Mayor Restores Housing Budget Cuts, A Backyard Pig, and Other NYC Happenings
Like everything else this year, trick-or-treating on Halloween is going to look different: This week, Mayor Bill de Blasio released guidelines for candy collecting, including the suggestion that New York's young ghouls, witches, and zombies stick to the outdoors and avoid entering apartment buildings.
After slashing 40 percent of the city's capital housing budget earlier this year, de Blasio plans to restore about half of those cuts in an attempt to lessen the blow of COVID-19 to his signature affordable-housing plan. The mayor has sought to build or preserve 300,000 below-market-rate apartments by 2026; as of June, only 164,000 affordable homes have been created or preserved since 2014.
Through yet another executive order, Governor Andrew Cuomo has extended the state's moratorium on coronavirus-related commercial evictions and foreclosures through January 1.
The Lightstone Group has filed plans in Mott Haven for what would be the Bronx's tallest building, at 43 stories. Located at 355 Exterior Street just south of the 145th Street Bridge, the developer purchased the site last year for $59 million and aims to build a residential complex with 2,000 apartments, including 600 set aside at below-market rates.
One World Trade Center is reopening its observatory for one day on November 1, and then again the following weekend, on November 7, before resuming full weekend operations come November 14. The typically bustling observation deck will be operating with COVID-19 precautions in place and reduced hours from 11 a.m. to 7 p.m.
A potbelly pig appeared out of nowhere in a woman's backyard in Gerritsen Beach on Wednesday morning and began munching on every plant in sight. The brown-spotted pig, which animal-rescue workers named Peppa, is now living out her days at a Southhampton pig rescue.
If you can't go exploring in lower Manhattan in the flesh, you can still delve into the storied history of the area south of Union Square through the new Virtual Village interactive tool, which offers 36 free, guided walking tours. You can learn about the area's architecture, or discover where writers like Frank O'Hara, Audre Lorde, and Langston Hughes worked and lived.
Fed up with overgrown weeds and piles of garbage on an abandoned Linden Boulevard block, a Brooklyn community board mobilized to clear the neglected area — a site worth $11.3 million.
On the opposite end of the spectrum, a group of Sunnyside residents, a local nonprofit, and a property owner teamed up to turn an empty lot into a composting site.
The Lower East Side's Feline Tattoo, perhaps the city's oldest continuously operating tat shop at 44 years, is closing its doors. Ink aficionados can breathe easy, though, because the artists are relocating to a private studio next door.
Mayor Bill de Blasio's plan to open four new borough jails to replace Rikers Island suffered a setback this week, with the new jails now set to be completed in 2027 — a year after City Hall's original target. A recent ruling in a lawsuit against plans for a new lower Manhattan jail threatens to stall the plan further.
COVID-19 hasn't slowed down 73-year-old James Power, who has continued to tile the streets of the East Village with vibrant mosaics throughout the pandemic. He's wrapped dozens of light poles, stoplights, and stoops in his curbside masterpieces.
The Brooklyn Navy Yard is looking to create a small-business incubator to support Black and brown entrepreneurs and women-owned businesses.
Nearly a quarter of New York's front-line transit workers may have contracted COVID-19, and those who took sick likely caught the virus at work.
Governors Island is inching closer to becoming a year-round destination, with the city pushing forward plans that would pave the way for hotels, offices, and retail.
Thousands more young children living in public housing have been exposed to potential lead poisoning than the city originally thought. The discovery is the latest chapter in a NYCHA lead-paint scandal that was first brought to light in 2017.
Bookworms have a new library to enjoy in Greenpoint. The building is double the size of its predecessor and has solar panels on top and a rainwater cistern below that captures up to 1,500 gallons of rainwater to be used for watering plants.
City-planning officials have released their Zoning for Coastal Flood Resiliency plan, an effort to brace buildings and infrastructure in neighborhoods across the city for future sea-level rise. In a similar vein, the city also released its Where We Live NYC report, a long-awaited road map toward advancing fair housing policy in New York.
Looking for a spot that still develops photographic film? Now you can try out Photodom, a new Black-owned photography store in Bushwick that processes black-and-white and color in all formats and makes prints.