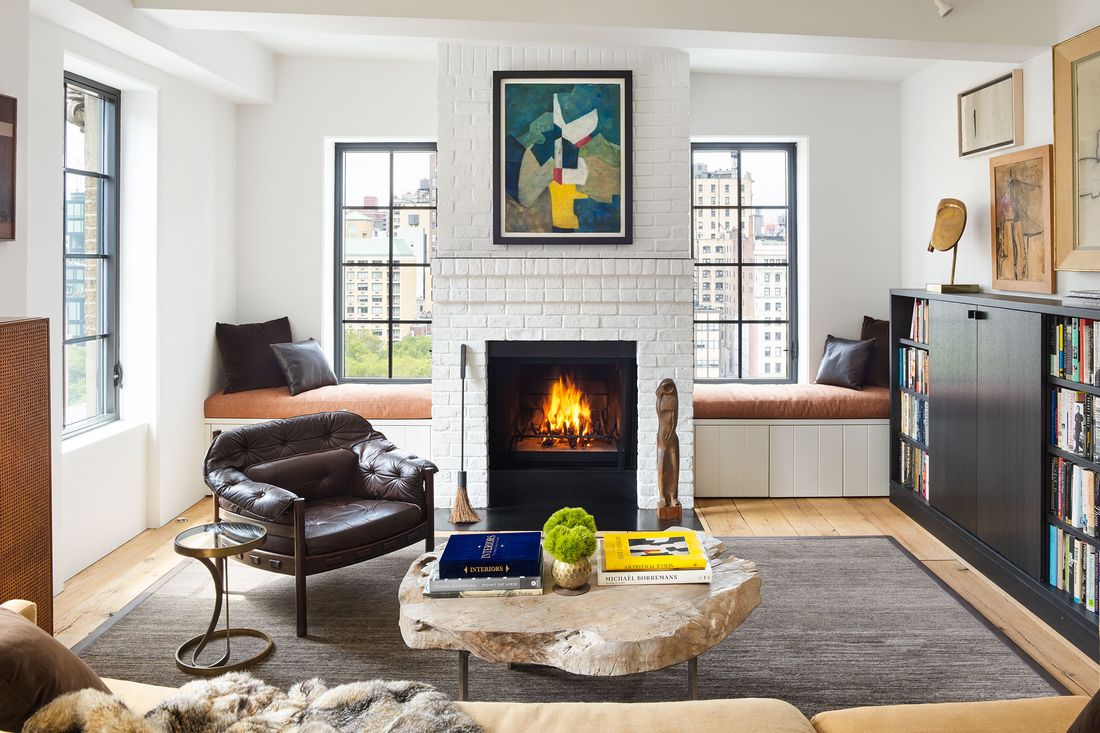 In the Manhattan penthouse living room, Mark Lee's architect, Mark Janson of Janson Goldstein, designed the bookcase, the window seats, and the base of the driftwood-topped coffee table. The '60s leather armchair was found on 1stdibs, and the charcoal-and-pastel work on paper above the fireplace was inherited from a friend.
Photo: Annie Schlechter
One rainy day in 2013, Mark Lee, then the CEO of Barneys New York, was trawling Beverly Hills real-estate sites when he happened upon a listing for a "mid-century gem owned by Dinah Shore, El Retiro Way." "Which I interpreted as 'the Retirement Way,' " he says. "I was thinking of retiring in a few years, so, I don't know, I just thought, That's my house."
Lee, 56, has always been a planner: When he was 8, he signed up for a class before regular school hours to learn French, which certainly came in handy in his eventual career in fashion. He started working for Giorgio Armani in 1988, "a golden period when he dressed the world and most of Hollywood." Then in 1999, at just 36, he became CEO of Yves Saint Laurent in Paris and went on to be CEO of Gucci. For seven years, until 2017, Lee held the high-intensity job as CEO of Barneys New York (though he's still on the board, advising the company through its recent bankruptcy filing). "I had the advantage of big jobs when I was young," he says.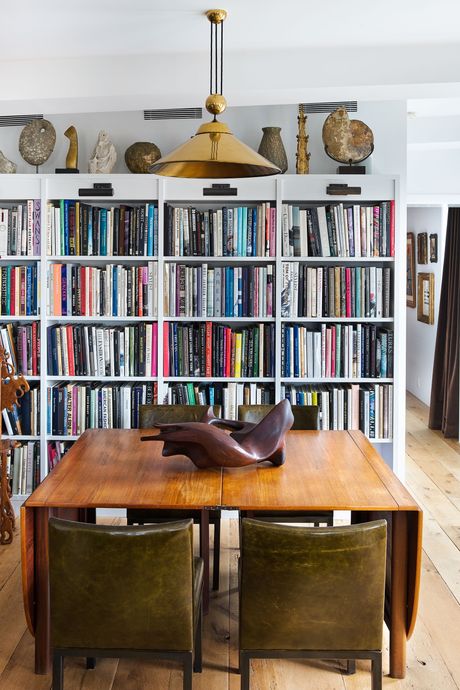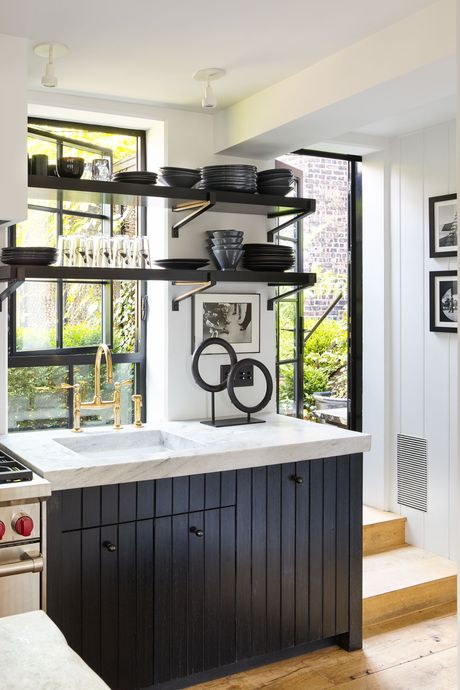 He made the first offer on the El Retiro house before even setting foot in it. (He bought it in July 2013.) After he renovated it with the help of Mark Janson, a partner of Janson Goldstein Architects, who has known Lee since 1991, it became the West Coast outpost of Lee's postretirement life as a theater and film producer. (The play he co-produced in London, The Inheritance, by Matthew Lopez, is in previews on Broadway.) Janson worked with Lee on his house in Bedford, New York, and on every personal project since, including Lee's former London Terrace penthouse and his current East Coast HQ, an apartment near Union Square that feels uncannily like the country in the city.
Lee grew up in San Francisco and started working in retail as a high-schooler, but his true passion was theater. His ambition to be an actor took him to New York University's Tisch School of the Arts in 1980. With the requisite glossy headshot and answering service (before machines), Lee was ready for the auditioning life, but after taking 20 credits at NYU and working full time as a doorman on Sutton Place South, he realized the life of an actor could mean still being a doorman or waiter 20 years down the road while still dreaming of that big break. Lee changed his major, graduating from NYU with a B.F.A. in cinema studies in 1984.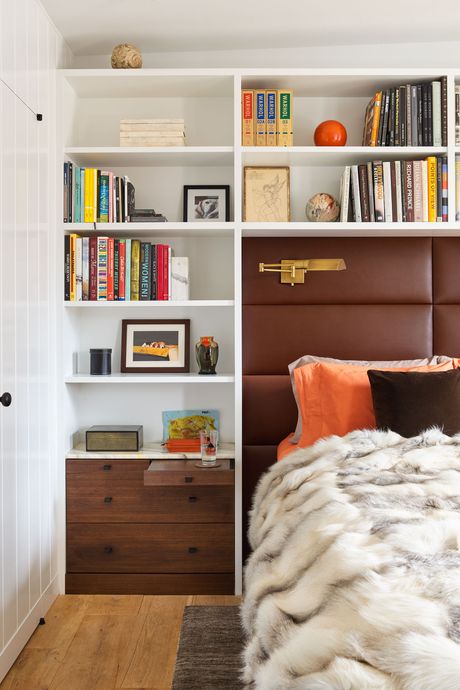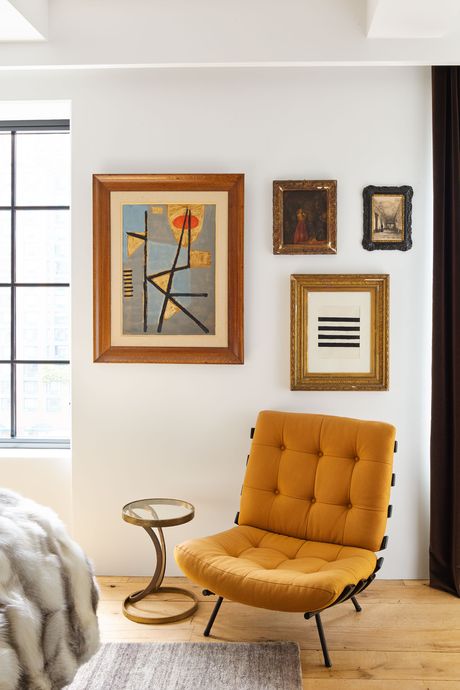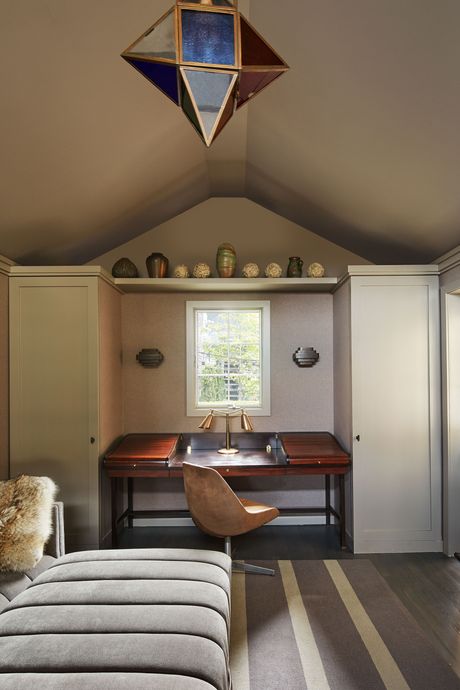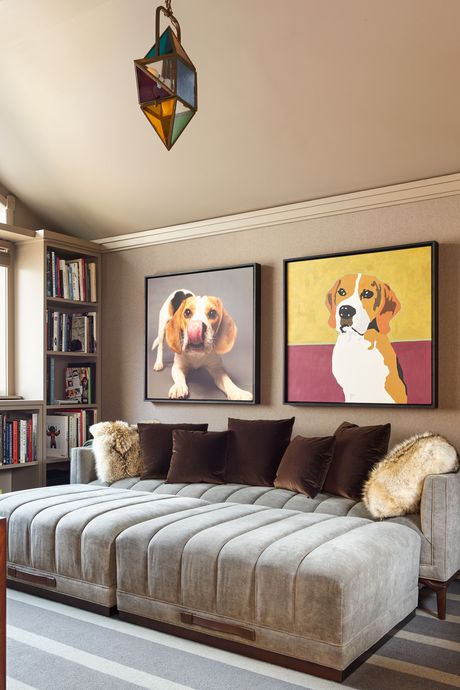 A good part of successful retail is stagecraft, whereby the shopper is made to feel like a star, and Lee and Barneys creative director Dennis Freedman collaborated to make the act of shopping feel like being in a carefully posh movie. Lee's homes are a little like that too.
There were other changes in his life: He and Ed Filipowski, co-chairman of PR firm KCD, divorced. He'd heard about the New York penthouse, with two levels of terrace space accompanying a small cabin on top of a turn-of-the-past-century commercial building, before it came on the market. When it became available, in August 2018, he bought it and moved in this past April.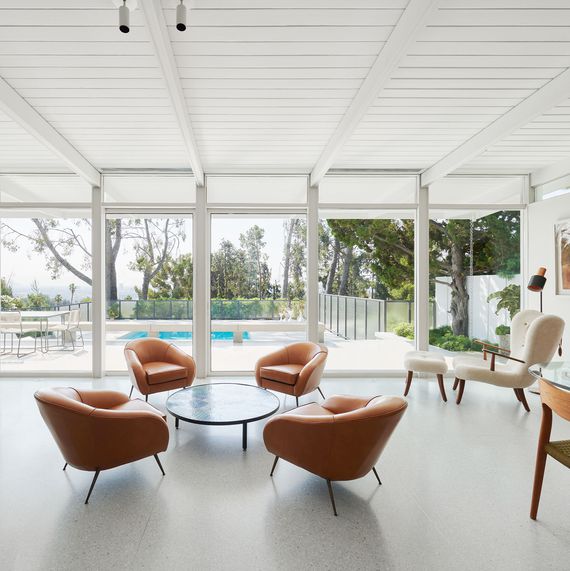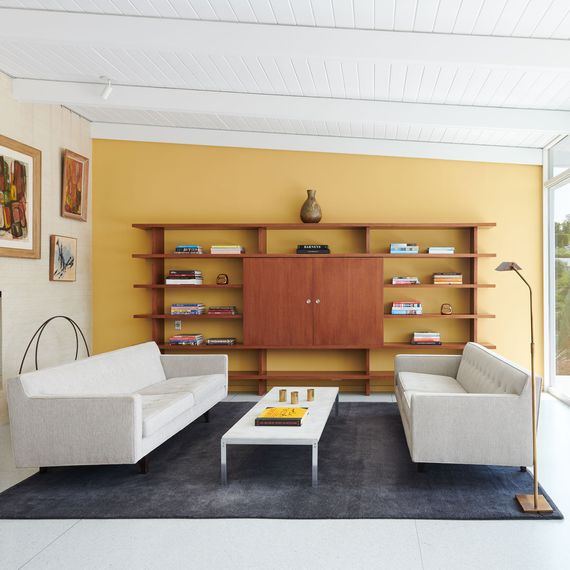 It's a little compound in the sky: In the larger of the two structures, there's a one-bedroom apartment and an open living room, dining room, and kitchen with a fireplace; the kitchen overlooks a terrace planted with lush foliage across from a one-room cabin. The landscaping had already been done on both levels for the previous owner by Harrison Green. Lee uses this extra room as an office and guesthouse. "I really lucked out," he says, "because the former owner did a fantastic gut renovation. It was almost in move-in condition."
In Lee's New York place, Janson's architectural interventions look as if they've always been there, including the newly added window seats, bookcases, and custom bed and side tables. "Mark always falls in love with the essence of the space or the house," Janson says. "Even though he renovates it, he doesn't want to change the spirit of what he found." Janson added an outdoor screening area on the roof for movie nights as well as an oasis of entertaining space. (His firm also designed the new Neiman Marcus in Hudson Yards.)
The L.A. house was a more thorough redo. Dinah Shore, it turned out, had never lived there. She bought the land as an investment in the 1940s and sold it to a young couple she became friends with at the Beverly Hills Tennis Club. The couple built a house on the land in 1955, and Lee bought the house from their adult children, who had grown up there. "The bones were amazing," he says, "but it needed some tender loving care."
Both coasts work for Lee. "I'm a die-hard New Yorker," he insists, despite now spending the coldest winter months in L.A., where the open invitation for his friends to visit has been taken very seriously. "Two years ago, I had 16 houseguests over the winter season, last year a few less," he says, laughing. "It was like running a bed-and-breakfast."
On to new successes: The Inheritance won four Olivier Awards this year, including Best New Play. He is continuing his work producing documentary films with Lisa Immordino Vreeland; he executive-produced The Eye Has to Travel, on Diana Vreeland, and Love, Cecil, on Cecil Beaton, and a third collaboration is in the works. Lee started a nonprofit foundation with Dorothy Berwin six years ago to nurture playwrights. Each year, they select one based in the U.K. and one based in the U.S. for a no-strings-attached cash prize. One of the first recipients, Lucy Kirkwood, wrote The Children, which came to New York after its London run.
The places are highly polished, yes, but designed to be lived in. Dudley, Lee's 11-year-old French beagle, has the run of both, and when the gleaming polished-wood sculpture sitting on the New York dining table is pointed out as looking like a prized Alexandre Noll, Lee says, "I don't think it's real. I mean, it came from the flea market, so …"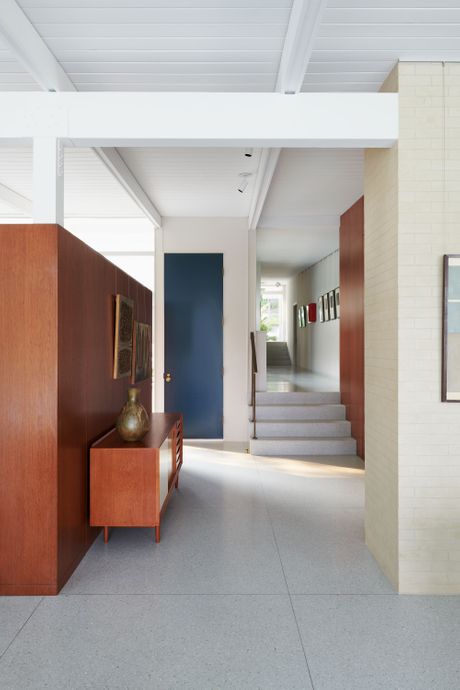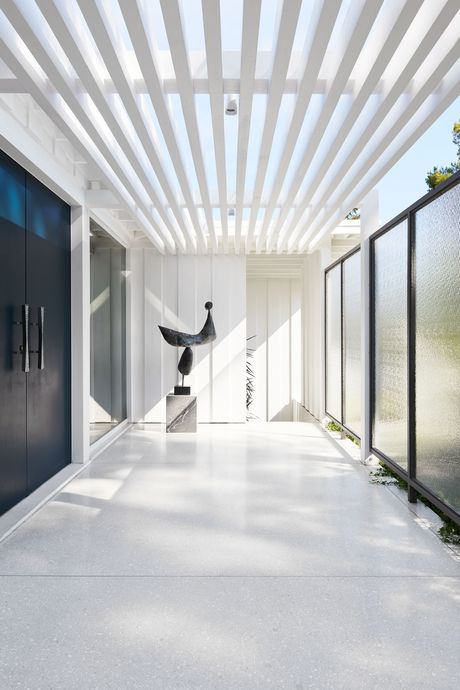 *A version of this article appears in the September 30, 2019, issue of New York Magazine. Subscribe Now!