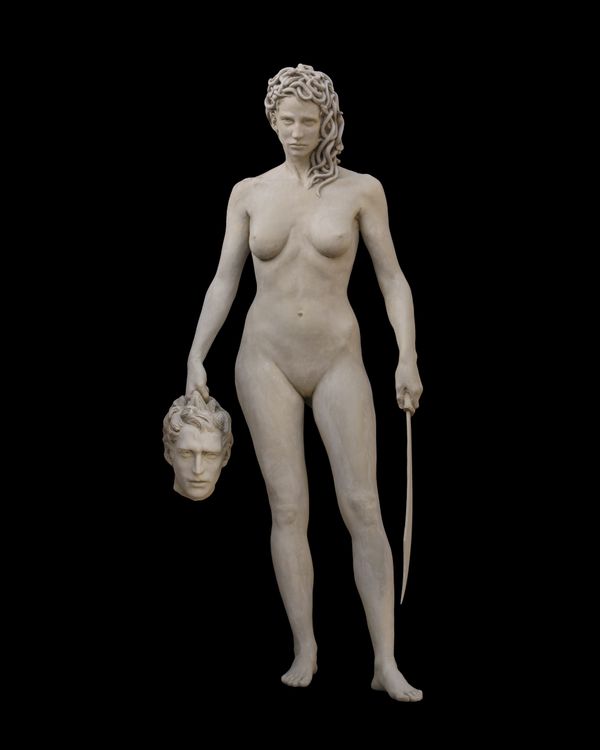 Luciano Garbati,
Medusa With the Head of Perseus
, 2008.
Photo: Courtesy of MWTH Project and the artist
On the good side, the idiotic, generic, realist bronze sculpture of Medusa With the Head of Perseus — a 2008 sculpture by 47-year-old Argentine craftsman-artist Luciano Garbati now installed across from the courthouses on Centre Street — isn't quite as bad as that awful rhinoceros stack that adorned Astor Place a few years back. It's not the overwhelming folly that Thomas Heatherwick's gyros-shaped Vessel is, his public amusement sculpture plunked down in the middle of Hudson Yards.
Public art is hard to do well, unless maybe you're Kara Walker. Still, this explicitly naked, seven-foot female statue with shaved pudenda is still pure crapola and shouldn't be here at all. Placed here by the New York City Parks' Art in the Parks program — an organization that has previously done great work — Medusa is typical of the kind of misguided bureaucracies and good managerial intentions that often result in such mediocrities. Don't even try to figure out why it now stands across the street from the County Criminal Courthouse. This ooh-la-la monstrosity is sure to be a lightning rod for zealots protesting nudity and a co-star in endless selfies.
The artist thinks that this is a feminist statue because it doesn't portray the usual subject — Perseus, the Greek mythic hero who killed Medusa, cut off her head, and used it as a weapon against his foes. Garbati claims that by reversing the roles, having Medusa carrying around the head of Perseus, that this is some radical political act. It is not. The only way this might have been true is if she had maybe been holding his genitals aloft or stomping on his body. As it is, this is nothing more than yet another naked female figure made by yet another white male artist — a.k.a. business as usual.
What about the great craft, you ask? The craft is routine. This is generic casting and modeling at best. Mostly, this Medusa looks like a way-too-big version of all those little models of Michelangelo's David sold at any Florentine gift shop. Or the sculpture this is based on, also in Florence, Cellini's Perseus With the Head of Medusa (1545–1555). As an object, this sculpture is dead, optically inert, intellectually barren. The best thing that may be said of it is that it is fairly realistic. Really, it is conceptual art 101 at its most obvious and simplistic. Anyone who sees the statue, reads the title, and is reminded of the original myth will instantly "get it." That's all there is after that, other than the Playboy magazine–like nudie realism. It's public porn. The press release claims Medusa is in a "moment of soberly empowered self-defense." In the real story Medusa turned men to stone. Here she … holds a man's head. But really she's still the total object of the male gaze here, not of thought, fear, admiration, pathos, power, agency, or anything other than male idiocy.
There is, however, a good thing about this statue made over ten years ago — who knows where it's been along the way —and it's that it will be gone by April 30, 2021. Gone, we hope, with so many other current blights.