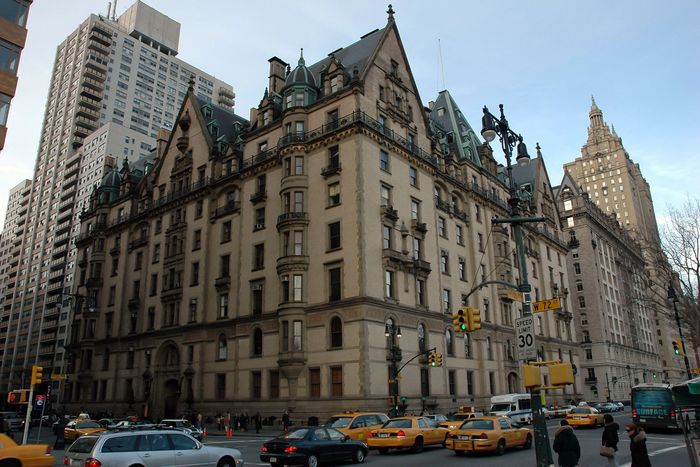 The Dakota scored a C on its energy efficiency grade from the city.
Photo: David Rius/Getty Images
By now, you're probably used to a cursory glance at a letter grade as you step into a New York restaurant or bar. Later this month, you can expect to start spotting something similar in the lobbies of residential and commercial office buildings. By the end of October, large buildings must post A-through-F letter grades issued by the city rating their energy efficiency or lack thereof. Of the some 40,000 buildings required to post a grade, about half have earned Ds.
The grades apply to buildings of 25,000 square feet and larger — anything from, say, a single-story warehouse in Red Hook to a shiny new supertall on Billionaires' Row. They're ranked according to the U.S. Energy Star Score, a 1-to-100 benchmark that looks at data reported by building owners on factors like size, location, and number of occupants. That data must include 12 full months of complete energy consumption, including the fuel burned on site as well as any converted from its original source. Buildings earning an 85 or higher will get an A; 70 or higher a B; 55 or higher a C; and everything else is a D. Buildings that did not comply at all with the law receive a F. If your building scores below 50 (the median), for instance, that means it's performing worse than 50 percent of similar buildings nationwide and would earn a D.
If the grades seem harsh, that's on purpose: They're intentionally stringent, a sort of name-and-shame policy to encourage energy-efficient retrofits. Whether New York's buildings can be chastised into better behavior remains an open question. But the grades are really just a step on the way to stricter rules, with a mandate for building owners to cut their emissions by 40 percent by 2030; they'll have to start taking steps toward that goal by 2024. Either way, as Department of Buildings Commissioner Melanie La Roca put it, the grades are a tool to give New Yorkers a clearer picture of where building owners stand when it comes to building a more environmentally friendly city. "The public has a right to know which large buildings are taking their commitment to sustainability seriously," she said. Here's what 50 of the city's most recognizable buildings scored.
A
Via Verde (96)
550 Madison Avenue (89)
Domino Sugar factory redevelopment (89)
Flatiron Building (85)
B
The Woolworth Building (83)
News Corp Building (83)
220 Central Park South (81)
Empire State Building (80)
15 Hudson Yards (76)
1 Centre Street (77)
444 Madison Avenue (77)
2 Fifth Avenue (72)
C
Chrysler Building (68)
1 Court Square (69)
Citicorp Building in Midtown (66)
The Dakota (56)
1 Manhattan Square (56)
55 Hudson Yards (55)
D
Manhattan House (53)
River House (52)
Trump Tower (51)
McKibbin Lofts (50)
1 Grand Army Plaza (48)
Lipstick Building (48)
4 Times Square (46)
VIA 57 West (46)
555 West 18th Street (45)
Silver Towers (44)
Clinton Hill Co-ops (53)
Macy's Herald Square (30)
San Remo (28)
River Park Towers (23)
Trump International Hotel & Tower (23)
740 Park Avenue (20)
The Osborne (18)
Seagram Building (17)
The Breevort (15)
171 Columbia Heights (12)
432 Park Avenue (6)
The Ansonia (3)
One Hanson Place (2)
New York Stock Exchange (1)
The Plaza (1)
56 Leonard Street (1)
70 Pine Street (1)
The Beekman (1)
F
30 Hudson Yards
520 West 28th
Bloomingdales in Soho
29 41st Avenue
Not Rated
One World Trade Center - Port Authority property isn't subject to city regulations.