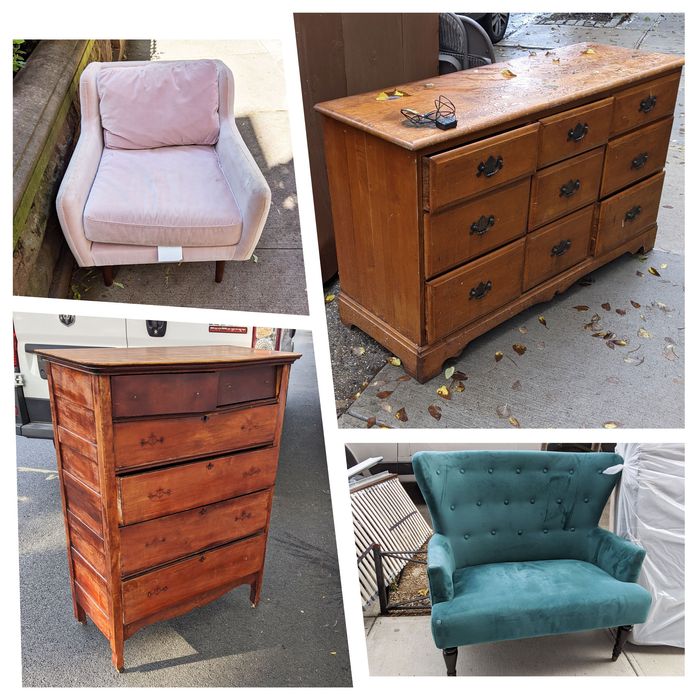 Most everything in Shelby Veazey's apartment, like the white corduroy chair and ottoman that are her go-to work spot, was schlepped from the curb. She spends most of her days scrolling through posts from @StoopingNYC and @CurbAlertNYC of antique dressers, velvet couches, and tables and chairs of all shapes and sizes that New Yorkers have abandoned on the sidewalk — items she's helping to bring to other people's apartments. As the 29-year-old sees it, the streets are a furniture buffet, with thousands of dollars worth of home décor out there for the taking. And lately, there's even more than usual lining sidewalks, with people relocating out of New York or upgrading their cramped apartments due to the pandemic. It's really an issue of access: Most New Yorkers can't hop in a van and lug a 300-pound armoire back to their place at the drop of a hat, or simply don't have the luxury of going on a cross-borough goose chase for a stunning settee that may have already been snatched up. That's where Stoober comes in.
Veazey, who has worked as a sustainability consultant, founded the "stoop to stoop" service in September, which offers flat-rate deliveries of items left on the curb straight to your doorstep. Large pieces like sofas and cabinets are $40, while small items, like stools or mirrors, go for $30. Practically from day one business was booming, and Veazey is now a one-woman band, driving around the city scouting and delivering items from morning to well after dark in her white, Stoober-branded van. She'll easily receive 300 messages a day requesting pickups, usually either forwarding her posts from one of the city's stooping Instagram accounts, or asking if she can grab something they've found themselves. Veazey also scoops up plenty of finds she spots while driving throughout the city, and sometimes, people will reach out with items they're looking to get rid of. No matter how they make it to her, she'll advertise the finds on her Instagram Story and deliver them to the first person to shoot her a message. It's a relentless, thrilling grind born out of a desire to keep old furniture out of landfills and give them new life in New Yorkers' homes. Here's Veazey on a week's worth of her finds and where they ended up:
Wednesday, October 14
I started in the Upper East Side because I think it's Monday, Wednesday, and Friday that are their bulk pickup days. Typically, when I'm going up there it's mostly for dressers. Then I was hunting for this couch on the Upper West Side posted to @StoopingNYC. It's like a green, velvety couch. It looked beautiful and I didn't think anyone else was going to be able to pick this up. I didn't realize how much it was going to weigh. It was probably over 1,000 pounds. It was huge. The legs, the support — it was all steel. So, I parked in the middle of the road and tried to lift it onto my dolly. Luckily, there was a man who saw me struggling a bit and said he has one good deed that he does every single day; he helped me get that into the van. A woman had seen me post it pretty much immediately and claimed it. She's in Williamsburg and I was able to be there in about 30 minutes to her service elevator, which it just barely fit. It was in great condition, beyond missing one pillow in the middle.
Then another woman asked me if I'd come to the Upper East Side, and I said absolutely, I'm on my way. When I got there, she was sitting on this transparent seat on the street. You know, a pretty normal-looking transparent chair, kind of cool, kind of modern, and later she found out the actual value of it was like $2,300. So that's pretty awesome, and she got it to her doorstep for a good 40 bucks. There was also this dark-wood dresser. It was really a gorgeous piece that ended up in Park Slope with a first-time stooper who just moved to the city. He didn't have any furniture. This was his first buy. Then I had two deliveries in Queens. I delivered an old antique dresser cabinet; that one was pretty amazing.
Thursday, October 15
After an early delivery in Harlem, I drove around the neighborhood and then I went down to Soho. I went along some side streets in uptown to see if there might be anything along the way but didn't find anything before getting onto the West Side Highway. I ended up in Soho, where I was looking for a cup of coffee, but instead stumbled upon this really nice desk. I didn't even end up getting another cup of coffee because I was so excited about it. I kind of can't stop stooping. The desk was a double layer, wooden secretary-style desk, in great condition, beautiful wood. It didn't seem like it had been out in the rain too long.
Then I had a personal pickup again, this was in Midtown, and it was for a dresser. Just a normal sort of Ikea dresser that was going directly to that person's new home. I picked it up, was able to grab a kitchen cart on my way, then I headed to deliver it to Williamsburg. I made the delivery, went to Greenpoint again and found another dresser. There's a shocking amount of dressers like this: old, nice wood, intricate patterns. I'm just not sure why people are throwing them out. Maybe it's time for modern furniture?
Friday, October 16
I headed to Bushwick, where I had seen a beautiful couch that had recently been added to @StoopingNYC. I didn't think I was going to get this, but I thought, I'm going to try. And I get there and I drive down the street and I'm already feeling the disappointment — but, I saw it. Thank God. So I muscle up in my van and get it up in there, and then as I'm closing the door I see two guys walking down the block with their phones in their hands definitely looking for something. I felt a little bad about that one. But I just drove away. It was a black leather, mid-century modern couch. So nice. The seat, the full legs, everything was just in great condition. It was funny because I actually saw on the post that somebody, I assume it was those two guys, they actually posted "claimed" on it, which of course they did prematurely. That would have probably deterred a lot of people and it may have even deterred me had I not been near it. Thank God I went for it.
For me, it's a fun game. It's tough sometimes to make the bet of if I'm going to get something or not. If it's a large item, I have more hope. When I get there and I see it, it's excitement and then relief. That's when the reality sets in of, okay, this is big and I have some work to do. That's what happened with this couch in Bushwick. But I was able to throw it over my shoulder. I delivered it to someone in Bed-Stuy who replaced their old couch.
Then I headed to Williamsburg and found some great stuff there, like this teal velvet chaise lounge. It looks like it would be something that's really comfortable to lay on but it's like made for a child, which I didn't know until I got there. I posted it and said, "Do you have a kid that goes to therapy from home, or a dog?" And the person who ended up getting it, I later delivered it to her in Park Slope, got it for their dog. I thought it would be a huge win, and it was — for a dog. From there I stayed in Williamsburg for a little. I picked up a black leather chair with curved wooden arms. It almost looks like a rocking chair. I sat in that for a little bit while I was finishing my Instagram messages.
Saturday, October 17
Saturday was a really good day. I spent a lot of time in Queens. @StoopingInQueens had a lot of posts that day, I think. I was able to get a nice desk, a cabinet, and a dresser, and also a chair that honestly looked like a throne. It was a beautiful golden yellow with intricately designed wood. It was a gorgeous piece and extremely comfortable. This one had a very fluffy cushion. A lot of that day was just delivering the stuff I got from Queens that morning.
The woman I gave the throne to was up in Hamilton Heights so it was another big hike. This was actually the second time I was getting her something, and I asked her what her home design was like because sometimes I get items for people and I can't imagine how this went with the past item I gave them. But she said with quarantine happening you might as well make your home as comfortable as possible.
Sunday, October 18
Sometimes I bring my dog with me, Brutus, but I call him Stoop Dogg, like Snoop Dogg. He's a pointer pit bull. So I picked up my dog and he and I went for a good enough ride around Brooklyn, and we stopped in Clinton Hill. The things posted in Clinton Hill are always so gorgeous, I just only had luck one time. I don't know what's going on there. They're very quick. Weekends are typically easier in terms of driving just because there are fewer people on the road it seems, but it's harder because there's a lot more people out getting items.
There was this beautiful sectional in Cobble Hill. It was like a tweed couch with wooden legs. I got it, took a video of it, and it was gone in like 10 or 15 seconds. Something like that, that's a big item for $40, I can assume people would chomp at the bit for that. I made the delivery almost immediately. She was in the Bronx, but I don't service the Bronx. She asked me to drop it off at her mother's place, which was in Bushwick. I went there and met a New York City hero; she's a nurse. Nice woman. She had no idea where I was coming from. She had no idea what was happening except that she was getting a couch.
I made the delivery of the sectional and then I took another couch to Ridgewood. The woman said she was moving out and that it would fit really well in her new space but we couldn't get it through her door. She's in a brownstone so it was just sitting right on the side of her house. I think she said she was going to cover it with plastic until she moved. I hope she's able to get it inside of an apartment at some point. That's not the first time that's happened. People are adamant that the item is what they want and eventually they're going to be able to fit it in or someone is going to shove it. It's funny because I had found that couch on the side of the road with a note that said this is entirely new, entirely free, and the other part of the note said we just can't get it in our door. It's funny that it went to another person who couldn't get it in her door.