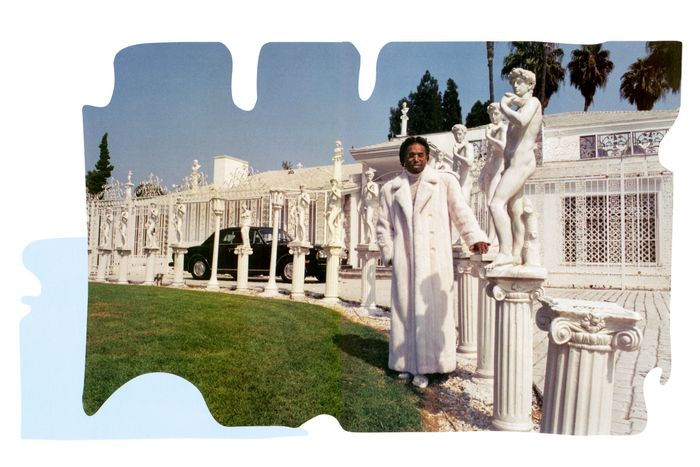 Norwood Young in
Nest
magazine in 2002.
Photo: Courtesy The Best of Nest, by Todd Oldham. Published by Phaidon Press, 2020. Text: Lisa Zeiger. Photo: Harold Becker.
If you lived in Los Angeles between the mid-1990s and 2011 or so, you will likely remember Youngwood Court aka the House of the Davids, in Hancock Park. Its owner, Norwood Young, drew ire from neighbors when he bought the place, removed a row of juniper trees, placed sixteen statues of Michelangelo's David on column pedestals in the yard (there twenty of them all told on the property) and painted the whole thing all stark white. In the same neighborhood where a cross was burned in Nat King Cole's yard, it was impossible not to see racism afoot when the neighbors filed a court case against Norwood's home improvements. TV crews showed up at his door, and Johnny Cochran called and offered to defend him.
The day before Norwood Young was interviewed to be featured in Nest, the beloved and eccentric "magazine of interiors," he and his assistant were shopping for Halloween decorations for a last-minute blowout he'd decided to host. He dropped about $15,000, he recalls, but before he could leave the store, they had been handcuffed and taken to the local police station. Someone had called the cops on the king of Hancock Park because, he was told, he met the description of someone in the area doing credit-card fraud. Young estimates he lost nine hours to that incident, crucial party-planning time and he'd always thrown big parties. He barely had time to give quotes for the Nest story.
Back then, the successful soul and R&B singer was living large — spending $35,000 a month or so, he recalls today — throwing lavish parties and customizing his home precisely to his taste. At some point, Norwood realized he had strayed far from his "me," as he puts it. While coming to terms with childhood trauma, he went through a healing journey, reversing multiple plastic surgeries, writing a book, Getting Back to My Me (according to Amazon: "The true story of a former Star Search contestant. A man who seemingly had it all …") and selling the 5,000-square-foot house that had taken his attention — and his fame — away from his music.
He's since moved to Bangkok, where his next venture is the Hollywood Soul Supper Club. "At home, I'm a dime a dozen — not in terms of my journey, but in terms of soul food," he says. "In terms of great singers. So my idea would be okay at home, but it wouldn't have as much punch. So there's a whole other section of the world that I'm educating based on my journey. That's the most gratifying thing in the world."
So how's Bangkok? Why'd you move there?
Bangkok is the perfect place in the sense that it's very metropolitan. In certain areas it keeps its authenticity, which makes it beautiful, but then there are various areas in town that are reminiscent of New York City, of Los Angeles. The best of both worlds.
I decided to change permanent homes, permanent addresses, while I was doing a residency in China. A friend of mine was there already, so I decided I would come in two weeks earlier, stay in the apartment with her, and I could pretty much crash her gig, and record various duets. When we were sitting in the apartment one night, I said, "You know I really don't want to go back to the United States. My lease is up in three months, so I've got some quick thinking to do."
I said, "Let's move to Hong Kong." She says yes. So I did my research, and it dawned on me, Hong Kong is one of the most expensive cities in the world, so I said to her, her name is Donyale Renee, I said, "Donyale, Hong Kong is not a good choice, my dear, we might last two months." So we laughed at that. And she said to me, "Well you know, I lived in Bangkok for about three months, and I think that you would like it," with the exception of heat — because I used to hate the heat. I got over it very fast.
There's nobody here doing what I do, in terms of authentic soul music, and then I may cook as well. There are no celebrity artists here, American artists — Black anyway, so I could be a big fish in a big pond. For me, I realized that I could do what I love to do — I could sing for my supper — but to create a place where I can exploit the authenticity of the culture of soul. Here, the soul culture is emulated, not extremely well, which means there's a desire for it and a love for it. So I decided I was going to create a brand, which I've successfully done, called Hollywood Soul. I am the Ambassador of Soul now, here in Bangkok. So I've created not only a brand, but a niche.
Hollywood Soul will be consciously aware and the catalyst for keeping Bangkok in tune with the soul culture. Meaning, when the crap went down with [George Floyd], my second Hollywood Soul was Hollywood Soul United, because I am one of the black leaders of the community here, of course — I'm working with Black Lives Matter here. So not only am I teaching or exposing them to the soul culture, but I want to be the catalyst of understanding that soul is about feeding, soul is about giving, soul is about nurturing.
It sounds like you have more freedom in Bangkok to be yourself.
The thing about Bangkok is that no one knows about Youngwood Court, no one knows about my house, no one knows about shit outside of the fact that I sing and I give, and it is the most rewarding feeling in the world.
I guess my teenager years to my early 20s, there was never a struggle, but it wasn't as easy as it became. So the lifestyle of the Rolls-Royces and the Bentleys and the furs and the jewelries and the big house and the blah blah blah blah blah, also came with a whole bunch of other stuff — not knowing about the authenticity of people. What it came with was, not selling my soul but jeopardizing, just not being a full person.
I went from spending over $35,000 a month in staff, in car notes, a mortgage, to maybe spending five grand a month, or under, and living well. I pay my band, my phone bill, and my light bill, and I'm done. [Laughs.]
Do you regret your L.A. lifestyle at all, looking back?
It wasn't to be ostentatious. It wasn't to be anything other than making myself happy and making other people happy. Despite everything I don't regret anything because I created it a whole bunch of memories that people otherwise wouldn't have. So I am grateful for that. Nobody else did that. But in terms of getting older and knowing what's important, and … it just came with a lot of stuff. And being honest, there were more good times than there were bad. I created some amazing relationships, I did some amazing things, but at some point, things have to evolve. So I have zero regrets. Zero.
So you don't miss America?
The United States as a whole is unfortunately, the vibe isn't positive. I thrive on positivity. I thrive on no stress. I thrive on life. So as a Black man in America, the journey and the experiences are totally different. As a Black man in America, you constantly live in anxiety. For instance, if I'm in my car, which happened to be a Rolls-Royce, or a Bentley, if I'm one of my cars and the sirens go off behind me, the anxiety goes through the roof for no reason. All my papers are intact, everything you see, and then fear sets in — are they gonna beat me up, are they gonna put knee on my chest, I can't live my life on a daily basis like that. God did not want — I wasn't created for that.
It was just a culmination. Many things happened at the time in L.A., but at the time I didn't realize that they were racist. It did, but it escalated. For instance, when I bought my house, that whole history of them wanting to kick me out [of Hancock Park], was racism — blatant.
And you had an incident where you were shopping at the Halloween store and got taken in by the police — which happened right before the Nest interview?
My assistant and I were shopping at the Halloween store because I woke up on the 30th of October one year, and said, "I wanna have a major Halloween party." So we went to the decoration shop, and I don't know, I dropped maybe $15,000 something actually ridiculous, in the decoration shop, and as I'm leaving, cops are meeting me in there, handcuffing me, and my assistant, and put us in a car. I'm like, "What do you — what's going on?" What ended up happening was, the cashier or somebody in the store, called the cops and said that I met the description of someone else who was doing credit-card fraud or what have you. Whether it be true or not, you have to ask me, you have to run my stuff, and they took me down to the station, myself and my assistant for like nine hours, and me and my crazy self I was more pissed that they took nine hours away from me planning my fuckin' party. [Laughs.] I can't lose the light! I gotta have these pumpkins lit!
So I did have incidents but because I'm such a positive person, it didn't affect me as much. By the same token, I had the luxury of being out of the country a lot. I had periods to exhale, and because of where I lived, I was in a bubble. What I do know is that whenever I'm home, I go back to the black man's experience. There's always a feeling of fear and anxiety, which means that everybody's energy is based on fear and anxiety. So the overall vibe in America wants to be positive but it's always a fight. You always have to fight. And I'm sure every country has their own shit, I am sure of it. But here, it ain't my plight. I'm in solidarity, but I'm not in it anymore. So from a selfish standpoint, I had to remove myself from the darkness.
The other thing about being here and being in other countries: The culture is so appreciating. For me, if it's for two hours of me walking into a building, being treated like the king I'm supposed to be treated like, appreciated like the king I'm supposed to be appreciated, and come home, I can live like that. I am living like that.
Are there drawbacks to being an expat?
So there are disadvantages — language and communication disadvantages, but they're not horrible.
My aesthetic is marble, is crystal, is brocade, so the things that I really really really love here, aesthetically in terms of interiors, exist but if you have to import them, it's ridiculous. And I like to do custom stuff. That's expensive within itself. The creative process in terms of interiors is way slower, maybe even like six months to a year slower. What it does, it forces me to find a new aesthetic or another aesthetic or blending aesthetics, so for me, it's teaching me a whole new level of creativity.
How is your current place?
It's very close to my ideal, but my ideal has changed. My living room and my dining room and my kitchen are marble, white marble. Most of the condos here are furnished. I found my [first] condo online before even coming here. I hadn't even seen it — I just knew I was out of America. So I did the virtual thing, and, Yup, like it, like it. The disadvantages to that was I felt like I was in a hotel room. It was beautiful, it was big, but you know I felt like I was in a hotel room for a year. It was not Norwood-ized, at all, so I knew that it was part of the process. You couldn't hang anything up on the wall — it was just like a hotel.
Where I am now, there is a little more leeway, all the furnishings were very minimal so I could Norwood-ize a bit. It's not as opulent but it's definitely very personal. My headboard has a rhinestone crown on it. I have various fish tanks, and my dog. It's very me but it's just so scaled down. It's opulence meets earthy, if you will. And you know what, and I'm looking at it now, It's who I am. It's who I am now.
I still have my addiction to clothing, not as bad but I still have it. When my lease is up this damn time, I'm gonna go to a home that affords me the space that I need. My addiction is bad. [Laughs.]
How is the club decorated?
When I get into the interiors for my club, it's gonna open up another world for me aesthetically. Just because, by divine order, I'll know who the workers are who create furniture and things like that, so I'll be able to custom stuff. So just getting my feet wet first of all, just adjusting to the new lifestyle, then I can tap back into the other parts of my creativity. My club will be Hollywood all day long because Hollywood Soul. I don't want my club to look like everything else that's here. There's a lot of clubs here that try to emulate like Vegas clubs. My aesthetic for my supper club will be soul, but it will have an old Hollywood, Art Deco-slash-soul feel. And that's not here. So it's giving them a taste of what home is, of what Hollywood is. So I'm mixing who I am.
Do you remember much of the Nest interview?
Oh baby it was one of many. But I vaguely do remember being extremely excited about the Nest experience. One because it was also during the time that I was going through crap with my neighbors, and I wanted to be able to stick it to em. So that I remember.
Even when I was in the fight, and it was racism, because it wasn't physical, I'm down for a challenge, so it was horrible, it was disgusting, whatever. For me it was more of a me-against-them thing; it made the stakes higher for me for fighting. And when I got the call from Johnny Cochran, I was like, "Shit let's do this thing, let's go." Because literally there was nothing they could do. They had already burnt the cross in his yard … [Nat King Cole]
The racism in Hancock Park was just a facet of my move. My move was not based on racism, my move was based on me losing myself. My need — because I'm gonna survive through racism, let's roll — I can't survive if I don't' know who I am. I can't survive if I don't have me. So my struggle and my move had less to do with racism than it had to do with self-survival.
Tell me about the fight with the L.A. neighbors. They were mad that you cut down some trees to install the statues?
One day there's 24-foot juniper trees in front of the house, and three days later, there's no trees, there's no barriers. Because the way the trees were, you didn't even know what the house looked like. So you come home and it's all barren and it's these naked statues of David, what the hell? So the neighbors started complaining, and they filed court charges. When the court papers went public is when the press came. So they started it.
Getting rid of that house then was a very good thing for you.
The plastic surgery was caught up in that life of Youngwood Court. It was still a part of that journey, a part of that memory. So when I decided that I had to get back to my me — because my me was prior to the plastic surgery and being caught up in the Hollywood situation — that was the spiritual cleansing. So when I decided to live in my truth, my truth was: Bump this house, bump all this stuff that goes along with it, if it's not true. That's when I had all the surgeries reversed.
What ended up making me happy is the decision to sell my house, and the decision to just leave. I wrote the book and all that, before I sold the house. That was part of the process. The book was the apology letter to myself and then being transparent with the world about the plastic surgeries and the why. It was based on an illness. Basically it was self-mutilation to my face and not my wrist.
When I lost my me, I created a new one based on other stuff, I just created this whole other. And it became convenient because the money was coming in, so I allowed it to take away my me. And when I decided to find my me again, everything had to go. Because I had to get back to my music and back to my stage.