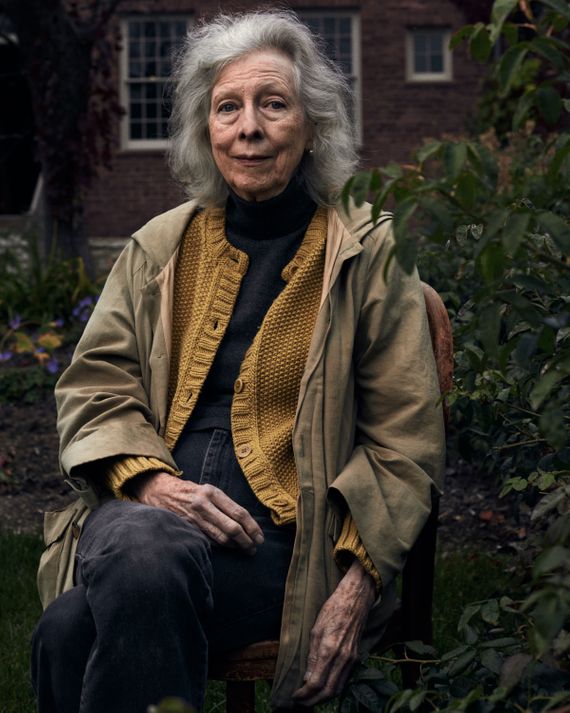 Christabel Gough
will
protect your cornice.
Photo: Frankie Alduino
Aside from its summer recess and until the global pandemic forced it to relocate to Zoom, the New York City Landmarks Preservation Commission — a group of architects, planners, historians, developers, and members of the public — met three Tuesdays a month in an uninspiring conference room on the ninth floor of Manhattan's Municipal Building. The temperature in the room was never quite comfortable, and Wi-Fi was myth. And a woman named Christabel Gough was always — always — there, silver hair swept back and laptop at the ready, documenting the goings-on of a group whose decisions quite literally shape New York.
For nearly half her life — since 1983 — the 81-year-old has been a fixture at these meetings, which are spectacles of both mundanity and passion where the built landscape of New York is praised, debated, and judged in both the past and future tenses. Gough is there representing the Society for the Architecture of the City, an advocacy group she and her friends Ron Kopnicki and Matt McGhee co-founded in 1983. She knows that every landmark the commission approves — and every tweak to their policy, however minor — creates a precedent. Maintaining the ante–Robert Moses status quo takes consistency, and filed away in her precise archive of notes, she has the receipts.
The Landmarks Preservation Commission is responsible for approving new landmarks throughout the city and must sign off on even the smallest change to paint colors or window frames made on landmarked buildings once their status has been determined. In the eyes of its supporters, the commission is the protector and stewards of New York's built legacy — but, of course, its value to the city varies depending on who you ask. Developers find it annoying. Free marketeers find it stultifying. Aesthetes and many others say it's the last line of a defense for a livably scaled city. For such a fringe scene, the stakes are pretty high, and the meetings can get contentious.
Gough, though, doesn't participate in these squabbles. She is eternally poised, the confident student always seated near the front of the room, quiet until called on. She's a clear-eyed arbiter, even though, after all these years, she says she still fights off nerves when delivering testimony. You'd never know. In front of the commission, each word is spoken with thought and heft. In private, the rare errant thought that escapes is quickly, purposefully swept away. She is fiercely resolute and resolutely guarded. Ask her about herself, and she quickly deflects the conversation to her work, saying she doesn't want to be a personality. Even in her work, Gough strives for objectivity, saying that it's no place for her personal taste.
It was the disorienting feeling of returning to New York in the demolition-happy 1960s, after a stint abroad to study English at Cambridge University, that first inspired Gough to tune into preservation. "There have been times in the past when I've come out of the subway and thought, Wait a minute. Where am I?" she says. "I'd like to go back to New York and be able to recognize where I am." But she turned pro, so to speak, when she was living on Christopher Street in the 1980s. "It was always a low-rise, pretty friendly, old-fashioned place with trees and old bricks and little twisting streets," she says. "There's a feeling that it shouldn't change too much in the wrong way." The particular assault at the time involved the area's storefronts — 62 of which, by Gough's count, had been updated with prefab aluminum façades. Gough and others saw these façades as an affront to the neighborhood's rich built history. Preservationists, Gough among them, rallied against the Landmarks Commission's decision to permit the building of the façades, staging a protest that caught the attention of the commission's chairman, Gene Norman. Norman sat down with the group in McGhee's bespoke-Christmas-ornament shop (down the street from Gough's apartment) to deliver a message: If the group wanted to have an impact, to really be heard, someone had to start getting into the details and showing up to meetings. "I think he thought we wouldn't do it," Gough says. "But he was wrong."
It was a matter of circumstance that Gough ended up becoming the mouthpiece for the society. Before taking an interest in bishop's-crook lampposts and Flemish-bond brick, she had worked alongside her husband, Hugh Gough, in the Greenwich Village studio where he built and repaired early instruments like clavichords and lutes. Hugh was a neighborhood craftsman of a type that once flourished in the Village, and he was enormously respected in his field. One friend says he was mentioned in "Howl" as one of the best minds of Allen Ginsberg's generation who "rose up to build harpsichords in their lofts." (This is possibly an apocryphal association: "Howl" was written a couple of years before Gough moved back to New York.) Hugh and Christabel married in 1968. Christabel, who had once tried her hand at making jewelry (an enterprise she now terms a "giant flop"), had fine handwork skills that made her a great assist in the studio. And she had enough time between lute repairs to become the great student of the Landmarks Law and preservation that she is today. "My husband didn't care if I worked Tuesday or Saturday; it made no difference to him," she says. "So I was the one who was free to go down and be the spokesman, and still am."
Still, Gough insists that she, Kopnicki, and McGhee equally shoulder the group's workload, which includes researching and drafting testimony to be delivered at the meetings as well as, for many years, publishing its journal Village Views. Kopnicki and McGhee, however, are quick to reject the notion that they deserve as much credit. "In the society, there is one part that's more equal than the others," Kopnicki says. "We have helped. We've been happy to help. But the credit really goes to her."
Gough doesn't like to talk about her background, but Kopnicki says he thinks her discreet steeliness was inherited from her parents, the late Roger and Christine Stevens, a Washington couple of stature "who were very strong personalities." Roger, who wore many hats, is perhaps best remembered as the founding chairman of the Kennedy Center for the Performing Arts. Christine, a passionate crusader for animal rights, founded the Animal Welfare League. A 1980 profile of the duo noted their shared "qualities of persistence, dedication, courage, and ingenuity."
Simeon Bankoff, the executive director of another preservation advocacy group, the Historic Districts Council, recalls a sharp late-1980s falloff in the number of properties being landmarked. The shift was widely attributed to the soft power of the real-estate industry, but it was Gough's records, published in a Winter 1987 edition of Village Views, that piqued the interest of the New York Times and lead to widespread coverage of the issue. The trend quickly reversed. "The feeling that there was this engaged, intelligent, resolute community watching the agency gave the whole movement a lot more veracity," Bankoff explains. "It gave it a lot more rigor." And there have been other triumphs with Gough at the helm, like the effort to create the Ladies' Mile Historic District, in a neighborhood that was once so empty "you could have fired a cannonball down the sidewalk and not hit anybody," in Kopnicki's words. More recently, Gough was a behind-the-scenes force when the New York Public Library planned a $300 million Norman Foster renovation that would have eliminated its ancient stacks. Nobody outside the fight recognized her work, but Gough was making introductions behind the scenes between advocates and experts, tactfully working the power structure. The proposed redesign was extinguished in 2014.
There is a vein of thought that historic preservation is the enemy of a growing city — that limiting new building fosters economic inequality. Gough dismisses this. "The argument emanates from the real-estate industry. The argument is totally phony," she says, noting that the vast majority of the city is not landmarked. A report from the Real Estate Board of New York published in 2015 found that about 4 percent of city properties are designated — though if you limit the count to Manhattan, that number is upwards of 25 percent. In certain high-income neighborhoods, including Greenwich Village, it's in excess of 70 percent. "Successful architecture increases the value of the neighborhood, and I think that's what we're looking at: Neighborhoods that have become desirable are harder to destroy," she says. "And it seems to me that what the industry should really be looking at is building things of similar excellence in areas that don't have them."
Gough has noted with pleasure a general shift, at Landmarks, toward designating sites for reasons other than aesthetics. This summer, that movement helped lead to the start of landmark proceedings for the Truesdell House, a small brick building on Abolitionist Place in downtown Brooklyn, the central remaining structure in a 16-year push to preserve the sites that gave the street its commemorative name. That modest building, at 227 Duffield Street, was the subject of a July 14 Landmarks meeting and the recipient of wide praise for its designation from the likes of Attorney General Letitia James and Public Advocate Jumaane Williams. Gough has been working for it all along, and on behalf of the Society, spoke at the hearing, noting the power of the "unbroken chain of connection from that early popular American abolition movement … Seeing a place, a real house where it started, brings the reality home as nothing else can."
That encapsulates much of what she's hoped to accomplish by sitting in that drab room researching and testifying for thousands of hours. Yet after four decades, Gough remains pragmatic about her work. "Sometimes we're able to influence the commission and sometimes we're not," she says, with uncharacteristic levity. "But that's life." And life does bring change: Her husband died some years ago, and, in 2018, she left the Village, having sold the Christopher Street apartment they'd shared. She now has a smaller place in a building in Tudor City. It's landmarked.