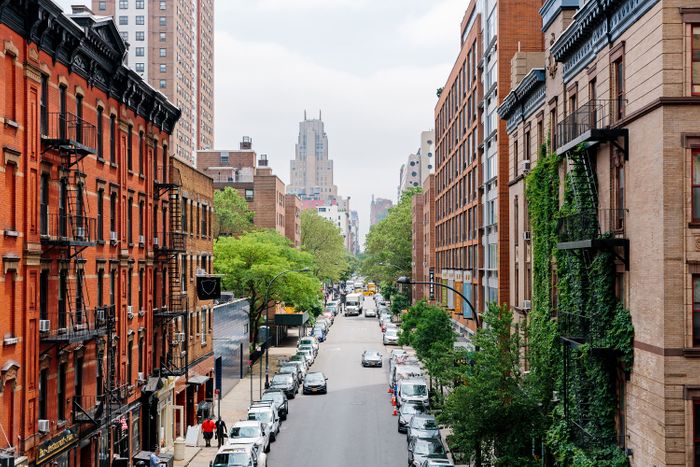 Photo: Alexander Spatari/Getty Images
Landlords Try — and Fail — to Challenge New York's Eviction Limits
Since the beginning of the pandemic, a series of perplexing, often vague orders from Governor Andrew Cuomo has kept New Yorkers from being evicted and repeatedly pushed back the date as to when eviction cases can move forward in housing court. But before each order can take effect, it has had to be interpreted by New York chief administrative judge Lawrence Marks of the Office of Court Administration. Under New York's state of emergency, Cuomo has the authority to make sweeping declarations when it comes to evictions, but Justice Marks is the one who figures out what those actually mean in practice at the state's courthouses — which has made him the target of lawsuits from landlords.
This Wednesday, New York Supreme Court judge David Zuckerman dismissed a lawsuit filed by three landlords in Westchester against Justice Marks, ruling that he has "ample authority" to "protect the public and their own employees from high levels of in-person traffic in the courts during a viral pandemic." In other words, landlords claimed that the courts don't have the power to limit evictions, and Justice Zuckerman emphatically shot them down.
Marks, however, has made it clear that the courts can only go so far and that ultimately there will either need to be new legislation or housing-court cases will pick up again. A new directive from Marks last week allows for eviction cases to slowly push forward as of Monday, though tenant and landlord attorneys alike say it's most likely that any evictions filed after March won't get to court until at least 2021. Meanwhile, the courts are focused on processing the 14,500 cases that have already received eviction judgments.
Downtown NIMBYs Sue to Block a Homeless Shelter, Another RBG Statue in Brooklyn, and Other NYC Happenings
The late rock-and-roll legend Eddie Van Halen got the New York–subway memorial treatment this week when East New York's Van Siclen Avenue station briefly became Van Halen Avenue.
Inside a Beaux-Arts Park Avenue building, a three-bedroom co-op once owned by Fred Astaire is now on the market for $3.99 million. Some echoes from the master dancer's nearly ten years spent there after World War II (per the current owner), still remain, like the velvet curtains that have since been repurposed as upholstery for the dining-room banquette.
Hillrose28, a 20-story condo tower in Kips Bay slated to be completed next spring, now has its own private-label wine called — we are sorry to report — Hillrosé.
In other wine-and-real-estate news, City Winery is opening its new flagship in Hudson River Park's Pier 57. The 32,000-square-foot building has two concert venues, a pizza bar, and a 70-seat patio facing the Hudson. Due to current dining restrictions, the space will have 200 socially distanced seats and an additional 70 outside. At full capacity, it will seat 990.
The towering, troubled One Manhattan Square on the Lower East Side has introduced its latest amenity: a 45,000-square-foot private outdoor garden with a furnished adult tree house.
As hotels continue to struggle across the city, midtown's Roosevelt Hotel — long rumored to be a target for demolition and redevelopment — announced that it's closing for good after 96 years.
"Tax the rich" has turned into a mantra for some of New York's newly empowered left-leaning lawmakers, but what would that actually mean? The City has a nifty explainer.
The MTA put out a radio PSA featuring the great Mets pitcher John Franco (and his sturdy Brooklyn accent) urging everyone to wear masks on the subway. According to a new report, at least half of the (one hopes) masked-up New Yorkers who have gone back to the trains live in neighborhoods outside of Manhattan's business district.
The MTA has also proposed a rent agreement for its Grand Central restaurants and shops, in which tenants would pay a percentage based on their gross revenue. Relatedly, the Grand Central Oyster Bar has temporarily closed.
A six-foot bronze statue of Ruth Bader Ginsburg is coming to Downtown Brooklyn's City Point — the second one planned in the borough since her death last month.
A long-awaited protected bike lane finally opened on a stretch of Sixth Avenue, in midtown, from 59th Street to West 35th Street.
The building that housed Frank's Cocktail Lounge, a classic Fort Greene bar that Eater NY called "one of the few vestiges of an African American commercial presence that dominated the neighborhood for decades," has been sold for $1.7 million.
Here we go again: Downtown NIMBY residents are filing a lawsuit to prevent the city from moving unhoused residents of the Lucerne Hotel to a Radisson Hotel in the Financial District.
A City Council committee rejected an air-rights transfer proposal for the ten-story office building going up at 3 St. Marks Place (which means the building will likely be 20 percent smaller than developers Real Estate Equities Corporation expected.)