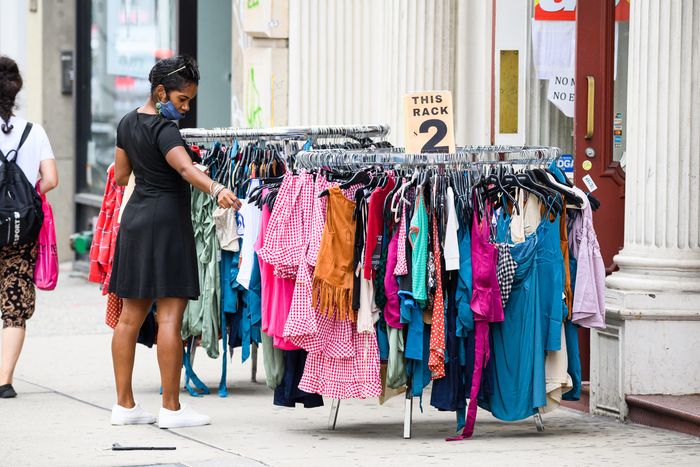 Photo: Noam Galai/Getty Images
First came the streeteries; now come the streetailers. Starting today, New York shops can participate in a new COVID-recovery program called "Open Storefronts," which enables ground-floor businesses to use part of the sidewalk and, occasionally, adjacent curbside parking spots as part of their stores. The program will run until December 31, and follows the generally popular (though also criticized) expansion of restaurants out into public space.
Open Storefronts is much more limited than the city's Open Restaurants program. Storefronts for "retail trade, repair stores, personal care services, and dry-cleaning and laundry services" can use up to five feet of sidewalk in front of their property line for "seating, queuing, or display," so long as there's at least eight feet of clearance for pedestrians. Merchandise displays can't be more than five feet tall. (A lot of stores have been doing something like this already, informally, or through official channels, under the regulations that existed before the pandemic.)
Don't expect to see a lot of build-outs into parking lanes: The only times stores can go into the roadway is when it's already a designated Open Streets: Restaurants corridor that's closed to traffic. Still, for struggling retailers it's at least something — something that's coming just as the first snowfall in the tristate area and an uptick in COVID cases arrive — and in the absence of a meaningful relief package for small businesses, many say it's better than nothing.
Mauri Weakley, the founder of Collyer's Mansion, a home-goods store in Brooklyn Heights, was already planning to sell outside unofficially:
"We have an awning that extends three feet in front of the store — we normally place outdoor furniture for sale under there — and I was planning to place a couple long tables underneath it with a nice tablecloth and some decorated trees and having a holiday market. We typically do big business around this time of year, but we knew we weren't going to be able to get as many customers in as we normally would due to social distancing and keeping everyone safe. We're limited to five people inside at once; normally we have 15 at a time and are busy from opening until close. If we can only now serve five people inside, we could potentially serve five to ten more outside, and serve customers who are more comfortable shopping this way. We were going to do this anyway, but I guess I have to fill out paperwork now instead of just going to Lowe's and getting a table."
Dina Leor, owner of La Sirena, an East Village store that sells Mexican folk art, says the regulations make it unworkable for her:
"Most shops won't be able to do this, including us. I just measured the distance between the store and the curb, and it's ten feet. Unless you're on an avenue, stores will be knocked out of this automatically because of the clearance requirements. But I think it's a fun idea, and I wish the city did this when it was warmer! It would have been great in September. We did a pop-up last weekend for Día de los Muertos and it would be nice to do that more.
"I thought we were allowed three feet [of display space] before, but someone in the community told me we weren't able to have merchandise out, so I haven't kept anything out because I didn't want to get a fine. We're on a side street and always doing things to get noticed, so the extra two feet would help. The bar next door has a vestibule that blocks the view from the main street. Three feet, they can't see us; five they might be able to. The other challenge is, we'd have to have a person out there watching the merchandise since people are stealing more. We usually hang things off our door and last week someone stole a blanket off it. That hasn't happened in 22 years. Rent relief and funds to help people pay rent would really be helpful now."
Aliou Lo, co-owner of Agowa Handmade, a retailer of Senegalese baskets who is a fixture at local outdoor markets and now also sells from a storefront in Fort Greene, was likewise already doing something similar and plans to continue:
"It's an extra opportunity, and it's better to have the option. It doesn't mean everyone will take it. We have experience selling our goods indoors and outdoors, and I know the difference when drivers and pedestrians who wouldn't normally be able to see what we sell are able to. Because of our store's location, we already display things about five feet outside of the store because it's not blocking the sidewalk. And it does help. We have customers who tell us they were driving by and stopped because they saw the baskets."
Lauren Snyder, owner of the Primary Essentials, a home-goods store on Atlantic Avenue in Boerum Hill, says it's not worth the trouble:
"Setting up outside doesn't make sense for us. We're focusing on our online business. It doesn't give us much more space, and our issue isn't space, like it is with restaurants. With a small retail store, customers are inside for five to ten minutes and they're always wearing masks — it's a safer situation. Doing something outside isn't non-negotiable, but at this point, going into the holidays, for us to figure out what we'd sell outside, figuring out a set-up, and hiring additional staff is more effort than it's worth. The biggest issue with small businesses — and I don't think the city can do anything about this — is the landlord situation. I have a great landlord and he's helped me through this, and that's the biggest thing a small business can ask for right now."
Achuziam Maha-Sanchez, co-owner of Peace and Riot, a home-goods store in Bed-Stuy, isn't going to sell outside yet but will apply for the permit just in case she needs it:
"Because of social-distancing requirements, I can't have more than ten people in the store at a time. During the holiday season, we usually are so busy there's a line out the door, so I made plans a while ago to spread out. There's a yoga studio next door, and the owner isn't able to operate because of the pandemic. She's paying rent for a space she can't use, so I said Let's help each other out: I am renting her store from Black Friday until Christmas Eve and using that for the gift-wrapping and pop-ups we normally host, to help reduce congestion. If we still need room, we might move onto the sidewalk. Open Storefronts is a great idea — the thing is, you still need manpower, since you don't always feel comfortable leaving products out in the open. I'm glad the city is making this a thing; whatever the city can offer to people is more than well received. And I am hoping the weather holds out!"
Su Beyazik, owner of the Clinton Hill lifestyle boutique and hair salon Su-Juk, has found success selling outdoors, but also wants some sort of relief program:
"We took advantage of selling outside [earlier this year]. Before, we would have maybe two racks of clothing outside when now we have five, plus $5 and $10 bins and not just sale items, and it helps. We're also doing this for customers who feel uncomfortable coming into our store because it's small — [though] no one's given us trouble yet. Five feet in front of the store isn't that much space. Having more room, like using the parking space — I'd rather have it allocated to restaurants, who need it more than we do.
"I am hoping [the government] comes up with some sort of relief package that's not based on payroll, because the Payroll Protection Program (PPP) didn't help my business. We have limited staff — three to five people — who are hourly and part-time, and PPP really only helps companies with salaried employees. I had to close my second business [Relationships, a coffee shop] in June because PPP funding didn't even come close to covering our overhead. Or do something with sales tax. Give us a break, not just a deferment. Every cent counts."