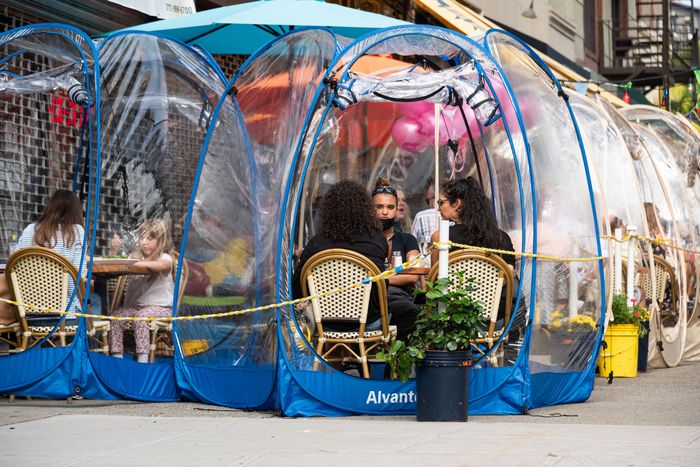 Photo: Noam Galai/Getty Images
The pandemic has upended the way New Yorkers dine out: There are sidewalk tables, open streets, streeteries, and barely anyone eating indoors. Now, as the weather gets colder, there are also plastic bubbles out on sidewalks, too. A video of the dome-shaped tents on a West Village street went viral this week, prompting questions of how safe they are, not to mention just what they are.
Bubbles of various sorts have shown up around the country since restaurants began to ease into this new, strange era of dining out. In New York, the early adopter was Café du Soleil, a French place on Broadway and West 104th Street on the Upper West Side. Owner Nadine Chevreux says her husband began looking into bubbles this summer, worrying about the cold, wet months ahead. Initially, the couple bought one off Amazon as an experiment, and diners responded so well that they just kept on buying more; now they're up to 16, and they look like two rows of transparent moon landers standing out on the upper Manhattan sidewalk. So far, customers are loving them. "Some of them view it almost as a gimmick; it makes it a little bit futuristic. It's nice that you can make your own vibe in your own bubble," Chevreux says. Not only are the bubbles Instagram-worthy, "they're warm; they're cozy. It's like your own little private dining room outside," says Stephen Werther, the owner of Suprema Provisions on the West Village, which installed its own bubbles just days ago.
But the igloolike tents can also get costly and require strict sanitation measures, and some health experts question how safe they actually are. Here's a rundown on the facts.
What exactly are these bubbles?
The plastic tents go by a host of different names, but they are mostly called pop-up bubble tents, big bubble gazebos, or winter screen houses. The New York City restaurants that have turned to bubbles for outdoor dining have bought them from a company called Alvantor. The clear part of the bubble is made from PVC, which can be zippered open and closed on all sides like a camping tent; most restaurateurs are keeping them open at all times to allow for air circulation, but that may have to change when the weather gets colder. (They're not inflated; they have frames, like conventional tents.)
Were they made for this?
Unlike some of the more ad hoc solutions to outdoor dining, Alvantor's bubbles were always intended to be used as a weatherproof (and mildly insulated) gazebo. While the structures were originally geared more toward, say, providing shelter in outdoor spaces on a cold or rainy day, the company is now directly marketing its products to restaurants and other businesses trying to navigate the pandemic. A product description on Amazon reads, "Get back to normal activities while practicing social distancing. Perfect for setting boundaries between you and others."
How much do the bubbles cost?
Depends on the size. They go from $399 for a 10-by-10-footer to $729 for a 15-by-15.
What restaurants are using them?
So far, Lucciola, Café du Soleil, and Suprema Provisions are all using the Alvantor bubbles, and similar ones have been spotted at City Vineyard. Other restaurants — including Industry Kitchen and Ampia rooftop in the Financial District, and Estuary in Brooklyn Bridge Park — have opted for tiny gabled greenhouses, which certainly have a much less space-age-y effect.
Do they get scrubbed after each meal? 
The domes have their own protocol in the city's COVID sanitation requirements: "Enclosed structures," as they're called, should be used only for individual parties, with adequate ventilation and air circulation. Most restaurants allow a maximum of six people per bubble.
Both Chevreux and Werther say they sanitize the bubbles after each use, while Michele Casadei Massari, chef and owner of Lucciola, also on the Upper West Side, allows his two ten-by-ten bubbles to be used by only one party per night, so that in addition to being sanitized they can air out for 24 hours before being used again. Lucciola only serves a $119 prix fixe menu with wine pairings for diners who use the bubbles, which allows for the restaurant to recoup its investment in the tents. That also reduces the number of times the servers enter the bubble, reducing risk to them.
Okay, but the big question: Are these things safe? 
Along with sanitation protocols, most restaurants use flameless candles inside the bubbles in hopes of avoiding any melt-y fires (PVC is toxic when it burns). But the biggest concern is of course the reason for the bubble in the first place, COVID. Dr. Abraar Karan is an internal medicine specialist at the Brigham and Women's Hospital at Harvard Medical School, and he's best known right now as the guy who said bubbles are a bad idea on the internet. "Just because you're in a separate bubble does not mean that you're safe — in fact, you could have a more high-risk chance of getting transmission in that bubble just if you happen to be in the bubble with somebody that has COVID," he says.
According to Karan, if you're in the bubble with someone who's not in your pod, you have a higher chance of getting infected with the virus, because you're close together in a somewhat enclosed space: "If you have very poor ventilation where the heat is not escaping, then it's even more conducive to viral spread both by droplets and by aerosol." It's also important to keep in mind how they're cleaned, because if "aerosols remain in there, we know that that's been known to cause infection in other people."
Truly outdoor dining remains the safest option, according to Karan, but that is definitely going to get harder as the weather gets colder.