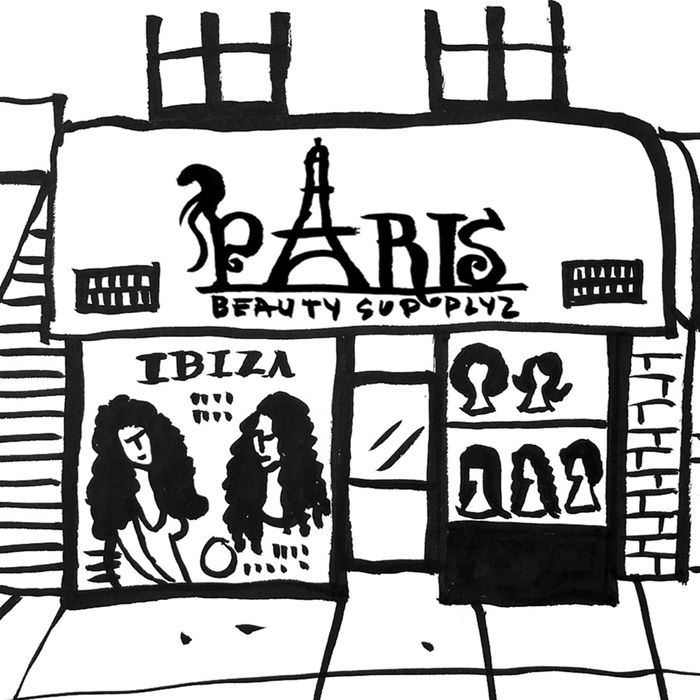 Paris McKenzie didn't plan to become the youngest-ever Black owner of a beauty-supply store. Her plan, actually, has always been to become an orthopedic pediatric surgeon: The 16-year-old attends the High School for Health Professions & Human Services and takes sociology classes at Hunter College on the side. "Having my own store wasn't ever a goal I had on my list," she says. "It was really like the opportunity was presented to me, and I knew I could do it."
The opportunity came from her mother, Senica Thompson, who owns both Paris Runway Boutique and Paris Hair Studio, which sit across the street from each other on a stretch of Church Avenue filled with Caribbean restaurants, storefront churches, and fish markets. Paris was finishing up a client's nails at the salon when her mother came in with news that the owners of the beauty-supply store down the block were planning on vacating their building and asked if she was interested in renting the space. Paris said yes straightaway. Not only had she grown up watching her mother run two businesses but she had spent the past several years working at both of them. She had saved money ringing up customers at the boutique and installing and coloring wigs at the salon — earning enough to cover the first month's rent on the space ($2,500 a month) and stock the store.
The landlord, a neighborhood local who goes by the nickname Queen Bee, was happy to provide Paris with a lease despite her age, and her older brother, Oshane, stepped in to help her create an LLC, certify the resell license, secure product vendors, and get all the forms in order in time for the opening. Meanwhile, she worked on figuring out what to stock — she wanted her selection, and the shop itself, to feel slightly more upscale than the store that had been there before, "but not overly posh." Product-wise, she says, "this is a Black neighborhood, and most of our customers are Black so I was focused on finding things that would fit their needs." In the end, she ordered moisturizing shampoos and conditioners from brands like Cantu and Mielle, braiding hair and wigs (lace front, many of which are shown on mannequins in the window), and enough lip gloss for a dedicated section where each tube goes for $1.
On September 4, Paris, who then had around 700 followers on Instagram and only about 20 on Twitter, tweeted that Paris Beauty Supplyz was Black owned and open. It had new hardwood flooring (the contractors finished late the night before), exposed-brick walls, white-cube shelving units, and paper shopping bags procured at Staples (the custom ones she had ordered didn't arrive in time because of COVID delays). Over the next three days, more than 100,000 people liked the tweet. Four days after the grand opening, the supermodel Bella Hadid posted about the store, followed by Janet Jackson. For her part, Paris had done basically no promotion — and the viral tweet, she says, had a massive impact on her business. "We have consistently had about 50 customers through the door each day since opening," she says. "And my follower count has grown to 15,000." She is making enough of a profit now, she says, to cover her rent.
In the weeks since, Paris has fallen into a routine: She checks orders at 8 a.m., attends honors classes in person or on Zoom and then, at 1:30 p.m., goes into the shop to work with her mom, brother, or two other employees for seven hours. She has 8:30 p.m. to 9:30 p.m. blocked off as "me time," which she uses to catch up with friends or watch Girlfriends, then spends the rest of the night doing homework. While her schedule is, needless to say, "very chaotic" at the moment, Paris has managed by keeping her teachers briefed on what she describes as "the current situation of my life." Doing school from home when she can has helped. She adds, "I'm able to run the business throughout the day, whether it's on the phone or actually in the store."
She has made sure that even if she isn't the one behind the counter, every customer who walks in feels comfortable. "The stores in this neighborhood, sometimes we might be followed or rushed to purchase," Paris says. "I've experienced that; so have my friends." Thanks to her persistent coaching, her brother, a former Marine studying mechanical engineering, is now entirely capable of holding lengthy conversations with customers who come in looking for cosmetology and beauty products — and can deftly make recommendations based on a person's curl texture. "And he's good at telling people what color will work best on them," she says.
Quarantine Top Sellers
*This article appears in the October 26, 2020, issue of New York Magazine. Subscribe Now!