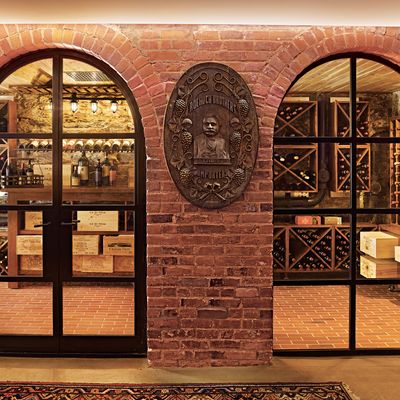 The cellar.
Photo: Annie Schlechter
The townhouse standing above this wine cellar is a well-preserved beauty, with richly detailed intact woodwork. When the owners, Jessika and Jonathan Auerbach, hired the firm Delson or Sherman Architects to renovate, everyone wanted something a little more rustic downstairs. "We didn't want to make anything too perfect," partner Jeff Sherman says, showing where new brickwork blends in with the old. The cellar is built to hold 1,500 bottles, a sizable number of them containing Chianti produced by the couple's own Ca' di Pesa vineyard, which they purchased in 1998.
You reach this cool enclave through a basement screening room, the walls of which show off the building's rubblestone foundation, giving the atmosphere of a castle with a mysterious wooden door set into the masonry. (No, there's no cask of amontillado back there.) That door is new but made of salvaged wood and an old fireplace grille, and serves to disguise a return-air vent and provide access for the air-­conditioning equipment. The atmosphere is chill; so is the wine.
Pictured above: The Eastern-red-cedar planking on the ceiling looks luxe but came from Home Depot. The carved medallion is a cask top. "We bought two of them at an antique fair roughly 25 years ago," says Jessika Auerbach, "and we've kept them in storage since then, waiting for the perfect wine cellar. We have it now!" The wine racks are a mix: stock products from Wine Cellar Innovations, mixed with some custom-built ones that had to fit around plumbing lines. The exposed brick arches, original to the Park Slope house, were stripped and repointed. The floor in the wine room is brick tile, and the doors and windows are custom steel with insulated glass.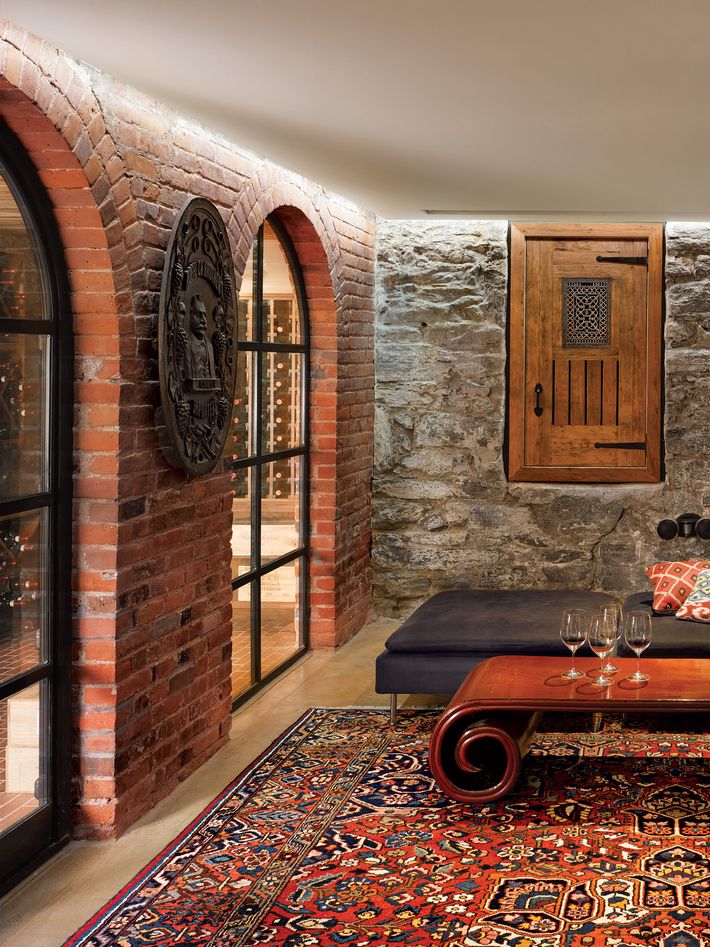 The exposed foundation walls of the house are local rubblestone. Recessed LED lighting highlights their texture and gives the illusion of a higher ceiling. The scroll-legged coffee table is from Singapore. A retractable movie screen drops from the slot in the ceiling.
*This article appears in the Winter 2017 issue of New York Design Hunting.