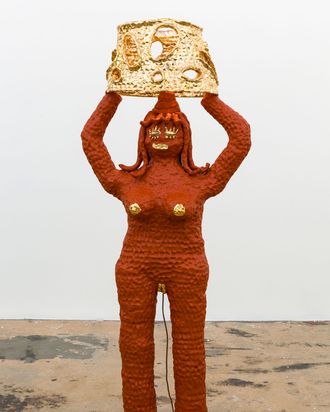 Katie Stout's goddess lamp
And the Other is Gold,
2017.
Photo: Katie Stout
At Art Basel Miami next week, Brooklyn-based furniture designer Katie Stout will open a strange-but-pretty-cool papier-mâché show dedicated to women asserting ownership over their bodies. Along with a pastel clay chandelier made of tiny female figures and rainbow collage benches, she created a series of goddess lamps like the one shown here. "These girls I've been making in furniture, they're in control," she said. The domestic objects she uses "are also pissed about being trapped." Of several stools and furniture in the show, one is sculpted into the shape of a woman breastfeeding. Click ahead for a preview — as eclectic and colorful as the street-style fashion to expect.
"Katie Stout: Narcissus" will be on view at the Nina Johnson Gallery from December 4 to January 6, 2018.