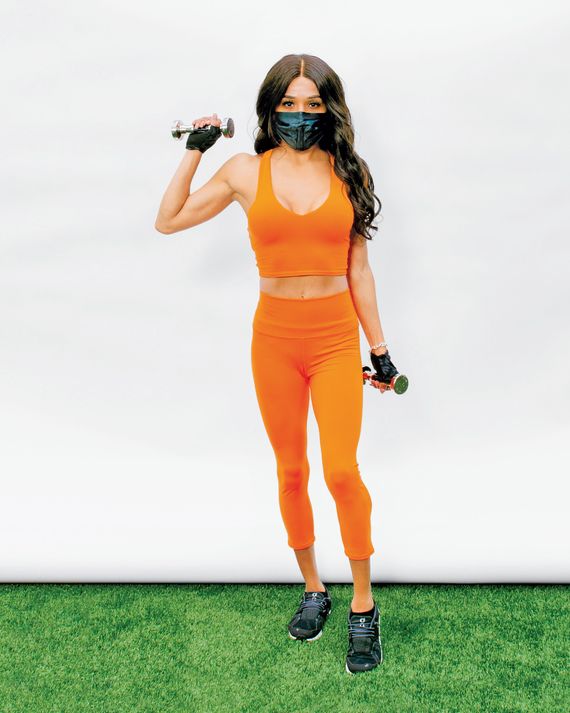 Margo Lopez.
Photo: Rochelle Brock
Margo Lopez (pictured above), Self-employed, Hell's Kitchen.
So what do you do for work?
I'm a model. My look is unique. I'm five-foot-three and 110 pounds — not your typical runway measurements. What I don't have in height, I make up for in looks and walks and face. Most models are very mainstream and generic; you put me in a group of models for a fashion show and I definitely stand out. When you ask people who's the most beautiful, I'm most likely to be chosen.
And what do you get up to now?
Now I'm at Equinox like seven days a week. It is really nice as a trans woman to have a place to go where I don't have to feel self-conscious about my body. The opposite, actually: People come up to me and are like, "Your physique is awesome."
How often do you work out?
Currently, six times a week. But before the pandemic, it was more like four or five times. It's good for my mental health, and I enjoy checking out my own abs.
Do you have gym friends?
I'm a social butterfly about New York City. I have no trouble making friends, so obviously I make friends with the staff — I don't care who or at what level they are. I say hi to the people.
Did you miss Equinox when it was closed?
No joke, when they reopened, I was here the first day. Thankfully, most of it is the same in this version. They still have the showers. The only things that have been taken away are the saunas and the facial moisturizer. Oh, and the eucalyptus towels seem to be gone.
How long have you been a member?
Oh, ten, 15 years. I actually met my fiancé at Equinox — he's a teacher. He approached me, of course. He was a substitute for the usual instructor, and when he walked in, I was like, Ugh, damn, a sub. And then I was like, Oooh, damn, who's that sub?
*This article appears in the October 26, 2020, issue of New York Magazine. Subscribe Now!