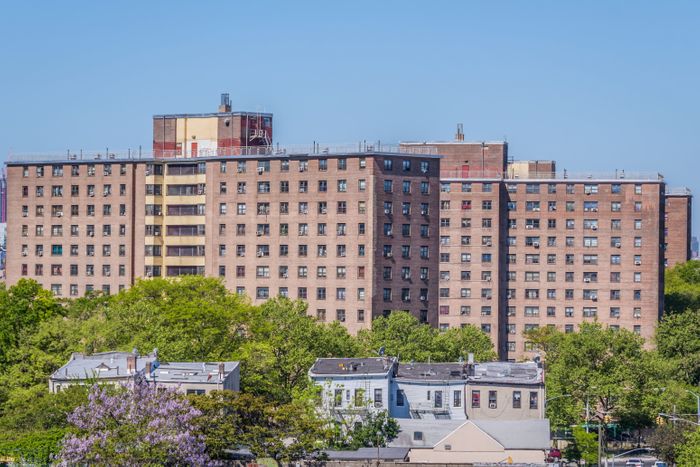 Photo: Erik McGregor/LightRocket via Getty Images
On Brian Lehrer's WNYC show on Tuesday, Comptroller Scott Stringer came out with a couple of sentences that elicited a collective double take among city-politics watchers. "We've been awarded $3 billion in FEMA grants, yet we've only spent 59 percent of that money," he said. "We have community-development block grants, $300 million; we've only spent 78 percent." There was, he was saying, a vast pool of unspent money just sitting around that could go toward fixing New York's public housing, the budget for which has been starved for decades and more recently ravaged by COVID. NYCHA's 326 developments are full of old, inadequate heating and ventilation systems, bad in any winter and potentially deadly this year. "This is a management issue, not a money issue. So let's have a COVID response before we get to winter," Stringer continued. He sent a letter to Mayor de Blasio and NYCHA chairman Gregory Russ expressing similar sentiments.
How did everyone miss this, oh, billion and a half dollars, and can it really be activated right now? It turns out that the pile of money Stringer wants to spend is the remainder of the funds NYCHA received from the federal government to repair damage caused by Superstorm Sandy in 2012. The $3 billion he mentions (in fact, it's $3.2 billion) was all earmarked for disaster recovery, and the $300 million came from the Department of Housing and Urban Development. Stringer's claim is more or less that the agency is doling out the money too slowly and that with a bad coronavirus winter looming, NYCHA needs to act now. "There's no excuse for NYCHA's slow pace on capital improvements from the last crisis as tenants are struck by the next," says his press secretary, Hazel Crampton-Hays. She adds that many of the repairs the comptroller suggests to combat the pandemic are things that are within the scope of the FEMA grants. Repairing a broken-down ventilation system damaged during Sandy, for example, will help prevent the spread of the virus.
Problem is, the allocation came with tight restrictions that earmarked it for specific projects in specific buildings. According to NYCHA, the Sandy cash cannot be repurposed for capital repairs related to COVID-19, or even redirected to different Sandy-related projects that have the added benefit of protecting against the virus. Of the $3.2 billion allocated, NYCHA says it has already spent $2 billion on FEMA-approved projects, and another $1.1 billion has already been awarded to contractors. So while a lot of the money hasn't been spent yet, it has already been spoken for, and changing any of the contracts could risk ceding the grants altogether.
Rushing through these jobs in order to get them done before winter is harder than it might seem, at least this late in the process. Contracts are awarded on a predetermined work schedule, and contractors are not necessarily available to do work any sooner — they have other gigs that may get in the way. In some cases, the work is explicitly meant to protect against the next storm, so it might involve, say, moving a basement boiler up above the flood line and then reworking the building's entire plumbing system to match. The logistics can't necessarily be sped up on a whim — especially in an occupied building. "The work we do does impact the residents, and the faster we do it, the greater that impact is to someone who is now effectively quarantined in their apartment," says Joy Sinderbrand, vice-president of NYCHA's Recovery and Resilience Department. "If we need to disrupt heat or turn on some new electrical equipment, that means each time the resident is impacted."
Stringer's office is correct in saying that Sandy repairs would also help residents weather the pandemic. But that giant wad of money isn't really the cure he has suggested. And given that he's a former Manhattan borough president and current comptroller, it's hard to believe Stringer doesn't already know that, which calls into question why he would take a shot at NYCHA and Mayor de Blasio. Or maybe it doesn't: He's running to replace de Blasio as mayor in 2021.