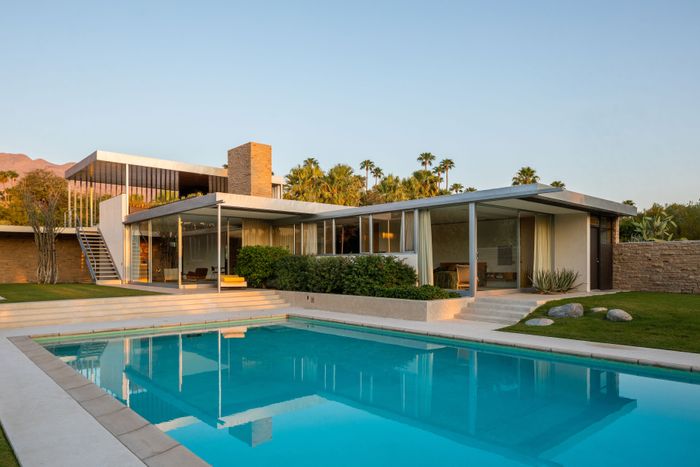 Before Frank Sinatra commissioned his Twin Palms Estate or Elvis and Priscilla honeymooned in the "House of Tomorrow," department-store magnate Edgar Kaufmann asked Richard Neutra to design him a home in the California desert. Now, for the first time in 11 years, that house — which helped define postwar modernism in Palm Springs — is for sale.
Kaufmann was no stranger to big-name architects — a decade before, he'd commissioned Frank Lloyd Wright to build the Fallingwater, about 60 miles southeast of his hometown of Pittsburgh. And while he considered Wright for his California project, Kaufmann didn't want this home to blend into its environment. Neutra tended toward the new "international style" of buildings (with plenty of airiness and rectangles), which Kaufmann felt would stand out in the desert and surrounding San Jacinto Mountains.
Neutra wasn't the first architect to bring a flat roof or a covered walkway to Palm Springs — Albert Frey and John Porter Clark built a handful in the area in the late 1930s. But the Neutra house was different: He used full-height glass walls and a steel frame with accents of Utah stone, resulting in something that photographers like Julius Shulman and Slim Aarons flocked to capture. (Aarons's 1970 shot, Poolside Gossip, featuring then homeowner Nelda Linsk and Palm Springs resident Helen Kaptur, has arguably become "as much a symbol of modernism as the Richard Neutra home that was its setting.")
The one-story structure has a pinwheel floor plan centered around the living room with a floor-to-ceiling fireplace, and the master suite, additional bedrooms, and a service wing oriented as branches. A roofed but open-air room he called the "Gloriette" (from 12th-century French for little room) was Neutra's way of working around local building restrictions that forbade two-story structures. Flanked by movable aluminum louvers, the design helped shelter the home from wind and sandstorms. 
The home was made to be lived in just 60 days a year (January and February, when the Kaufmanns escaped the Northeast). But after the Kaufmann family sold the estate in 1955, three successive owners — including former Chargers owner Gene Klein and singer Barry Manilow — made changes to make the home more livable year-round. Walls were pushed out, patios were enclosed, surfaces were repainted, air-conditioning was added to the roof, and the original square footage nearly doubled. The updates didn't stop until 1993, when new owners Brent and Beth Harris, a financial executive and architectural historian, bought the home.
Since they didn't have the original plans, the couple turned to three sources for help: Archives at UCLA provided details about Neutra's plans; never-before-seen photographs from Julius Shulman's collection pointed to the home's original characteristics; and L.A.-based restoration architects Marmol Radziner and Associates conducted an on-site archeological dig to reveal the home's first materials, finishes, and colors. To keep things as authentic as possible, the team patched floors with a special mix of concrete and silica sand first chosen by Neutra and Kaufmann. To replace the damaged stone on the property, the couple went so far as to convince a quarry in Utah to reopen a since-closed section from the 1940s in order to secure sandstone in the correct pinkish buff hue. And to restore the property's remote physical setting, the Harrises purchased adjoining parcels to more than double the land around the house. As Dwell chronicled, it took more than five years to bring the structure back to its original size and form.
Still, not everything is exactly how it was in the late 1940s. A tennis center added decades ago has been transformed into a pool pavilion. The original 1947 pool — famous for its '60s and '70s parties attended by everyone from model Helen Dzo Dzo Kaptur to actress Suzanne Somers — looks nearly indistinguishable from how it did some six decades ago, but across the way there's a newly added gym, with a steam shower and a plasma-screen TV.
Even for a home this steeped in history, architectural and otherwise, the $25 million price tag is steep; if the Kaufmann house goes for anything close to that it would be the most expensive sale in Palm Springs history. The current record belongs to the Bob Hope estate, a volcano-inspired John Lautner design that sold for $13 million in 2016.