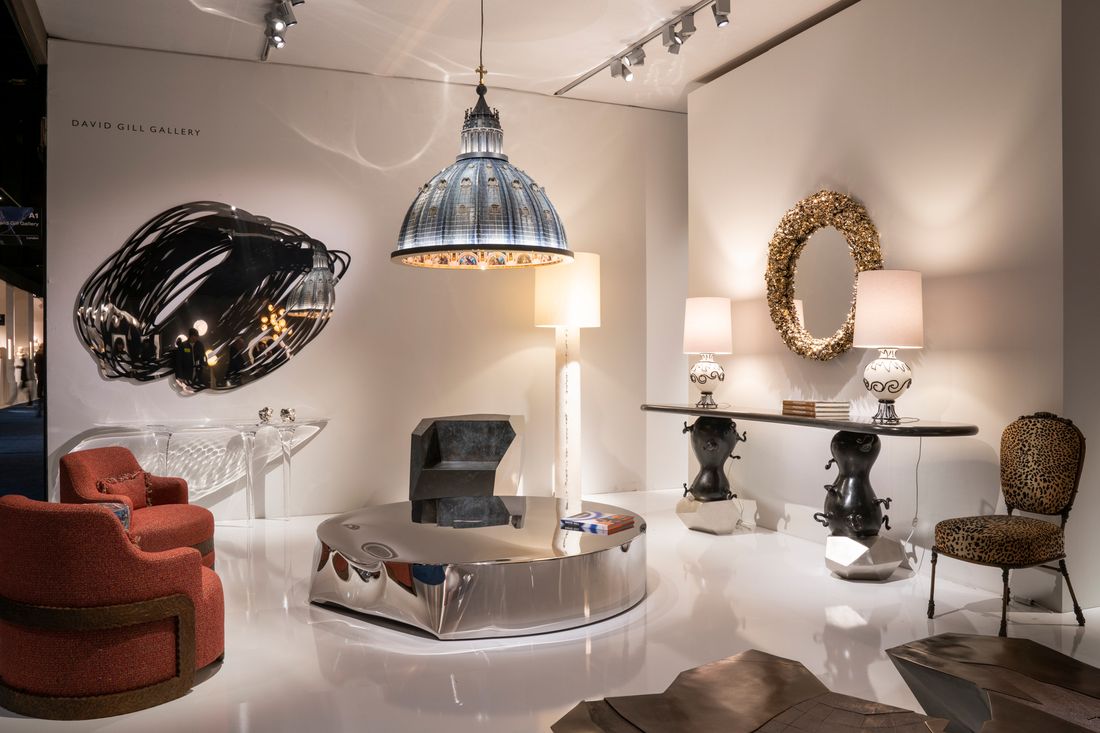 Photo: Courtesy of David Gill Gallery
This past week, the Park Avenue Armory held the eighth iteration of the Salon Art + Design, a yearly event that features the best offerings from 56 galleries from across the globe, all of which specialize in a type of art-slash-design that might be best described as "function follows form." One of the first installations that caught my eye as I entered the vast Wade Thompson Drill Hall was David Gill's; I was then quickly drawn, like a moth to a flame, to AMeBE Studio's remarkable "Cupola" chandelier (seen here), a mini-replica of the dome of Rome's St. Peter's Basilica. Designers Alessandra Mantovani and Eleonora Barbareschi originally created the piece for the 2016 Milan Furniture Fair.
Nearby, I spied the work of one of my favorite designers, Katie Stout, alongside some incredible new pieces, displayed by R+Company, from the Haas Brothers (not shown here). Stout is creating her own unique design language that is playful, imaginative, and steadily more sophisticated. Her painted ceramic Unique Table Lamps are elegant without a whiff of pretension.
Friedman Benda featured Chris Schanck's "Oubliette," a hanging wall-cabinet made with wood, polystyrene, resin, leather, and the magic ingredient, aluminum foil. At first glance, the piece brought to mind Paul Evans's brutalist furniture from the '60s, but as I got closer, the silver surfaced, creating an unexpected delicateness.
Well, this was a trip. A photograph doesn't do justice to the kinetic qualities of multimedia artist Anthony James's "Icosahedron," pictured above, from Opera Gallery Miami. When you look at it up close, it feels like you're staring into infinity.
Liz O'Brien holds a special place in the design world — her pieces speak to a time of mannered elegance (think Frances Elkins, Cecil Beaton, and Jean-Michel Frank). I first discovered the work of Line Vautrin through Liz — and when I asked her about the fireplace in her exhibition space, I learned about another artist I'd never heard of. "The terrazzo panels are by Esther Bruton of San Francisco," said Liz. "She and her two sisters were well-known artists in the Bay Area, particularly Monterey and Pebble Beach. They came up at auction in Texas, and we asked Stephen Antonson to build a surround so we could exhibit them — I think he knocked it out of the park." The chestnut-hued carpet, "Carnation Tapestry Weave," is by Märta Måås-Fjetterström, and the pair of upholstered armchairs are by Ernest Boiceau.
3-D printing has taken off in all sorts of ways, but I still marvel at the potential the medium has to express artisanal intricacy, like with Michael Eden's wonderful 3-D-printed tureens at Adrian Sassoon.
Patrick Parrish's installation, which displayed the work of Austrian modernist Carl Auböck on a lone plaster counter, felt like palette cleanser. "I have been exploring the plaster pedestal/plinths for displaying the works of Aubock for a few years now," Patrick told me. "This is the third time. The first two times they were free floating; this time I had them come out of the wall. My 'shape' inspiration [for this display] comes from the work of Hans Arp, as well as biomorphic forms of sand traps."
Cristina Grajales gleefully showed me a brand-new discovery: the 3-D ceramic-printed pottery of artist Ronald Rael, who worked closely with 3-D-printing expert Virginia San Fratello. They were made with natural micaceous clay from the Manzano Mountains of New Mexico, making Rael and San Fratello among the first artists ever to use wild harvested clay to produce ceramic work with a 3-D printer.
With his installation "Soldier's Retreat," Mathieu Lehanneur wanted to create a "mental and physical refuge for a soldier." Inside was the "Cloud Couch," a green marble console, and an astonishing marble table (from Lehaunner's collection "Inverted Gravity"), which appears to float on glass orbs. "Appearances can mislead and our perceptions tend to lie to us," he said of the piece. "What seems massive may be lighter than it seems!"