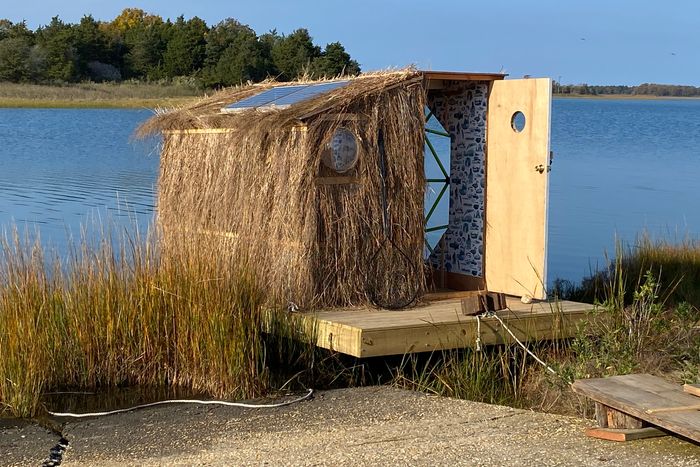 Scott Bluedorn's
Bonac Blind
installation in East Hampton.
Photo: Scott Bluedorn
Artist Scott Bluedorn grew up in East Hampton, a place of great natural beauty and, at least before the railroad arrived, some remoteness, where an insular group of farmers and fishermen called the Bonackers settled in the 1600s. Now it's a place where the .01 percent vacation in the summer — and, this year, quarantine year round — and longtime locals have been priced out. This is the inspiration for Bluedorn's installation, Bonac Blind: his take on a tiny floating house inspired by duck blinds. (It's six and a half by nine feet, so around 60 square feet.) He was invited by the Parrish Art Museum to create an off-site project for its annual Road Show exhibition, and his installation on Accabonac Harbor will be up until November 8. Bluedorn, who is careful to note that while he is not a descendant of Bonackers, he created his refuge as a celebration of their traditions and culture, as well as a commentary on the high price of housing in the area. Sadly, not everyone has welcomed his art project; the East Hampton Star reported that it has been vandalized in the last week (with dead fish and squid thrown inside and some windows broken). I spoke to Bluedorn before that.
How did this come about?
It was a combination of ideas. First of all, I wanted to build a barge of some kind, a floating structure or installation. I've always been interested in tiny houses, the microhouse movement, because I am very concerned with all sorts of environmental issues, including housing and the toll on resources and how towns and cities are actually organized, so all these kind of issues come together in this one project.
What is it about duck blinds?
And particularly I have always looked at these small structures to hide hunters. They are always camouflaged with grasses, and you'll see them in bays or marshes, and they look like tiny houses.
I thought it would be really fun to transform it into a more permanent, actual living situation, using the idea of tiny houses. So that was my starting point, and it evolved from there in terms of what I wanted to do conceptually, which was actually to honor the local fishermen, the bay men and farmers, hunters. A lot of them have been there for generations, really since the 1600s, and a lot of these families are these Bonackers — they hunt, and they are close to the land and nature.
And then it evolves from the fact that many of these families have been displaced by unaffordable housing costs, changing ways of life — climate change, even — and I wanted to raise awareness about that, the housing crisis and climate change with rising seas, so it's an adaptable structure.
How long did it take you to create it?
A month and a half from start to finish. I started with these industrial barrels, 55 gallon barrels, kind of a common way to build floating docks, other platforms, even duck blinds. A lot of the things are repurposed, which is kind of cool. I mean, most of the wood was all new, because I wanted to make new construction, so it was really sturdy. A lot of things sort of happened by way, including the big centerpiece dome. It was a kid's jungle gym. A geodesic dome I found on the side of the road, not very far from where I was building, and I thought that's too good of an opportunity to pass up to use for a window, so I built that into the design. There's another kind of bubble window that is actually a salad bowl. It's funny how things kind of come my way [laughs].
The windows are …
All plexiglass. I had to measure all those dimensions for all the triangular spaces, and so it makes this kind of viewing dome. And then I realized it's like the window in 20,000 Leagues Under the Sea — that's how I see it. It creates this kind of portal.
And that other window that's like a hatch?
It opens for a kind of cross-breeze. The artwork on it is a piece I made a long time ago that incorporates found objects, all found on the beach, inside of cast resin. It almost works as a lens for light. It's almost like a stained-glass piece. It glows when there is light behind it, so I thought it would be a cool window.
There are solar panels on the top.
Yes, so there is solar power. And there are going to be lot of evolving improvements — also maybe an electric outboard motor, so I can pilot it. And there is an antique stove, so there will be a stovepipe coming out of the back so you can create wood-fire heat.
Tell me about the wallpaper.
It's a collection of my drawings over a couple of years that relate to that area particularly. You'll see fishermen, local people, clammers, also a lot of the wildlife, crabs, fish, and ducks … little landscape kind of vignettes, and also landmarks: Ashwaugh Hall, which is kind of the center of Springs. So it's really about that place. I printed this with an online company that creates wall decals, and I repeated it just by placing it as tiles, essentially.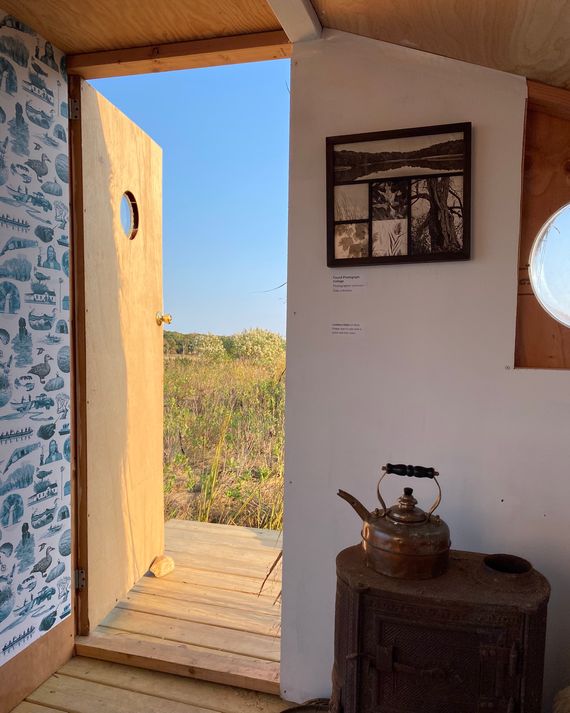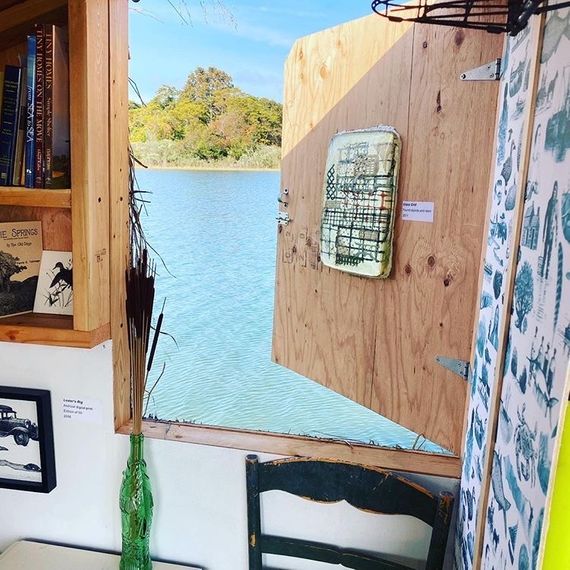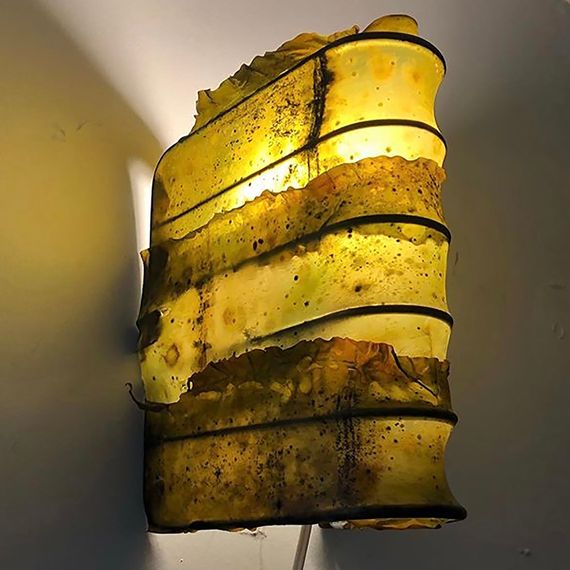 What about the furniture?
I built the bed frame, and the furniture is all stuff I found at yard sales. 
The sconce is interesting.
That is a lamp that I made using seaweed — our local kelp, actually; it's very luminous, it gives great warm, yellow light. And I have been doing a couple of different ones, so I thought it would be interesting to put one in there.
Have you spent the night?
I have not, but I have spent a lot of time on it … it's funny, 'cause that is what everyone wants to know. It's like a little dream spot. But it's not fully insulated.