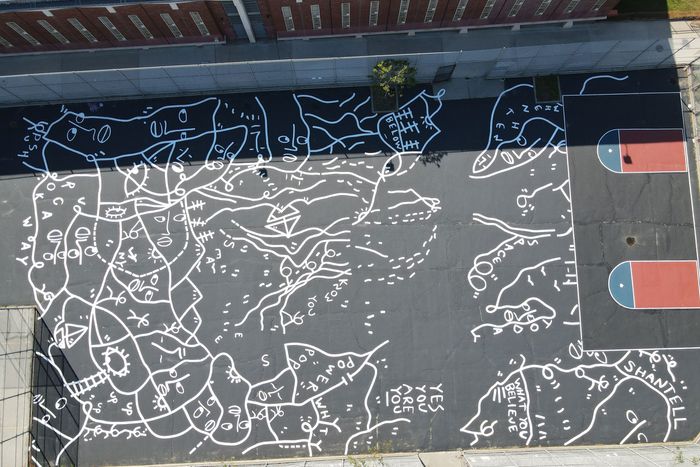 This is the new mural painted by artist Shantell Martin at Seaside Playground — a.k.a. the Big Yard — located one block from the Rockaway Beach Boardwalk's western end, next to P.S. 225. It features Martin's swirling freestyle lines and faces alongside words and phrases like SEA, POP, and WHAT YOU BELIEVE.
"I love that right when you enter the playground there are the words YES, YOU ARE YOU," says Martin. "It's affirmative, unapologetic, big, bold, and positive, especially for children as they navigate who they are becoming." Martin, who once did a TED Talk titled "How Drawing Can Set You Free," and sometimes draws as a performance, was commissioned by Friends of the Seaside Playground; it was paid for by the fancy new Rockaway Hotel across the street.
Martin was in the news earlier this summer for calling out the marketing firm M:United for asking if she would create a mural about the Black Lives Matter movement on Microsoft's boarded-up Fifth Avenue storefront — and fast, "while the protests are still relevant and the boards are still up, ideally no later than this coming Sunday?" Microsoft apologized.