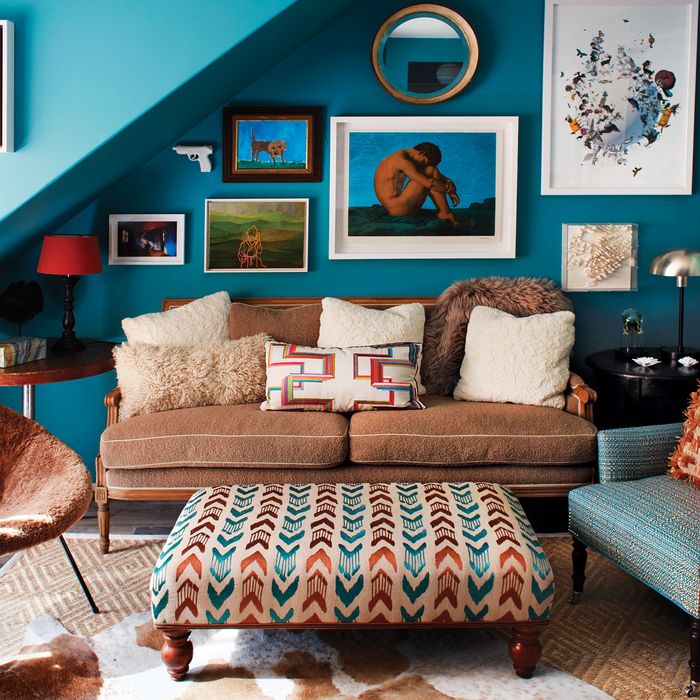 The sheepskin-covered Sindra chair and ottoman was designed by
Ásgeir Einarsson
in 1961. The sisal carpet came from
One Kings Lane
. The sofa has been recovered in
Robert Allen
fabric, with custom pillows. The ottoman fabric is from
Quadrille
. The teal-blue-and-copper upholstered chairs are from
George Smith
, in
Bergamo
fabric.
Photo: Chris Mottalini
If you are not a Michael Bloomberg sort with your own jet, buying a weekend house in Iceland may sound like a terrible idea. But Sheila Bridges — designer, author, and onetime host of Sheila Bridges: Designer Living on the Fine Living Network — has been told she's nuts before. When she gave up her apartment in Brooklyn and moved to a landmark Harlem building 23 years ago, "everyone said I was crazy." That same year, she quit the Hamptons and bought an 1880s colonial on 13 acres in Germantown — where she installed horses, sheep, goats, dogs, a donkey, chickens, and a barn cat — and then, too, "everyone said I was crazy."
And, well, all right, on that one they may have had a point. Running the farm did eventually become a little onerous, and in 2015 she sold it and began to travel more. One of those trips took her to Reykjavik, where she spent her birthday. She kept coming back, in part because it's actually pretty easy to get there. Flights are extremely frequent, as it's a stopover on the transatlantic route. (It takes a little over five hours to get there, about as long as the drive to Cape Cod.) And once she's arrived, she says, "it's so interesting — I walk a few blocks and I am in the throes of tourism, but otherwise it is very quiet." Her neighborhood, she says, is a little like the West Village once was — filled with families, artists, and designers. But if she wants something really different, she can travel 15 minutes outside of town and find herself on horseback, riding through wild countryside.
She usually spends about a week a month here, and the rest of the time she's back in New York, tending to her lively career as a designer and writer. Tom Clancy and Sean Combs are among her clients, as was Bill Clinton, who chose her to do his Harlem offices in 2001. One of her wallpapers, "Harlem Toile de Jouy," is in the permanent collection of the Cooper Hewitt, Smithsonian Design Museum. She's written two books, Furnishing Forward, about her profession, and The Bald Mermaid: A Memoir, about the challenges of life with alopecia, the autoimmune disease that causes hair loss and manifested itself during filming of her show.
The Icelandic place is on the top floor of a small apartment house built in the 1930s. A little terrace off her living room has a view over the low colorful rooftops to the ocean beyond. "All of the colors in my apartment are plucked from something here," Bridges says, "the night sky, the North Atlantic, northern lights, sunny summer sky, basalt-rock formations, black sand." She pauses. "You know how you take a vacation, and you say you are going to go back, and then you never do? Well, this was different for me, and for some reason, I just kept coming back."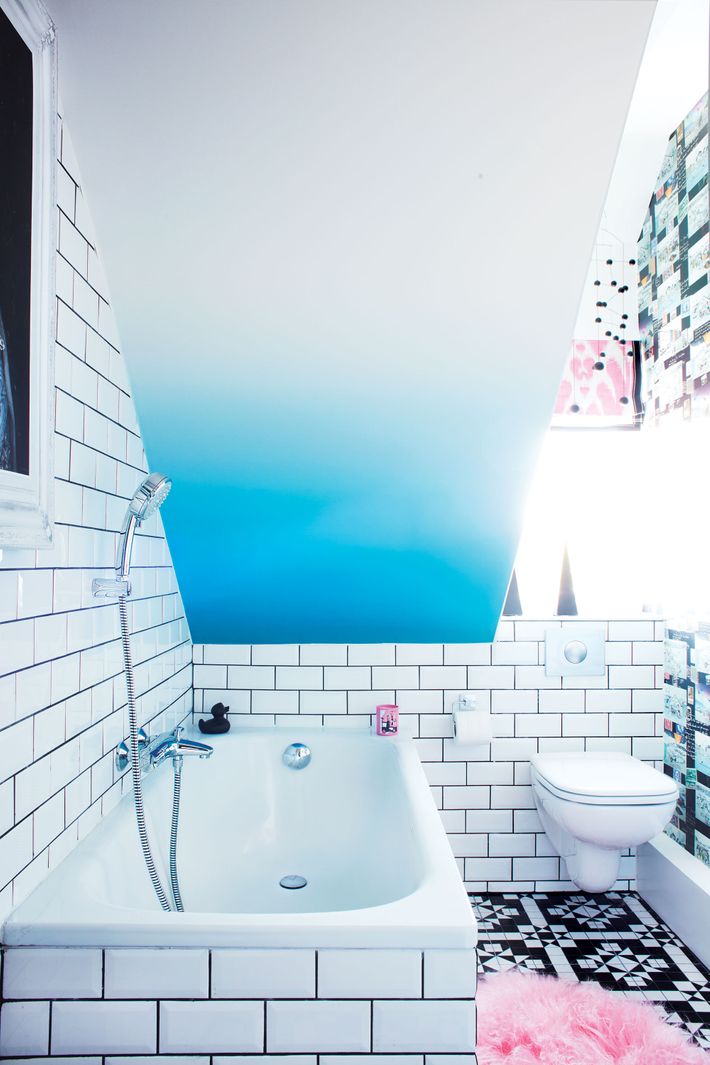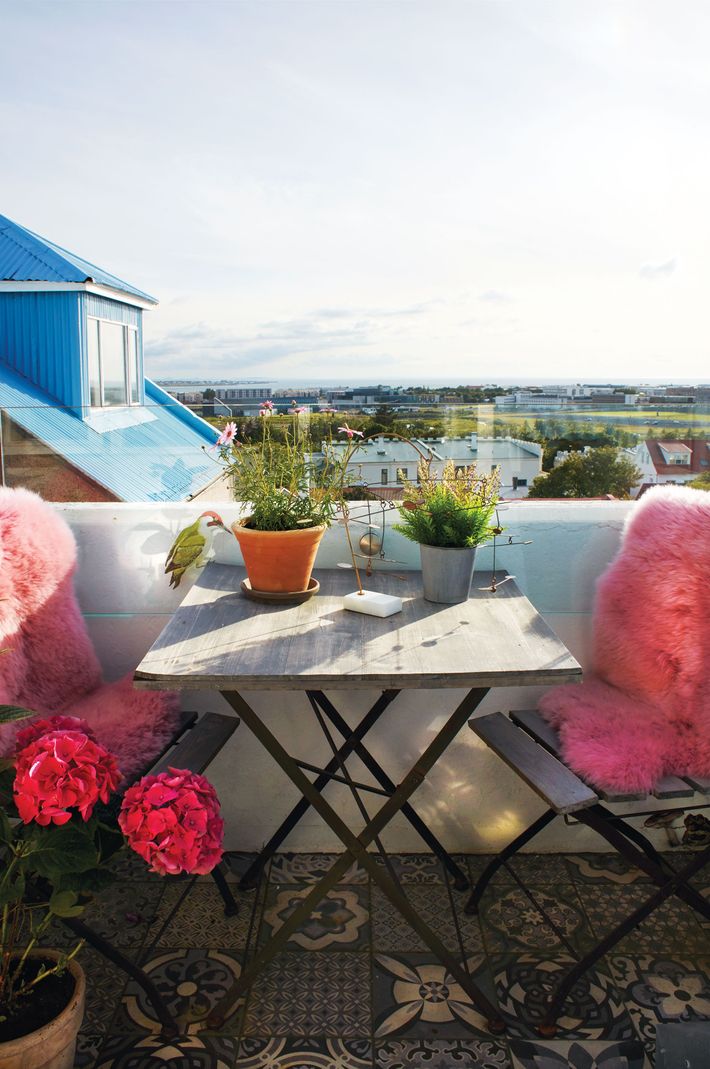 *This article appears in the Fall/Winter 2018 issue of New York Design Hunting.