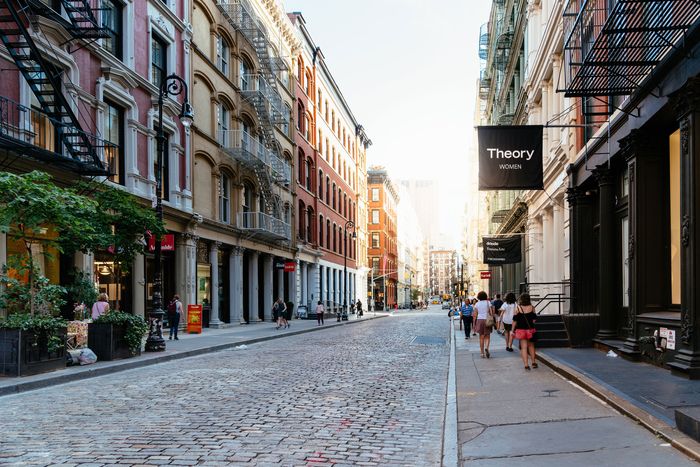 Photo: JJFarq/Shutterstock
The streets of Soho, lined with boutiques and cast-iron factories converted into apartments, are mostly out of the reach of residential developers due to the neighborhood's complex zoning and historic-district protections. Politically, it's also a hornet's nest to build in because preservationists fight almost every change. But a new plan put forward by Mayor Bill de Blasio seeks to chip away at the neighborhood's exclusivity by making it possible to build thousands of new apartments in the neighborhood — or, rather, in parts of the neighborhood.
The plan is a big shift in the de Blasio administration's long-standing approach to development, with the city usually targeting underbuilt, low-income neighborhoods (such as East New York, Far Rockaway, and Jerome Avenue). It's a different story in Soho, one of the wealthiest parts of the city, where vacant sites are scarce and historic districts limit new building. Still, the mayor says untangling the knot of zoning that governs the area and part of nearby Noho would open the door to as many as 3,200 new apartments, with 800 of those at below-market rates. So where does it all go? Although there aren't swaths of undeveloped land to work with, a surprising number of new buildings could be squeezed in here and there — especially along the fringes where neighborhood lines begin to blur.
The majority of brand-new development could rise on the periphery of Noho and Soho, in about 15 percent of the rezoning area that isn't within a historic district. Specifically, that's on three bundles of blocks: A section north of Canal Street bounded roughly by Sixth Avenue, Watts Street, and West Broadway, now mostly low-scale shops and restaurants; another set of blocks further east off Canal that some may associate more with Chinatown than Soho, bordered by Baxter, Grand, and Lafayette Streets; and a sliver of Noho on the Bowery just south of Astor Place. These sections were identified as "Housing Opportunity Areas" by the city in a preliminary map of the land-use changes. (The city has since removed that map from the plan's website, indicating that the boundaries may not be set in stone.) A Department of City Planning spokesperson says they are continuing to work on materials for the proposal and will release a new map, likely in November.
Open New York, a pro-development group that has proposed its own master plan for Soho, has identified 30 lots (in what its representatives say is an admittedly non-comprehensive survey of those three border areas) that are either vacant or have low-rise properties that could be razed to make way for up to 1,894 new apartments, according to analysis shared with Curbed. Vacant lots and parking garages obviously hold the most promise: For instance, 92 Sixth Avenue, a barren 4,300-square-foot lot owned by Trinity Church's immense real-estate arm, could have its buildable footprint dramatically beefed up to allow for 70 new apartments, roughly a quarter of which would be set aside at below-market rates. That's small potatoes compared to what could be built elsewhere, like on 2 Howard Street, a 12,700-square-foot federally owned parking garage that could make way for a building with up to 200 apartments, a slice of which would also be set aside as affordable. Similar opportunities abound across these fringe areas. "It's a natural starting place," said Will Thomas, a board member of Open New York, who notes the area is ideal for spurring new below-market-rate apartments because sky-high property values would attract developers; that could mean transformative access to transit-rich corridors and sought-after schools for lower-income families moving in.
Within the historic districts, new loft-building conversions could also come with affordability mandates. The neighborhood's current industrial zoning makes some existing residential-loft conversions technically illegal. Many Soho lofts were legalized through a 1971 zoning change in certain manufacturing buildings, in what the city calls "joint living-work quarters for artists," but conversions have occurred in new buildings and with residents not always working in the creative industries the joint live-work program aims to promote. The city has said that it seeks to redesign that system to potentially broaden who can live in those units. (Rent-regulated lofts currently covered by state law would remain protected.)
For the heart of Soho and Noho, a more surgical approach would be needed to add new housing. The current zoning there allows for a floor-area ratio (FAR) — the ratio of total building floor area to the area of its zoning lot, which essentially controls how dense and tall a building can be — of five, even though the cast-iron buildings often have FARs of six or higher. That discrepancy is where housing advocates see opportunity: Open New York has suggested special zoning rules that would allow new mixed-income housing to rise to the density of the tallest building on each block. That could mean an imperceptible upzoning on some blocks while clearing the way for more dramatic changes on others (most buildings in the historic districts top out at six or seven stories, but some rise closer to a dozen).
Under this model, at least 41 sites in Soho and Noho could be built out with 2,144 new units, according to Open New York's analysis. Thomas argues that such a designation would not override existing historic protections but complement them, since new buildings would still have to pass muster with the Landmarks Preservation Commission. While the city has not embraced this approach, Thomas said that "unlocking as much opportunity as possible within the historic district is very important. We shouldn't waste the chance."
Not a single unit of affordable housing has been built in Soho since de Blasio took office. Under the city's plan, new below-market units would be created through Mandatory Inclusionary Housing (MIH), a mechanism that would require that 20 to 30 percent of all new construction be set aside as affordable housing. MIH, however, doesn't have the best track record: Nearly four years after it was created, only some 2,000 units have been approved through the requirement. Similarly, a policy dating back to Mayor Ed Koch called "community preference" sets aside half of the affordable apartments in most housing lotteries for area residents. That means the competition heavily favors locals, and in Soho, where the median household income is over $144,000, that could hinder the rezoning's potential to create truly affordable housing.
For local preservationists and some longtime locals, the city pursuing plans to reshape the area is their worst nightmare, and one they've opposed for years. Some recognize that the area has fundamentally outgrown many of the zoning rules that govern it but draw the line at a boom of new mixed-income housing. "It's a bad way to do this, not just for our neighborhood, but for the city and for affordability," said Andrew Berman, the executive director for the Greenwich Village Society for Historic Preservation. "It will create a small number of affordable units, but it'll create many, many more superluxury units that'll take the form of out-of-scale towers." That's the other factor at play in Soho: People, and their influence, cannot be mapped as easily across the neighborhood as vacant lots. There are some textbook NIMBY complaints from locals, but also some legitimate concerns about the affordability levels of new below-market-rate apartments.
De Blasio doesn't have time for a drawn-out fight if he wants to finish the rezoning before his term ends in a little over a year. The city will have to enter the land-use review process in early 2021, and a couple of meetings are already on the books. Lower Manhattan City Councilmember Margaret Chin, who is also term limited and has a defining vote on the project, has already expressed support for working with the city on its plan, which was informed by several community meetings last year. If this drags on to the next mayoral administration, the likelihood of its success will take a major hit. Even if whoever takes office picks up the mantle, politically, it'll be a tough task, and major delays could make starting the rezoning conversation in other exclusive neighborhoods much harder down the road.
To Moses Gates, the vice-president of housing and neighborhood planning at the Regional Plan Association, it's precisely because Soho is already out of the reach of most New Yorkers — due to a lack of housing, period — that it's ideal for building. "The only way we're going to have any fairness in land use in this city is to have every neighborhood be part of the conversation and move toward comprehensive planning for the city as a whole," he said. "This would be a big step forward on that path."