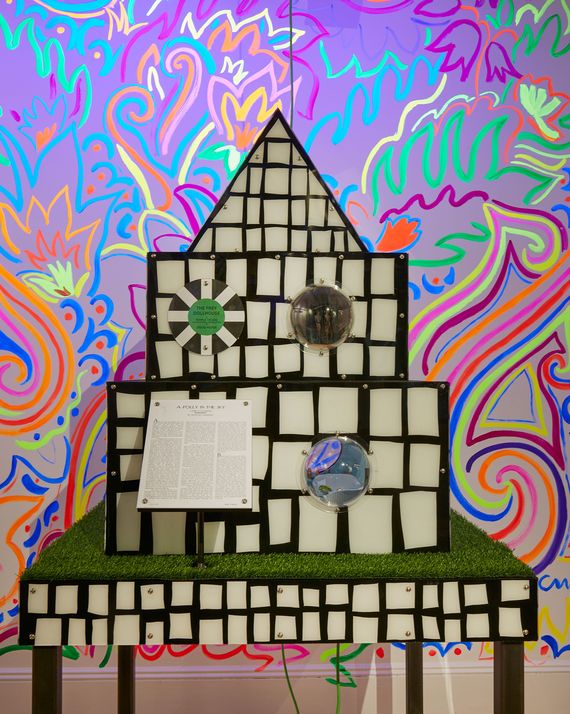 Doug Meyer's dollhouse.
Photo: Mark Roskams
Last week, a decade after she helped found the showroom Studio Four, Kate Temple Reynolds opened Temple Studio, stocked with screen-printed wallpaper, knotted rugs, and woven textiles. The project was largely influenced by Reynolds' friend, the artist and designer Doug Meyer (who is known for his fantastical interiors, his art installations, and his book, Heroes, which features the cameo portraits he created to honor the many brilliant design stars lost to the AIDS epidemic). Reynolds hoped to create a lively, experiential atmosphere — the space will host weaving and block-printing workshops and has a thoroughly inviting reading nook (a table stacked high with design books and surrounded by cozy chairs). The first thing visitors see when they walk in, though, is Meyer's dollhouse, which is displayed in front of a mural by Caitlin McGauley. Meyer built the dollhouse with a fictional saga in mind: It's 1958, and Eugene and Nira Frey have enlisted American architect Mott Schmidt to build them a 10,000-square-foot, three-story, Georgian-style mansion on top of a 15-story prewar building on the Upper East Side. While the narrative isn't real, the interior's art and décor are all attributed to real designers and artists of the period. On the exterior, seen above, is a fictitious New Yorker write-up (on the couple's Folly in the Sky by John Richardson).
According to our narrator's story, The Blue Salon was redone in 1973 by the legendary American decorator Billy Baldwin. The works of art are semi-facsimiles of real artwork by Louise Nevelson, Andy Warhol, and Luciano Fontana that might have been collected at this time. The furniture, most of it made by Meyer, is true to period — the blue plaster console with three balls was based off of work by Jean Royère, for instance. Meyer has done previous miniature installations where fiction, fantasy, and real-life design intersect.
The Marble Bedroom is a mini-masterpiece designed (according to Meyer's narrative) by two giants of European decorating: the Italian maestro Renzo Mongiardino and the British design icon David Hicks. The faux painted-marble walls capture the techniques employed by Mongiardino, the stripe diamond-shaped canvas is a facsimile of a Kenneth Noland, and the art over the fireplace is the very iconic Jackie II of Jackie Kennedy by Andy Warhol from 1966. There is an Egon Schiele, Male Nude from 1912, and a Warhol Brillo box. "The bed is classic Hicks — he used two colors of silk taffeta, which matches the pleated screen in the fireplace," says Meyer.
Both The Elevator Vestibule and Mudd Room are made to look like they were designed by French decorator Madeline Castaing in 1970. The wainscoting is done in lime-green raffia, and the moldings are done in three colors: black, lime green, and teal. The floor is a black and white marble checkerboard pattern. The walls are covered in highly reflective silver foil, and the room is filled by miniature replications of paintings by Picasso and Luciano Fontana and a sculpture by Alberto Giacometti, plus a 1974 table by Diego Giacometti. "The Mudd Room, Meyers says, "as Nira liked to call it, is where she kept her famous pink bike." The walls are covered in fabric from Nira's family mill in Jaipur and hung with a "major Picasso." The house, writes Richardson, does not contain the extent of the Freys' art collection. They also happened to have a warehouse filled with 127 Picassos, 138 Warhols, and 176 Giacomettis. The Meyer home is not a bad place to be.