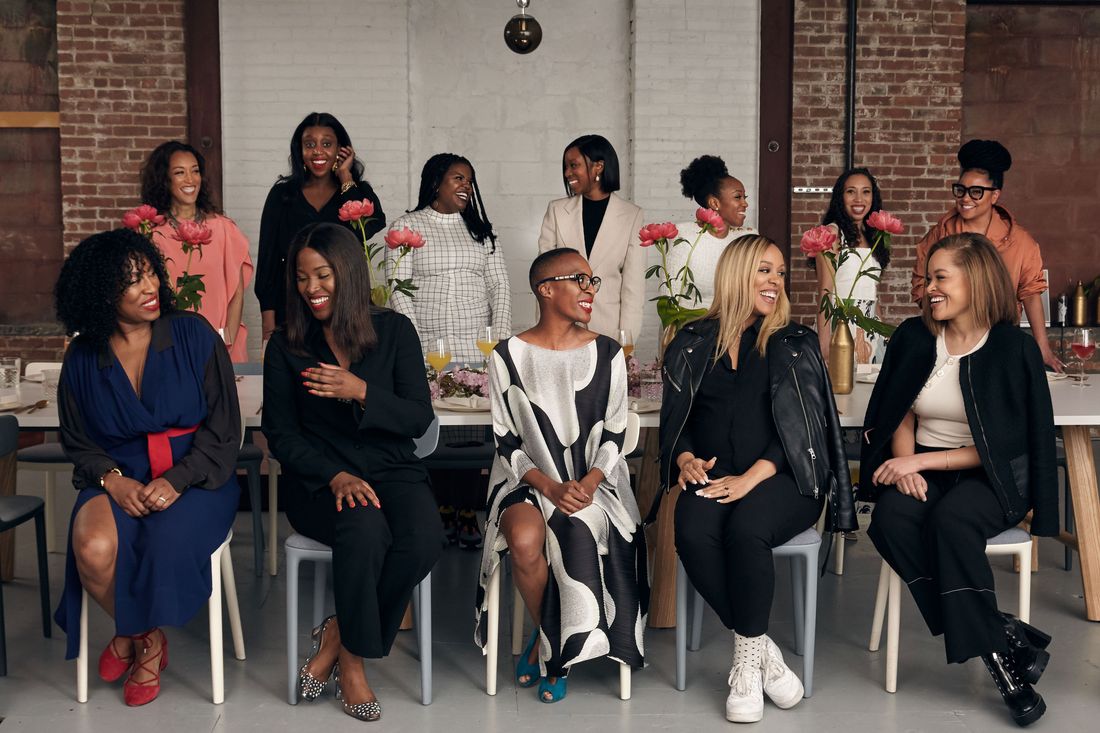 The ladies of Entre Nous at Ghetto Gastro's event space before dinner was served.
Photo: Shaniqwa Jarvis
Entre Nous is a dinner series where nothing is off the table. It's been around for two and a half years, ever since Courtney Willis Bair, the director of the Chelsea gallery Mitchell-Innes & Nash, invited eight fellow women of color in the art world to a dinner at Miss Lily's in Soho.
Both a networking group and a highly connected dinner party, Entre Nous has helped build a community of art entrepreneurs and gallerists in NYC. Ghetto Gastro hosted the most recent fête, serving specialties of the house. Read on to meet the women who attended.
Courtney Willis Blair
Director, Mitchell-Innes & Nash
Blair studied art history and journalism before arriving at Mitchell Innes & Nash three years ago. There, she started having conversations with other women of color in the art world and developed the idea for Entre Nous. "I felt a little bit timid about actually pulling the trigger on it," she says, "because I didn't know if it was just me that wanted this." But it turned out that every one of the eight women she invited to that first dinner in December 2016 loved the experience so much that the only question was "When's our next one?"
Today, the group has grown to 12 women. Scheduling three or four dinners throughout the year is a challenge, but one that everyone works to meet. "Entre Nous is French for between us," Blair says. "Tiana [Webb Evans] came up with that name, and then we've been nicknamed by other members of the group — Ebony [Haynes] calls us Gucci Gang."
Alia Williams
Director, Jeffrey Deitch
Alia found her calling in the art world after getting her bachelor's in art history from the University of Illinois. She came to New York and got her master's from the Sotheby's Institute, but it wasn't until she met Jeffrey Deitch in 2017 that her goals became clear: "Supporting artists, cultivating relationships, and really doing the most that I can to promote the artists we work with." One of the younger members of Entre Nous, Alia says, "I am just happy to be part of it. I have gotten so much knowledge of the art world from these powerful women."
Alexis Johnson
Director, Lévy Gorvy
"I did not pursue a career in the arts," says Johnson, who majored in sociology at Berkeley. "I just arrived at one, and I've been in it almost 20 years." Johnson worked at Sikkima Jenkins and Paula Cooper for seven years before joining Lévy Gorvy in 2017. She's particularly proud of the gallery's exhibit of the work of the multimedia artist Terry Adkins, the centerpiece of which was acquired by the Art Bridges Foundation.
Johnson embraces the spirit of support and camaraderie provided by Entre Nous. "There's a sisterhood, 100 percent." She remembers feeling very alone the first time she went to Art Basel in 2005, and then recalls ten years later, in 2015, seeing "the work of the video artist Kahlil Joseph, about black life in L.A. I bawled my eyes out because I couldn't believe how far we have come."
Ashley Stewart
Director, Gagosian 
Stewart is relatively new to Gagosian, and so modest that she reveals only the bare bones of her work life, saying, "I've built incredible relationships and worked with a number of exceptional people in the industry, many of whom have championed my talents and given me a platform to excel." Joining Entre Nous from the beginning has been a major factor in her art-world experience, something she thinks is common in the group: "We've built relationships that are as strong in our personal lives as they are in our professional ones."
Kyla McMillan
Director, Gavin Brown's Enterprise
A course on black people in Western art inspired McMillan to enter the gallery world. "We would look at these famous paintings but through the lens of the black figures, and I remember thinking, Wow, I really actually could belong in this world if I wanted to." She got an internship at the Studio Museum in Harlem, and when it came time to leave and figure out her future, "I didn't know what my options were, and I remember just Googling 'black women in galleries.'" Entre Nous is, as she puts it, "a necessity. When you're part of a community that has been marginalized — whether it's the black community or women at large — there's this myth that we have to be in competition, and the truth is there is room enough for all of us to flourish."
She appreciates the sense of shared knowledge and history in the group. "It's called Entre Nous — between us — and that's sort of where we're operating in the larger culture. There are things we know — not just black Americans, but across the diaspora — that can feel like a well-kept secret. After the election of Trump, there was this shock that many people felt, but I don't know a single black person who felt it, because that's how we've understood the world for so long now."
Ebony L. Haynes
Director, Martos Gallery and Shoot the Lobster
Originally from Toronto, Haynes found her way into the art world after working in the music industry, living in South America, studying photography, and going to grad school for art criticism and curatorial process (not necessarily in that order). She has been at Martos and its sister gallery, Shoot the Lobster, now operating in both New York and Los Angeles, for three and a half years. Both galleries specialize in less-traditional shows; Haynes's upcoming exhibition, "Exploitation," involves curating a number of short films by black filmmakers to create a long program "that gives another voice to filmmaking and curating a gallery." Asked about her experience with Entre Nous, she laughed and answered, "I get a lot of free therapy. "
Joeonna Bellorado-Samuels
Director, Jack Shainman
Bellorado-Samuels was raised in San Francisco by politically active parents; her father, Joe Sam, was also a practicing artist. "I thought that I would work in policy, so after college I went to D.C. to be a lobbyist." But her timing was off. "If I had been there in '08, when everything was about hope and change, I would probably still be there, but it was 2002. I had to decide if I was going to go to law school or get the hell out of there. I decided to get the hell out of there."
She came to New York, entered a three-year MFA program at the School of Visual Arts, and started an internship at the Studio Museum in Harlem in 2008. But "as much as I loved being at the Studio Museum, I was really drawn to the idea of working with artists over a long period of time," she says. She joined Entre Nous back at that first dinner at Miss Lily's. "It was exciting," she says. "When I started at Jack Shainman, I could count on one hand how many black women were working in galleries, and I'm being very generous. That dinner felt overdue yet early at the same time. It is important for people to be able to see us. You can't catch what you can't see."
Tiana Webb Evans
Owner, ESP Group
Evans entered the art-and-design world with a job working for the highly regarded designer William Sofield. Early on in her tenure, she proposed a business plan for Sofield's company, along with a new title and what she felt was a fair salary increase. "Bill gives me the title, he gives me the money, and does not bat an eyelash," Evans says. He told her, "Hey, kid, one thing I'm never afraid of is talent."
This led to a high-flying career with appearances at openings and events every night, but then she got married and decided to start a family. Decisions had to be made. Now the mother of three children, she owns a PR firm working with designers and artists. "I ended up in PR," she says, "because I learned that if no one reads about your work, it won't exist."
For her, Entre Nous is about sharing experience and empowerment, though she's careful to recognize the class issues inherent in working in the art world — "I don't want people to get the impression that these are black women from impoverished backgrounds, because poverty and blackness tend to be bedfellows, but that is not necessarily the case." Talking earnestly of empowerment can also hide the fact that Entre Nous is also just a great dinner party: "Sometimes you just want to have fun and talk about what happened at the Venice Biennale; it's also fun to be completely yourself."
Alexandra Giniger
Director of artist relations, Jack Shainman Gallery
A born-and-raised New Yorker, Giniger is another alumnus of the Studio Museum of Harlem, interning there in 2007 before working as the studio manager for the Kenyan artist Wangechi Mutu for four years. "It was exactly what I wanted to do: be an expert in this artist's language and be able to support her. As tough as it was to leave Wangechi, I knew that what I was doing with her was what I wanted to accomplish with other artists, so that is when I moved into the gallery scene." She ended up at Jack Shainman after being a fan for many years. "We work with more artists of color, more black artists, I would think, than any other gallery in New York."
She says, "I've been involved with Entre Nous since its inception, and I think it came together because we realized that, wow, there are so few black women working in galleries and commercial spaces in New York City, and it just would be so nice to have a support group."
Nicola Vassell
Independent Curator and Founder, Concept NV
A veteran of the New York art scene, Vassell is revered by the younger women in the group. She worked at Deitch Projects and Pace Gallery before starting her own business five years ago with a blockbuster show, "Black Eye," at 57 Walker Street, that included works by superstar artists Kerry James Marshall, Hank Willis Thomas, Toyin Odutola, and Lynette Yiadom Boakye. "I began looking at what I call cultural phenomenology," Vassell says.
Like the other more experienced women in Entre Nous, she appreciates the chance to work with a new generation of art-world professionals. "I think we realize that this is an opportunity to nourish and mentor and just be of assistance to the women joining the group. Yes, this is a sisterhood."
Christiana Ine-Kimba Boyle
Executive sales assistant to partner at Lehmann Maupin
Boyle interned at the Metropolitan Museum of Art while attending the Performing Arts High School in Manhattan. "I always knew I wanted to be part of the art world; I just didn't know in what capacity," she says. In college, while studying art history, she discovered that she had "a knack for the market side of things." She found out about Entre Nous as an intern at Gagosian, "and I thought, Whaaat?? This existed right under my nose and I never knew about it?!" Now that Boyle is a member of the sisterhood of Entre Nous, she says, "It just comes down to womanhood and trying to foster that and help each other grow. We also have that sense of connection because we are all black women, very proud black women, and in an industry where you can sometimes be the minority, there's a sense of comfort that comes from that. These women are my sisters."
Rosemary Williams
Former assistant to the managing director and partner, David Zwirner 
Williams thought that she was going to work in the foreign service. She studied Arabic in college (she also speaks Farsi and Turkish) and worked in the Middle East, but she realized that "culture was where my sensibilities lie." She's been working in the art world for six years now, including her time earning her master's at the Courtauld Institute. Entre Nous came into her life through a friend. "It's such a great opportunity to have access to these talented and hardworking women. It's an incredible resource but it's also fun, which is really important."