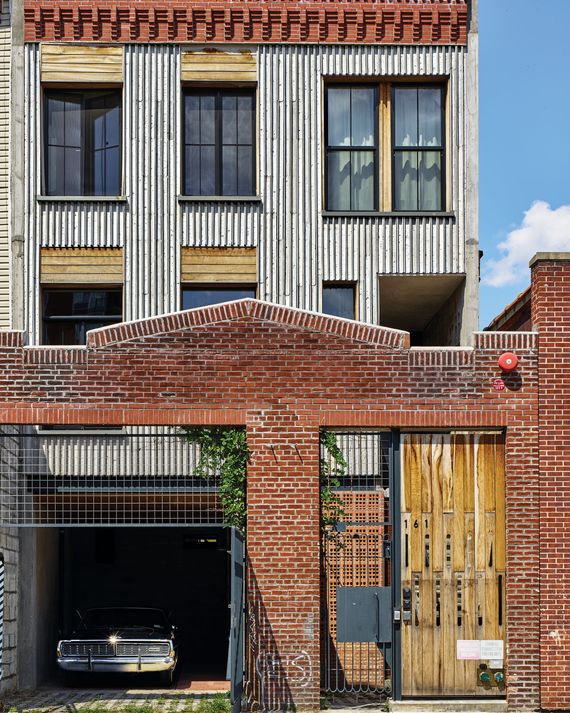 The Building Façade
: The new multi-story house (built within the original façade and brick walls of the auto shop) has two recessed floors not visible from the street; the exterior cornice is custom brick.
Photo: Jennifer Trausch
For years, Jared Snyder, who runs the decorative-finishing company JJ Snyder Studio, used to get his work van fixed at J&S Auto Repair. "I mentioned to my studio manager, James Perry Owens, when I was in there one day that I would love to buy a garage like that — ideally for a studio, as we needed more space and a better location." A few months later, Jerry Salter, who'd been running the garage for over 30 years, told Owens he was ready to sell. Snyder closed on the building, located on the Clinton Hill–Bed-Stuy border, in 2012. He initially thought he would add one floor above it and create a modest live-work space. But once he found the right architect — Eli Fernald, who, along with partners Bretaigne Walliser and Thom Dalmas, founded FABR Studio + Workshop in 2012 — the project became more ambitious.
The firm had the idea to add three more floors and was the only studio that understood why Snyder wanted to keep the garage's façade. "There were so many large, new glass-and-steel developments in the neighborhood, void of context and character," Snyder says. Fernald adds, "We thought it was just a simple industrial shape that was well worth keeping." After a three-year renovation (it took quite a while to acquire all the necessary permits), Snyder and his wife, set decorator Becky Harvey, moved in; they live on the bottom two floors, which also feature a garage and a cloistered garden, while renters live on the other three. For the furniture, the couple trawled flea markets, eBay, antiques shops, and auctions. "We can confirm that every bit of furniture we own — barring two rugs and one armchair — has been pre-owned," Harvey says. "That may explain why everything looks like it's been here forever."
*A version of this article appears in the June 24, 2019, issue of New York Magazine. Subscribe Now!