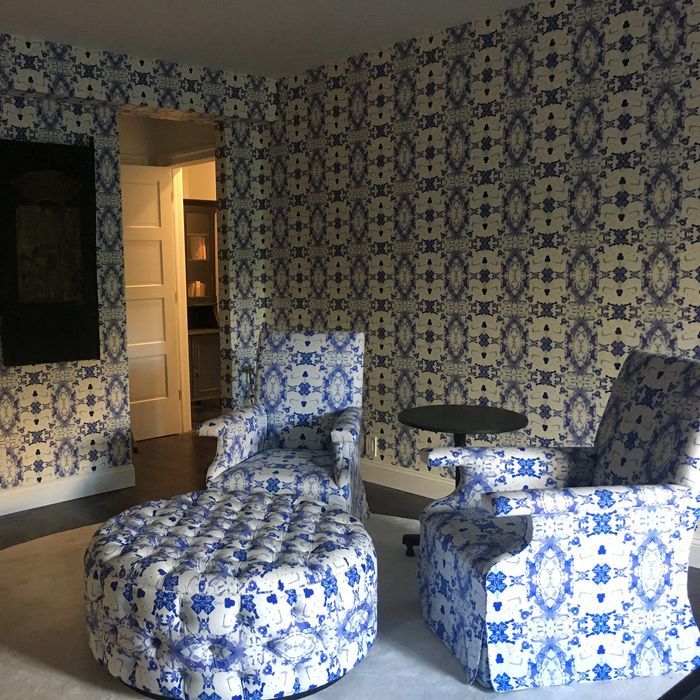 The master bedroom.
Photo: Dane Pressner
Dane Pressner has been working as the design director at D'Aquino Monaco the past five years. He met client Joan Klein in 2015, 25 years after Carl D'Aquino, the firm's founder, outfitted her 10,000-square-foot home in New Jersey. Newly an empty nester, Klein wanted to move from her big house in the suburbs to the heart of the city — and fell in love, after a lengthy search, with an apartment in Philadelphia's Rittenhouse Square. Much to her surprise, and despite her typical preference for older buildings, the apartment was modern — but it won her over with its magnificent views of the square from the living room and master bedroom. Pressner and Klein got to work reimagining the interiors and ultimately took several walls down to create an open living room–slash–dining room–slash–kitchen. The palette is decidedly grisaille, with the exception of the master bedroom where Pressner drenched the walls and furniture with Voutsa's blue-and-white "Chinese Boy" fabric, which lends the space, seen above, a cozy neo-colonial vibe. The pair of "Sphinx Arm Chairs" are by Rose Tarlow, the ottoman drum is from George Smith, the white round area rug is by Patterson Flynn & Martin, and the two wall panels are Chinese painted doors from Abhaya Antiques in NYC.
"Joan did not want a modern apartment," Pressner says, "but she did want a modern attitude." The living-room mural was inspired by a painting that Klein spotted in a magazine and hand-painted by a local artist. The wall sconces are by Maison Bagues from Bernd Goeckler Antiques. The large sofa was custom-made by JM Upholstery and upholstered in Elitis linen. The pair of wing chairs were custom designed by Jonasin Pierre Frey fabric. The armchair is from George Smith. The area rug is from Aronson's Floor Covering. The model ship belongs to Klein.
The guest room has a custom bed made by Leonard's New England and has hand-painted charcoal walls that lend the space a dark and moody feel. "It's really designed as a TV room, with a daybed to curl up and watch the Super Bowl on," Pressner says. "But it can also be used by an out-of-town grandchild who wants to stay with Philly's coolest."