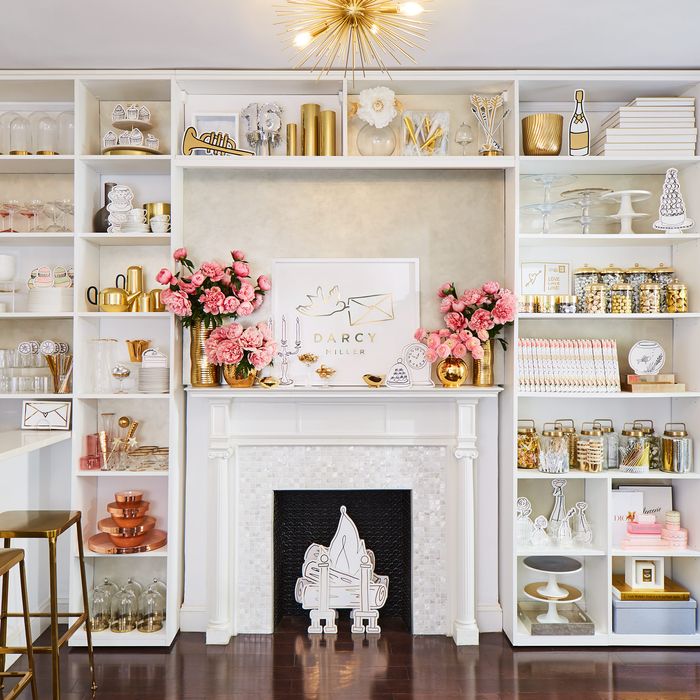 Darcy Miller's main office space, which features an open kitchen. The floor-through apartment has two bedrooms as well, both of which are also used as offices.
Photo: Thuss + Farrell
Even if editor, author, illustrator, and crafter Darcy Miller hadn't spent 25 years working with Martha Stewart (23 of those as editorial director of Martha Stewart Weddings*), and even if she hadn't found the most perfect floor-through apartment in a storybook townhouse on the same block as Holly Golightly's building in Breakfast at Tiffany's, Miller's office space would still be spectacular. The room, seen above, is a sort of antidote to the typical, mundane home office — pristine, with every single object, down to the last ribbon and paper plate, meticulously organized and arranged on custom shelving by California Closets.
Consistency and attention to detail (like the super-specific labels on her binders and closets) are at the root of Miller's success — and she makes keeping her space organized look effortless. She has her own Amazon shop, so she can easily reorder her favorite drop-shaped paper clips, unwaxed craft paper, and gold-plated, stainless-steel pushpins. She inherited her penchant for creativity and organization from her mother, Madge — with whom she created party favors and crafted personalized invitations from the time she was able to hold a crayon. Party favors are still very much in her oeuvre — last winter, she was recruited by Serena Williams to create custom goody bags for guests at Meagan Markle's baby shower.
*This post has been updated to clarify Darcy Miller's role at Martha Stewart Weddings.