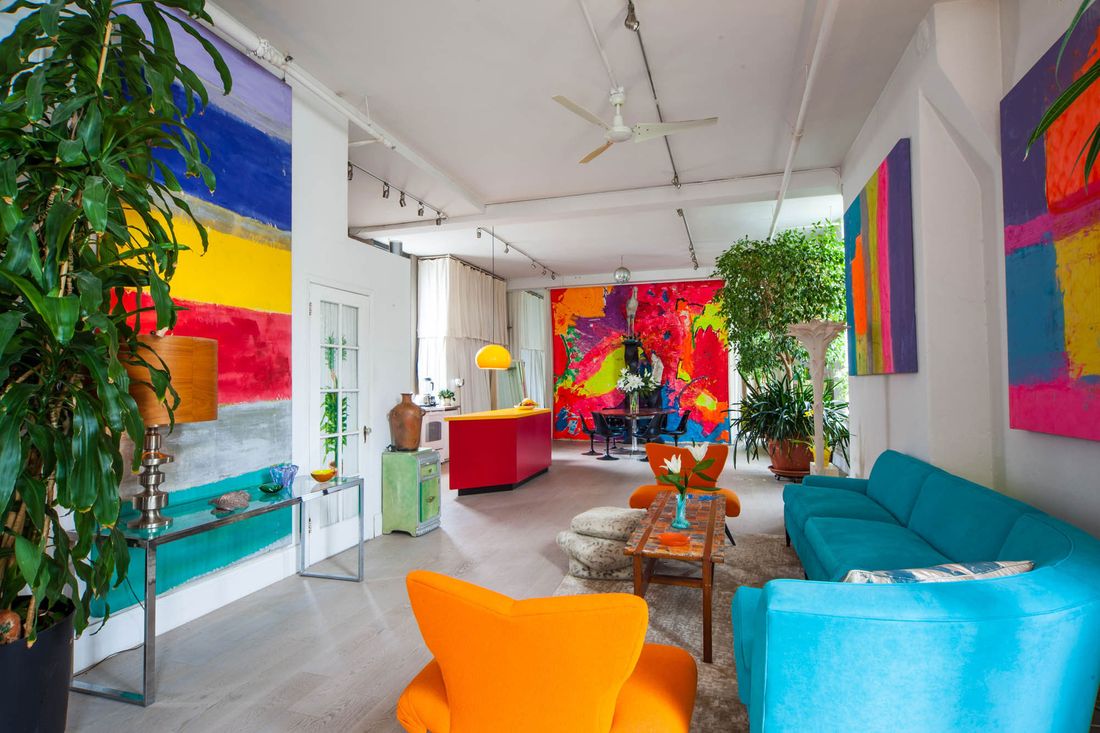 The loft.
Photo: Vala Kodish
The life and work of Michael Katz — who died suddenly of a heart attack this past April in Miami — is currently on display at the Fashion Institute of Technology in a retrospective dubbed, fittingly, "Art As Fashion." Michael was a friend since the late '70s, when I was working as a freelance fashion stylist on print ads for Estée Lauder. At the time, he was creating outfits for the brand and many others (there wasn't anything Michael couldn't whip up on a moment's notice) — including the instantly iconic one-shouldered tunic-and-pants set that Sean Casey wore in the Grecian Colors campaign. I can't even begin to count how many visits I made to Michael's candy-colored loft on 17th Street, where he lived and worked and held his fashion shows. This spring, a few weeks before Michael's trip to Miami, he invited me over for lunch. That day, I asked him (for the umpteenth time) if I could do a story on his loft (pictured here from the south side). It is bittersweet to finally feature his treasured home, where he lived since the '70s and which is such a testament to the joy and generosity and talent that he brought to his life. (The sofa, depicted above, was found on the street 40 years ago and recently reupholstered in Knoll's blue Ultrasuede fabric by his best friend, the interior designer Kevin Gray. Gray also reupholstered the chairs in Christopher Hyland's orange bouclé.)
The loft, unlike many others in the neighborhood, was never broken up into apartments — as such, it has remained as open and light as it was when it housed a millinery factory, where the milliners could work until the last drop of daylight thanks to the massive windows. Gray worked on the interiors with Michael for decades and most recently convinced him to put down natural oak floors instead of high-gloss white paint. All of the art on the walls is by Michael himself (he began painting in childhood); the zebra-wood credenza, seen above, was found in a long-gone antiques store in Chelsea. The Serge Mouille lamp between the Marcel Breuer Wassily chairs was found by Gray; Michael found the Jack Lenor Larsen fabric that hangs in front of the service door.
The inlaid coffee table, seen below, was made by Michael and his father when Michael was 12 years old. Michael, a born-and-raised New Yorker, was the eldest of four siblings — two brothers and a sister, Melinda, who is the Queens borough president. His mother started the Queens Council for the Arts, and his father was a conductor for the Queens Symphony Orchestra and the American Symphony Orchestra at Carnegie Hall — the family also owned the Long Lake Camp for the Arts in the Adirondacks for a time.
The kitchen is as Michael and Gray created it in the '90s (they'd planned to install a new one together when Michael returned from Miami). The Saarinen chairs were found on the street in front of Pret a Manger by one of Michael's fashion muses and best friends, Mariana Verkerk. "Unbeknownst to me," says Verkerk, "he had actually asked the people in Pret a Manger if they were ever getting rid of those chairs; he told them he'd take them. I just happened to see them on the corner one night and thought they were very Michael, so I dragged them to his house in my high heels. When he woke up in the morning, he started screaming, 'Where did you steal those chairs from?'"
Below, a portrait of Michael adorned with one of his silk scarves greets you at the entrance of his exhibition at F.I.T. Michael studied silk-screening and print-making at the New York School of Visual Arts and went on to start a fabric company, Theacat Co., with one of his classmates, Cynthia Knott, in the '70s; they sold to designers like Halston and Stephen Burrows. He had his own line at Bendel's, and in 1988 he began his own ready-to-wear label. He closed his fashion business in the '90s to concentrate on his painting and landscape design.