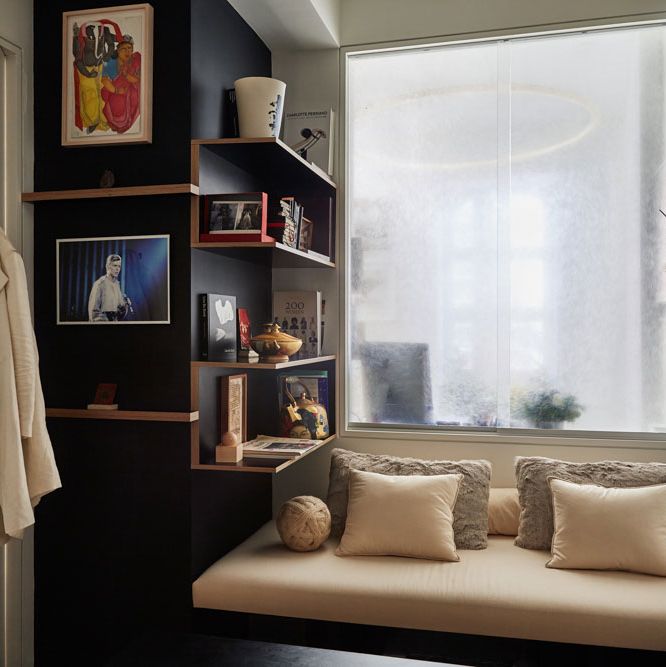 Suchi Reddy's office.
Photo: Seth Caplan
"When we renovated, the idea of making it feel like a black-and-white sketch that came to life was important," architect Suchi Reddy of Reddymade architecture and design firm says of the 2017 expansion of her office, which is now almost twice the size it was in 2010, when she moved in. The work took about five weeks, and the streamlined 2,200-square-foot interior illustrates Reddy's sophisticated sense of play. Reddy, who grew up in Chennai, India, started her own practice in New York in 2002 and has grown her business into a 14-person office. Her international projects include a collaboration with Ai Weiwei on a house in upstate New York and a prefab house for the actor Will Arnett in Los Angeles in collaboration with LivingHomes. She is also working on a project in Chennai. And last year, she won the 2019 Times Square Valentine Heart Design competition; her 18-foot sculpture will be on view there starting February 1. Just as her own apartment, a 375-square-foot former dentist's office on Fifth Avenue, resonates with her ingenuity at shifting your perception of space, her office is filled with the same magical thinking.
For example, above, just beyond the standing chain light by Franz West, the etched glass from Bendheim's +2 Collection provides light and acoustical privacy in the wall between Reddy's office and Hannah Laplace's desk off the entrance hall. It also created the opportunity to design a comfortable niche Reddy uses as seating for guests. "It's a good informal space for team meetings as well!" Reddy says of her home away from home.