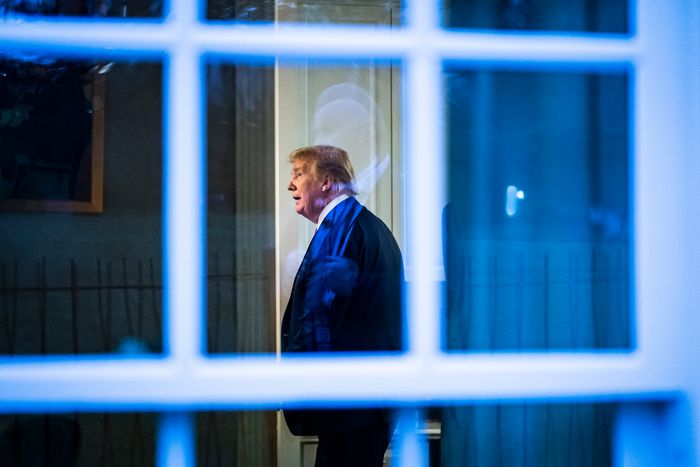 "Little windows so you can't see out." Huh?
Photo: Jabin Botsford/The Washington Post via Getty Images
"So they want to take a building, and they want to make the windows from nice windows to little windows," President Trump's mind coughed out on Fox News this week. "Oh, that's just fine, that's just my business, I know all about construction, that's wonderful. Let's take your windows out and make them tiny little windows because you're going to save two cents on energy."
If what Trump said this week about the Green New Deal mandating buildings with "tiny windows" sounds familiar, it's because he said almost the exact same thing at a campaign event in Georgia on October 16: "They want to rip down buildings and build new buildings in their place with tiny little windows." And again to Fox News host Sean Hannity on October 8: "I mean, they literally want to take buildings down and rebuild them with tiny little windows, okay? Little windows so you can't see out, you can't see the light." And a slight variation in a Rose Garden address on July 14: "Mandate net-zero carbon emissions for homes, offices, and all new buildings by 2030? That basically means no windows, no nothing. It's very hard to do."
When Trump rails against tiny windows, the people at his rallies cheer, but nobody who thinks about windows for a living seems to have any idea what he's talking about. "The president is ill informed — not the first time," says Blake Middleton, a partner at Handel Architects, which designed the largest passive-house project in the world, the House at Cornell Tech on Roosevelt Island. "Low-energy buildings can have windows of any size, including floor-to-ceiling glass. No tiny windows necessary!"
Is this — like the planting of a "billion trees" promised at the first debate with opponent Joe Biden — another matter of Trump's willfully misinterpreting actual policy ideas? Or has his cable-news-stewed brain yet again collected and assembled tiny shards of unrelated Fox & Friends blather, creating a blurry, faintly recognizable mosaic of a palimpsest of an idea? Likely it's both, and mostly the latter.
One bit of Trump's rant is almost correct: The Green New Deal, a 14-page framework for eliminating emissions through public works and jobs programs, does include a goal to "upgrade all existing buildings in the United States … to achieve maximum energy efficiency" within ten years. He has perhaps knitted it into Biden's Build Back Better plan, which uses the Green New Deal as a framework while falling far short of its targets but does include a major retrofitting program to reduce carbon emissions. And yes, windows are mentioned, albeit barely: "Upgrade 4 million buildings and weatherize 2 million homes over four years, creating at least 1 million good-paying jobs with a choice to join a union; and also spur the building retrofit and efficient-appliance manufacturing supply chain by funding direct cash rebates and low-cost financing to upgrade and electrify home appliances and install more efficient windows, which will cut residential energy bills." Where and how he made the leap from that to "tiny little windows" is known only to Trump and the makers of the steroid dexamethasone.
It is vaguely possible that he got this tiny little idea from some remarks made by (of all people) New York City mayor Bill de Blasio, who at one point suggested that glass-sheathed skyscrapers might not pass future energy audits. When announcing new energy-efficiency regulations in May 2019, de Blasio held a press conference inside the gilded curtain wall of Trump Tower to single him out: "We have a message for President Trump and all the others. We will take your money, we will find you, and we will hold you accountable."
But in fact, windows don't have to get smaller to meet efficiency goals — they just have to get smarter. "This is 19th-century thinking, and we've got 21st-century solutions," says Jacob Corvidae, principal of the Rocky Mountain Institute, which consults on energy-efficiency retrofits. Over the past decade in particular, windows have gone high-performance, thanks to triple or quadruple panes of glass, insulative measures like a layer of argon suspended between those panes, and heat-reflecting glazings (a 24k-gold coating does help a little, yet isn't enough on its own). But windows are also becoming high-tech tools for managing warming and cooling, which can save even more energy. RMI's own headquarters — which generates more energy in a year than it consumes — is located in Colorado at an elevation of 6,600 feet and does not have central heat. It stays comfortable largely because its designers employed large, southern-facing windows to maximize passive solar gain. The windows and shades are equipped with sensors to adjust for heat while still allowing daylight to flood in, cutting down on the need for extra lighting.
Yes, Trump "knows all about construction," but his knowledge was mostly cultivated decades ago, when energy standards were vastly different. (Nearly two decades ago, for example, Australia instituted green-building recommendations that windows be either double-glazed or—yes!—made smaller.) This year, two of his New York buildings, Trump Tower and Trump International Hotel & Tower, scored Ds on the city's new efficiency rating system, and he's regularly called out for refusing to make window-upgrade retrofits to his properties, even though he did receive $1 million to do so on a property in White Plains in 2012. It's plausible that de Blasio's remark about glass towers stuck with Trump because it would have cost him money. "It's much more expensive," Trump's ghostwriter said in his 2008 book. "The science has not been perfected yet and in some cases the savings cannot justify the huge cost. You spend a tremendous amount of money now, and it takes 40 years to get your money back" — although a report shows the White Plains investments paid for themselves within three years.
That's why rebates are widely offered, many of them through cities and local utilities; although window upgrades can get expensive, the benefits go beyond the energy savings. Corvidae points to the Empire State Building, which RMI worked with a decade ago when the building went through one of the biggest such retrofits in New York City history. All 6,514 windows were upgraded and salvaged as part of an ambitious plan that ended up cutting the building's energy use by one-third and recouping those costs three years later. The windows didn't get any smaller in the process. Trump's concerns might be different from his tenants' but such changes would impact them both positively, says Corvidae. "He's reacting to this as a landlord, not as someone who lives there. But this can be beneficial for landlords, too."
What Trump is actually trying to do here is, once again, gin up irritation at rules, the way he does about mask wearing. Under the Trump administration, the EPA has rolled back nearly 100 environmental regulations meant to reduce emissions, lower energy usage, and save Americans money. Take energy-efficient light bulbs, for example, another regulated product he has complained about — along with low-flow showerheads and toilets. His EPA has delayed raising efficiency standards to a level that incandescent bulbs could not meet, and Trump often says he will "bring back" incandescent bulbs. His crowds cheer at that one, too.
The White House press office did not answer calls for comment.