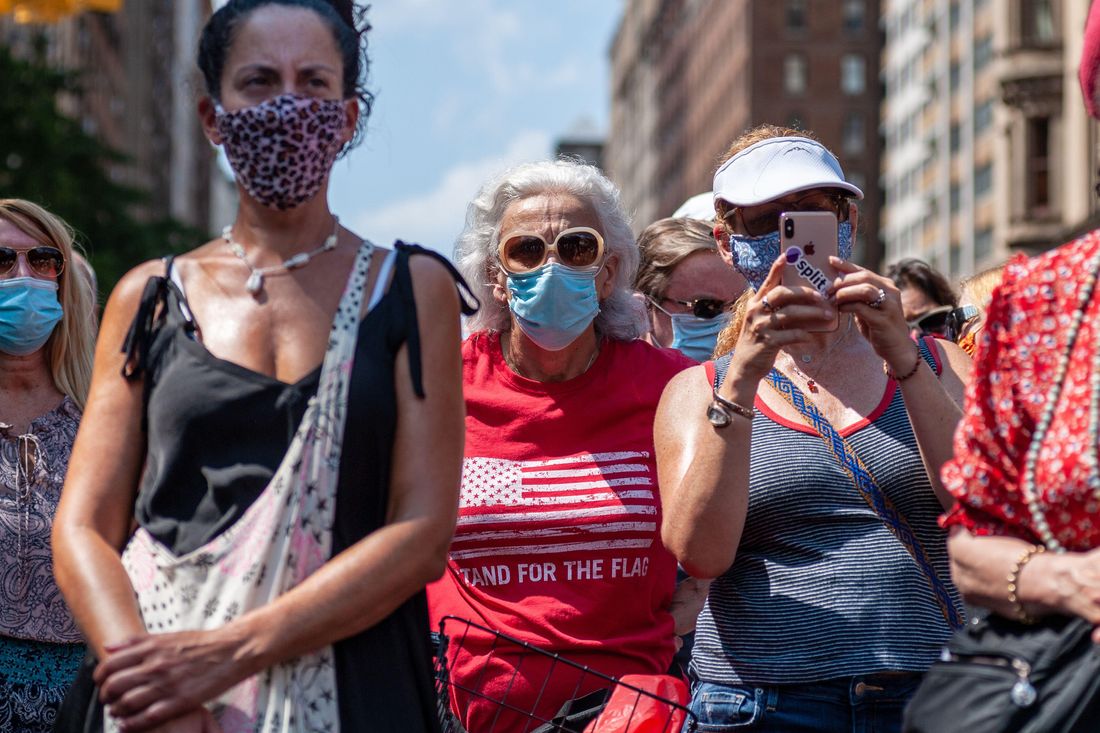 Residents meet with Curtis Sliwa of the Guardian Angels in August.
Photo: Gabriele Holterman/Sipa USA / Alamy Stock Photo/Alamy Stock Photo
By the time Alison Morpurgo heard that 283 homeless men would be moving into the Lucerne Hotel, just a few blocks from her apartment on the Upper West Side, she was already riled up.
It was late July, and Morpurgo was venturing outside after isolating for months with her two teenage kids — walks in the park, the occasional coffee with a friend. "It was like, Wow, this is amazing. We're outside again," she recalled. The Upper West Side, where the median income is almost twice the citywide average, wears its liberalism like a badge of honor, and at the start of the pandemic, gestures of compassion abounded. Cozy Italian restaurants turned into grocery stores selling essential items. People put up signs offering help to those in need. A local student who delivered food to the elderly was invited to appear on Good Morning America.
But as the neighborhood came back to life, things felt … different. Amid the outdoor restaurants and the couples ambling down Broadway, Morpurgo saw discarded needles on the sidewalk and people passed out on benches. "The streets were starting to feel a little bit less safe," she said. "We just didn't know what was going on." Everyone around her seemed to be abandoning the neighborhood. The streets were filled with moving trucks; many residents who had fled during the pandemic to second homes in Connecticut and the Hamptons decided to leave for good.
Morpurgo, who leads a team of regulatory lawyers at one of the world's largest banks, believed there was a direct connection between the two developments: the arrival of the homeless and the departure of the wealthy. As part of a plan to create more space for social distancing at shelters during the pandemic, the city had already moved some 450 men and women into three empty hotels on the Upper West Side. But the arrival of the men at the Lucerne was "the straw that broke the camel's back," according to Morpurgo. She and other residents were alarmed to learn that many of the men were what is known in social-work circles as MICA — short for "mentally ill chemical abuser." The day after the men moved into the hotel, a new group popped up on Facebook to demand that they be relocated. The group called itself Upper West Siders for Safer Streets.
Who actually started the group remains a closely guarded secret. "It was a collaborative process," the woman who pulled the trigger told me through an intermediary. "Many neighbors, once strangers, came together to create a virtual town square and effect compassionate, constructive solutions." Within a week, Safer Streets had more than 1,000 members. Morpurgo, who had been invited by a fellow parent, was among the first.
"There were so many posts about people leaving New York," she recalled. "So I said, 'Can we just make this about staying? What we can do to make it better for anyone who either wants to stay or has to stay?' " She was asked to become a moderator.
But many people who flocked to the group, she quickly learned, weren't interested in any form of moderation. Members posted photos of Black men gathered at the meridians on Broadway, close-ups of feces and condoms on the pavement, and pictures of encampments set up by those sleeping in the streets. There was no evidence that any of it involved the men from the Lucerne, but that stopped no one. "We worked very hard to be here," read one comment. "The homeless DID NOT. They must me [sic] taken where they belong." Some in the group took to calling the men in the hotels "creatures." There was talk of smearing neighborhood benches with molasses to discourage them from sitting down. As the group ballooned to 15,000 members, QAnon symbols began appearing in profile photos. People were shouting about "law and order." Some didn't live on the Upper West Side at all. Others admitted they were Upper West Siders who were watching things unfold from afar.
The New York Post and Fox News quickly seized on the group. Morpurgo had wanted press coverage — anything to bring attention to the issue — but this wasn't what she had bargained for. Sean Hannity and Tucker Carlson devoted segments to discussing how this nice, expensive (read white) corner of the city was descending into homeless (read Black) anarchy. The correspondents Fox sent "into the field" came back with stories — but no footage — of men shooting up in the streets. "A preview of coming attractions if Biden's America became a reality," Hannity warned. Paul Joseph Watson, a far-right YouTuber, featured the neighborhood in a video called New York City Is a Sh*thole that attracted nearly 1 million views.
Morpurgo and her liberal neighbors, it seemed, had failed to understand the current state of America's culture wars. "When the men came into the Lucerne, it just exploded in this ugly rhetoric," said Corinne Low, a local resident who opposed Safer Streets. "I was so embarrassed to have that coming out of a neighborhood toward people who are in need." But it was also becoming uncomfortably obvious that the rhetoric, while ugly, was clarifying. In the age of Trump, the line between "not in my backyard" and "go back to where you came from" has been all but obliterated. What is MAGA, after all, but a globalized version of NIMBYism, intent on chasing people of color off America's pristine lawn?
No one moves to the Upper West Side for the drama. This is a neighborhood of reliable habits — of devout readers of the Sunday Times, Friday-night dinners at Cafe Lux, and afternoon strolls in either Central or Riverside Park (a rivalry more contentious than Trump-Biden, in which every resident must declare a favorite). Morpurgo was stunned by the vitriol that was overwhelming Safer Streets, even if she agreed with the underlying goal. She had never even seen an episode of Carlson's show, and now here he was, exploiting her neighborhood's private pain for political gain. Only two months earlier, the Upper West Side had been thrust into the national spotlight after a white woman called the cops on a Black bird-watcher in Central Park. But in Morpurgo's mind, the battle over the homeless wasn't about race — it was about public safety. After all, she had gone to Black Lives Matter protests, and her kids were still marching. "I was really worried with some of the narrative that's been spun around this," she said. "The last thing I want is for my teenagers to think I'm a bad person."
With Safer Streets erupting into chaos, Morpurgo and four other members slipped away and registered a nonprofit called the West Side Community Organization. Known as WestCo, the group raised more than $200,000 through GoFundMe and private donations. In a sign of its desire to play hardball, the group retained Randy Mastro — the former deputy mayor to Rudy Giuliani — who threatened to sue the city if it did not move the men out of the Lucerne. Some of the group's leaders met for the first time in the backyard of a brownstone belonging to Dana Lowey Luttway, a real-estate magnate who is the daughter of Representative Nita Lowey. "I just wanted to hug people, but you couldn't," said Morpurgo, who was named vice-president. They ordered sushi and sat six feet apart.
But while WestCo didn't engage in the ugliness lobbed around by Safer Streets, that didn't insulate it from accusations of liberal hypocrisy. White people make up almost 70 percent of the Upper West Side, while Black people comprise 58 percent of the city's shelters. One longtime resident, Peggy Taylor, recalled the first thing she said when the men arrived at the Lucerne: "Now I'm not the only Black face on the Upper West Side." Low, who teaches economics at the Wharton School of the University of Pennsylvania, compared WestCo to segregationists from the '60s: "It's about wanting the Upper West Side to become this more and more exclusive space." In response, she founded a group called the Upper West Side Open Hearts Initiative, which organized a series of events in front of the Lucerne — donation drives to provide the men with clothes for job interviews, art projects where people chalked messages on the sidewalk outside the hotel: ALL ARE WELCOME HERE and YES IN MY BACKYARD.
Inside the Lucerne, meanwhile, things were rough, especially at the outset. Fights broke out in the middle of the night. Few people wore masks. The hallways were filled with cigarette smoke. Douglas Rowan, who has lived in one of ten rent-controlled apartments in the hotel for 35 years, took to leaving his home only to walk his mastiff and Shih Tzu poodle. "They brought 283 people into a building without notice, did not enforce any of the protocols, and dumped them in the laps of ten people who are all seniors with preexisting conditions," he said. "These people have the right to be safe, but so do we."
One of the temporary residents, who goes by the name Da Homeless Hero, was also unhappy with the way things started off at the hotel. In the first few weeks, security wasn't doing its job. Men trying to stay clean were roomed with those still in the grips of addiction. The smoking was out of control. He understood why neighborhood residents were upset, but he didn't understand why they didn't focus on trying to fix things instead of evicting those in need. It was traumatic being shuffled from shelter to shelter. In one, Da Homeless Hero had contracted COVID-19. Now he just wanted a place to sleep.
One day, he left the hotel and saw the messages written on the pavement by members of Open Hearts. "I seen all the chalk on the floor and all the hoopla and stuff," he said. "I'm just a straight shooter, so I sent a message to them — I appreciate it, but get the fuck outta here. This ain't gonna do nothing for us. They hit me back immediately and said, 'Oh, so glad that you reached us. Can you tell us what we can do?' "
Most residents, though, remained intent on evicting the men. In August, nearly 1,400 people tuned in to a community-board meeting devoted to the issue — a Zoom record. It was a public and, for the Upper West Side, fairly frank airing of grievances. ("There have been a lot of questions about what to do when folks encounter — and I'm sorry I'm using words that I never thought I'd use in a community-board meeting — they encounter people masturbating," board chair Mark Diller said at one point.) By the end, the meeting had coalesced into a single thought, lobbed in various forms: What was the timeline? When would these men be gone? It was as though everyone were really asking, When will this pandemic be over? The Lucerne — and the men living in it — had become a stand-in for a city going through a once-in-a-generation crisis.
It all reminded Curtis Sliwa of the bad old days. As founder of the Guardian Angels, Sliwa made a name for himself in the '80s as a vigilante crime fighter, a man who took to the streets to make them safer, often targeting people of color. But he was discredited after he boasted about muggings and fights with rapists that never in fact took place. Now Sliwa was living on the Upper West Side with his fourth wife, still wearing his signature red beret, still patrolling the streets, and looking to stage a comeback with a run for mayor next year.
Every morning, Sliwa would go out and get breakfast, cat food, and a copy of the paper. Suddenly, in the midst of the battle over the Lucerne, local residents were coming up to him and sharing their concerns. "People never had two words for me up there," he said. "So I said, 'Well, you know, I'm your neighbor. Let me look into it.' "
Sliwa was in his element. He no longer needed to head to midtown, to what he called the "Corridor of Doom," to hand out hand sanitizer to homeless people "so as to prevent, hopefully, the transmission of coronavirus." He could just put on his beret and walk out his front door. Soon, flyers seeking new recruits to the Guardian Angels littered the neighborhood. When the group held two open calls in Central Park, hundreds of people showed up. Being highly educated consumers of political activism, they pressed Sliwa on the details. "I've never been questioned so much about Guardian Angels patrols and what we do than I have been on the Upper West Side," he said. "And I've been all over the world." By the end, Sliwa enlisted about 70 new Angels. Not one of them was Black.
Allison Eden, an artist who has lived on the Upper West Side for two decades, was one of those who signed up. "COVID made everything weird," she said. "There were all these aggressive people who had moved into the neighborhood — an element that seemed very different and unsafe." She saw "hookers and pimps" on the streets and almost stepped on a needle while wearing flip-flops. She didn't understand why residents who wanted to relocate the homeless men were being called racist. "Up until, like, June, everybody seemed to get along just fine," said Eden, who is white. "I mean, I never saw any racism at all. I feel like New York City is a bubble — you don't live here if you're going to be carrying a Confederate flag."
Never mind that a certain lifelong New Yorker now serves as America's white supremacist–in–chief. Liberals who opposed the homeless felt unjustly accused of racism. Perhaps, Morpurgo thought, it was just a matter of finding the right words. "Maybe some people — including myself, being almost 50 years old — don't have the language my teens have to say all this the right way," she said. "Not everyone is there yet. And even if they have woke ideas, maybe they're not articulated right." As the battle over the Lucerne raged on, WestCo began to shift its rhetoric. The issue, as they now framed it, was less about their own safety and more about "getting this vulnerable population the services they so desperately need" — something that could not happen in a converted hotel, WestCo argued.
The city, for its part, only made things worse. In the first week of September, Mayor de Blasio took a ride through the Upper West Side. "What I saw was not acceptable," he declared, sounding more like Carlson than the man who had vowed for years to "turn the tide on homelessness." It was hard to know what de Blasio had seen. The outdoor restaurants brimming with diners? The crowds in Central Park? The kids happily racing around on public playgrounds? The mayor announced he would be moving the men from the Lucerne to the Harmonia, a temporary shelter on East 31st Street. "He's always been very sensitive to the 'good liberals' on the Upper West Side," said a former senior de Blasio staffer. "He likes to do that sort of stuff to show we're being responsive to this voting, rich, influential area."
But a week later, de Blasio abruptly backed away from his pledge, saying he would instead defer to officials in charge of social services. By that point, 17 homeless families had already been moved out of the Harmonia to make way for men from the Lucerne. The mayor, critics charged, was engaged in a game of "domino displacement."
On September 25, after a protracted struggle, the city announced that the men would be moved to an empty Radisson Hotel, in the middle of an empty Wall Street, in the middle of an increasingly empty city. Morpurgo, for one, was happy. Sure, it was another hotel, but there were already plans to convert it into a shelter. It wasn't a long-term fix, but residents on the Upper West Side had won. The homeless would be gone.
The men at the Lucerne were resigned but angry. Da Homeless Hero was "devastated" when he heard they would be moved. "The mayor said we're not acceptable," he fumed. "He targeted us. He dehumanized us." Advocates say that shuffling people from shelter to shelter only adds to their misery. "Being homeless and being in a shelter — that alone is going to have a detrimental effect on your mental and physical health," said Giselle Routhier, policy director of the Coalition for the Homeless. "Repeated experiences of instability while you're homeless just add more trauma on top of that."
The group Morpurgo helped found is now a fixture in the neighborhood. Residents in other neighborhoods where hotels are being used as shelters have even reached out to WestCo for advice. A new group, in fact, formed shortly after the move to the Radisson was announced. It calls itself Downtown NYCers for Safe Streets. Within a week, it had more than 2,000 members.
*This article appears in the October 12, 2020, issue of New York Magazine. Subscribe Now!