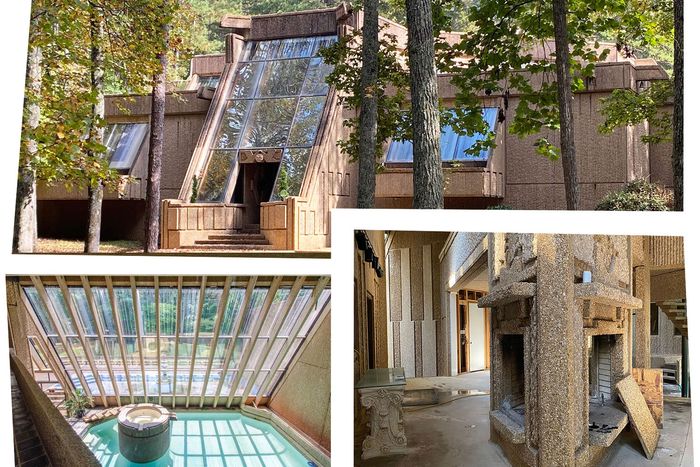 There's no doubt that the 1975 concrete house in the Georgia woods — designed in a neo-Aztec bachelor-pad style complete with an indoor pool that snakes from room to room — is unusual, odd even, but its fame never spread much beyond the suburban town of Newnan. Then in 2018, it was put up for sale, and eventually its Zillow listing ("Unique concrete/stone structure. Movie industry appeal") got picked up for a post by @fatherqueerest (16,000 likes on it and counting) and the place became internet famous. The internet, after all, has a taste for bizarre houses and reveres brutalism, strictly or loosely defined. Tweets described it as "a cross between a nymphaeum and a brutalist library's parking garage," "the perfect setting for a start-up cult," and "like Albert Speer and M.C. Escher collaborated to design a level for the original Doom." One person even built a replica of it in the video game Counter-Strike: Global Offensive.
Chris Donio bought it in 2018 without having a sense of its viral potential. Donio, 50, isn't on social media — he has "no understanding of or presence in that kind of world," as he puts it. But he works in film and TV, and when his wife, Riki Lecotey, showed him the Zillow listing, it looked familiar. He realized that the house had inspired a set for the Marvel movie Ant-Man and the Wasp that he'd loved when he walked past it on a soundstage. "I was like, Holy cow, this is amazing, this is totally my style, I love everything about this," he remembers thinking. And, it turned out, he could actually live in it; the non-soundstage version has five bedrooms, six baths, and 3,771 square feet. The couple went to see it the next day and ended up buying it for $325,000. (It needs a lot of work.) They named the house Quantum and, despite Donio's personal skepticism about social media, started an Instagram account to track the progress of their renovations.
Newnan, Georgia, as Donio repeatedly emphasizes, is "very conservative," and the houses are steadfastly normal; none of them other than this one could be described online as an "obvious temple to an unspoken deity." In its somewhat staid neighborhood, Quantum has a reputation. "Comedically, it's very much a villain's lair," Donio says. It's either that, apparently, or "Oh my God, this is like a swinger's house."
In 1975, a local concrete magnate named Johnny Estep commissioned a young architect, Michael Corcoran, to design a house using leftover slabs of precast concrete made for parking decks. Until that point, the architect had worked only on commercial buildings, so what he created for his client — an angular, hulking house with windows tilted toward the sky — ended up having some qualities of a car park but the spirit of a mansion. Estep owned a fair amount of property around his new place, which, as he eventually sold it off parcel by parcel, became populated with more typical construction. Corcoran, as Donio puts it, "was trying to find a new way of looking at suburbia" with his design for the house, but his vision didn't catch on.
With all that concrete and glass, it's "just a total '70s-style kind of house," Donio says. It has a steeply sloped wall of windows that climbs two stories high, that indoor swimming pool winding through the house, and a spiral staircase inside a concrete cylinder. The walls (and ceiling and interior footbridge, because of course it has an interior footbridge) are textured and striped, and the textures and architectural elements intersect in dizzying fashion. The whole thing looks a bit like the raptor enclosure in Jurassic Park but stylish. It was enough in the spirit of that decade that, after Estep, it sold to a bachelor, who presumably used it to fulfill some cocaine brutalist dreams.
Today, however, it's all kind of crumbling, not to mention populated by scorpions. "It's not livable right now," Donio says. "But it'll be our forever home." At the moment, it's really just a concrete shell in need of a new roof, an electrical system, plumbing, and heating, all of which the new owners hope to install without compromising the look of the place. If Estep was surprisingly eco-minded in his use of recycled concrete, Lecotey and Donio are now unlikely guardians of the house's '70s aesthetic. "It's a weird thing where it's acceptable to be in a Victorian house and add all these Victorian elements to give it that time-capsule feel," Donio says, "but a lot of the time with modern homes, it's like, 'Okay, now completely change it!'" The couple's goal is to integrate fixtures and furniture that are in harmony with its era and materials — although finding contractors who can wrap their head around its commercial slabs of concrete is a challenge.
When asked what it's like to know that your house has been thoroughly riffed on by both your neighbors and a wide swath of the internet, Donio is diplomatic. "I'm kind of numb to that," he says. But he does have a sense of humor about Quantum and the rather lurid fantasies it can inspire. He has plans to put a bowlful of keys by the door, as though there's a perpetual key party going on inside. "I thought that would be funny, just so that when people walk in they know we're in on the joke."