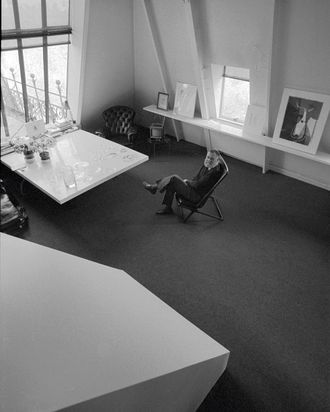 Bennett is pictured here in the apartment after its initial renovation, sitting in his scissor chair in front of a white worktable topped with glasses he designed. Besides designing interiors and furniture, Bennett worked on textiles and tabletop objects.
Photo: Michael Pateman
When furniture and interior designer Ward Bennett died in 2003, The New York Times obituary referred to him as "an enigma," and followed up with, "there are no monographs of his oeuvre." As of November 6 that is no longer true: Phaidon is publishing Ward Bennett, the first monograph on one of our greatest interior designers. The book is edited by Elizabeth Beer and Brian Janusiak, with a foreword by John Pawson and an essay by Pilar Viladas.
Long been recognized as one of the most influential designers of the 20th century, Bennett's work defined Modernism. Bennett's clients included David Rockefeller, Chase Manhattan Bank, Jann Wenner and Tiffany & Co. His own remarkable apartment in the Dakota was startling in its renovation of a series of maid's rooms that he purchased in 1962. Those rooms were under the roof of the historic building that went up on Central Park West in 1881, and Bennett gutted the interiors in one of the gables. The space was grouped around an airshaft and had to deal with the building's flagpole running interference through his office, an obstacle that Bennett turned into an ingenious feature anchoring a circular table.