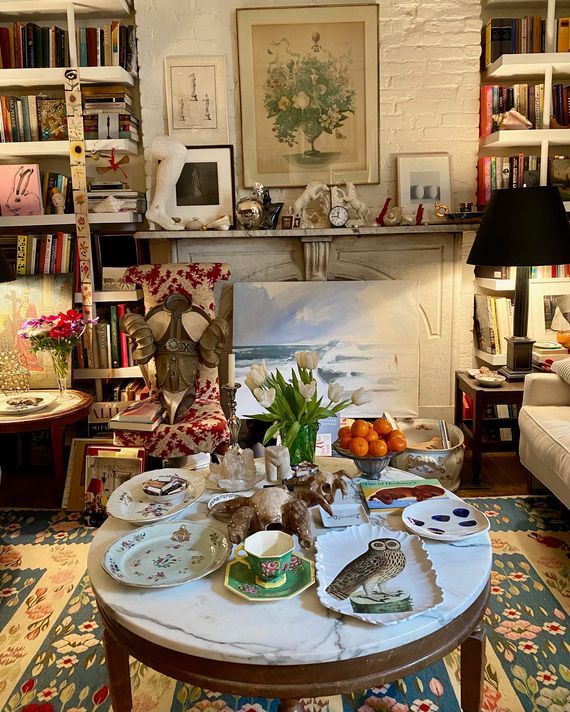 I struggle how to write this — anything expressed today will feel a million years old tomorrow. But this is what is certain so far: We need to stay put. That, of course, raises so many very particular issues: for families taking care of their kids, for parents suddenly homeschooling and simultaneously working remotely from their homes. Speaking personally — as I have no kids — it's also a time to take stock and stare down my domestic situation. There are suddenly no possible excuses to put off corrections I should make, with time spread out before me like an unending blanket. Here, in the living room of my two-bedroom rental apartment in a brownstone in the Village, seen above, I've placed a painting by my mother over the hearth. So much of what you see here I grew up with: the coffee table, the Knoll sofa, and the framed poster over the fireplace. The photograph of two eggs was a gift from Fernando Bengoechea, the watercolor flower paintings by Ruben Toledo were hand-stitched together by his wife and muse, the fashion designer Isabel Toledo, and the pink bunny is by Hunt Slonem. My furniture is arranged like stump logs around a campfire. I often consider changing this but always seem to come back to this configuration.
The piece of fabric over the back of the John Derian loveseat, seen above, is from visual artists David McDermott and Peter McGough's show at the Studio Voltaire in London, "The Oscar Wilde Temple." I horrified my landlords when I first moved in and asked if I could paint the wood wall white. They informed me that they'd salvaged that barn wood from Vermont and I was not to paint it. My solution was to find a gifted textile whisperer who hung white linen on the wall. A few years ago, I decided that the wood was, indeed, magnificent, and I took down the fabric.
Curtains can be a blessing. Here, I've made a room divider with one — and better yet, it screens off the mess behind! The truth is, my apartment has yet to recover from my time at home spent writing my last book, May I Come In? The red-and-white-stripped curtains in the bedroom hide my clothes closet. I couldn't find curtains with fat enough stripes, so I had those made. My pet snake, draped over the sofa, was a gift from the author Sloane Tanen — and I believe he has really helped me with my snake phobia (not that I have tested out that theory with his real brethren). The gouache painting, View at Carrousel Bridge, Winter 1939, is by Bernard Lamotte.
My bedroom is a small, square-shaped room, so I wanted it to be a flower box. I looked for the poppy-print fabric originally created for D. Porthault sheets but wasn't able to find any. So I asked my friend, the artist and interior designer Richard Lee, if he could find a photo of the print and paint my bedroom walls and the headboard (which he designed) in a version of it. As you can see, he gave me a flower garden right in my home. The three paintings to the right are by my mother, the still life below is by Charles Masson, and the small painting on the left is by the artist Fanny Brennan. The balloon candelabra was a gift from my friend Victoria Munroe.
My office is a den, an oasis, and most definitely a mess, but there is a method to the madness that only I can understand. It feels like a safe place, as much as any place can feel safe in our new world. I was going to share my piles and mess, but ultimately decided just to show you the tranquil places in my home that bring me joy, as we all figure out how to navigate the steps ahead. This too will pass, and we will be out and about again; until then, I wish everyone health and peace wherever you have landed. And don't forget to check in with your friends and neighbors. Here are ways to help.