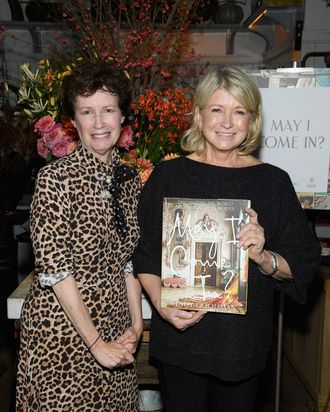 Wendy Goodman and Martha Stewart.
Photo: Dimitrios Kambouris/Getty Images
As design editor of New York Magazine since 2007 and our interior design editor since 1997, Wendy Goodman has spent her career peering into the painstakingly glamorous homes of some of the most creative people in the world. Her new book May I Come In?, published by Abrams, is a culmination of her visits to the homes of artists and aristocrats — and her own life as a self-described "design hunter."
So it was only fitting to celebrate the book's release Tuesday night at Roman and Williams Guild in Soho, the interior design showroom-turned-café. Surrounded by friends, family, and colleagues, Goodman greeted Julianne Moore, Martha Stewart, and Jill Kargman, while guests lounged on French blue velvet banquettes and sheepskin-swaddled leather slingback chairs. Zac Posen and Fran Lebowitz lingered among the showroom's towering berry branches and tables of ceramics. The event was sponsored by Delta Faucet and Peroni.
"I've had so many amazing opportunities and met so many people — I wanted to celebrate them," she said, taking a short break from book-signing. "I wanted everybody — artists and writers and actors — to be together here, like at Studio 54. It's kind of like that!"
One partygoer, interior designer Brock Forsblom, wore a yellow outfit with black spots "to look like a living room." "I am totally honored to be in Wendy Goodman's new book," he said. "I think she's just the chicest little thing this side of the Mississippi — actually both sides of the Mississippi. I dressed like a living room just for Wendy Goodman."