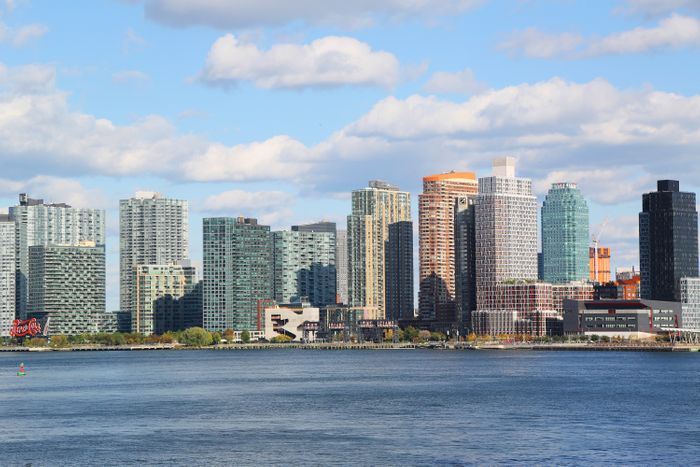 Photo: Leonard Zhukovsky/Shutterstock
The first blow for developers looking to reshape Long Island City's waterfront came last February, when Amazon abandoned its plans to build a new headquarters there. Not long after the tech-giant fled, City Council Speaker Corey Johnson brought together a coalition of developers — MAG Partners, Plaxall, Simon Baron Development, and TF Cornerstone — known as "Your LIC" to devise a new plan for land once slated for the new campus. Rather than centering on the corporate headquarters for a loathed retailer, the group's vision for the 28-acres of waterfront included affordable housing, commercial space, and parks. It would have generated thousands of jobs, all without billions in tax subsidies. Then came the second blow: In September, the de Blasio administration abruptly ended talks for the project, which had been crafted over the course of five community workshops, and pulled its slice of land from the group's proposal.
Now that the de Blasio administration has abdicated on the issue, the bus has lost its driver, so to speak. We've hit an impasse, with the developers left to pick up the pieces of scuttled projects and dissatisfied locals on both sides of the aisle simmering in their post-Amazon frustration, leaving Long Island City without an overarching vision for the future — and no clear answer to the question of who exactly is in charge now. Unsurprisingly, all parties are blaming one another for the failed efforts, with some developers promising (or perhaps threatening?) to build whatever it is that they're able to along the waterfront, an outcome that could leave the community with less of a voice in determining what will be built.
Regardless, Long Island City is still on a path for major change, but instead of a public-private vision, what happens next may be driven by the developers themselves. For some involved, that could mean building what's already allowed on their land instead of seeking a rezoning to build commercial and bigger, sacrificing a cohesive waterfront plan for shovels in the ground on something.
"The danger is that I'm not really sure who has the stomach or the appetite to jump into a planning process again, and what may happen is either nothing happens there for a while, which would be a tragedy for Long Island City, or alternatively, you have piecemeal development, which is not the best way to design an urban landscape," said Bruce Teitelbaum, who represents several investors that teamed up with MAG Partners to develop one of the sites in question. "It's shortsighted, and it will not create the best plan that benefits the community."
Teitelbaum acknowledged that they're considering moving forward with what they can under existing zoning — which could mean 1 million square feet of market-rate condos — or possibly sitting on the site to pitch a plan to the next mayoral administration in 2022. Ultimately, they're taking a wait and see approach. "We don't know what's going to happen tomorrow much less six months from now," Teitelbaum added. "We're waiting and we're assessing our options. We're waiting to see what happens to the marketplace, what happens to New York, what happens nationally. No one has a crystal ball."
Plaxall, a family-owned plastics company, floated a mixed-use vision for its land surrounding Anable Basin inlet in 2018 that it could conceivably fall back on (though it would still have to snake through the public approvals process). In a statement Plaxall president Jonathan Drescher said the company continues to "believe in a vision for our Anable Basin property that builds on LIC's history as a center of innovation, provides workforce and enterprise opportunities, mixed-income housing in a high-income area, and a resilient and public waterfront at the Basin." Simon Baron, meanwhile, is in the midst of cleaning up the toxic Paragon Paint factory on land that currently allows for manufacturing uses, and in the past has proposed a residential high-rise with ground-floor retail; the firm did not return requests for comment.
TF Cornerstone has long been the city's partner to develop the two public lots that were included in the Your LIC effort before they were withdrawn last month. They remain on board to build out that roughly 4.5 acres of land, though what shape it will take is now largely up in the air. Jon McMillan, senior vice-president for TFC, says the goal to foster economic development remains the same. "Long Island City is well positioned to have more of a commercial base. I think that's still our main charge," he said. "It's just how to get it done. How to work with the community and convince them this is the best thing."
What's "best" for Long Island City, of course, is still being debated. Several local business interests supported the Your LIC endeavor, with Tom Grech, head of the Queens Chamber of Commerce, in September calling the project's loss "beyond the pale" as the city and state works to dig itself out of a coronavirus-induced fiscal hole. Others feared the plan could supercharge gentrification in the sought-after Queens neighborhood. The term-limited City Council member Jimmy Van Bramer, who vocally opposed Amazon's plans, praised the city's withdrawal of its two lots, saying on Twitter that "this doesn't end the fight, but merely changes it a bit." (The city says Your LIC's plans didn't deliver on infrastructure needs for the project.) Whoever fills Van Bramer's seat could have considerable sway over what gets built, though there's currently no clear frontrunner as nearly a dozen candidates vie to represent the district. But as the Queens Eagle points out, "rejecting large-scale housing and commercial developments has become a baseline platform" for most candidates.
Grassroots groups decrying large-scale development as harbingers of gentrification have had an increasingly visible seat at the table in conversations on how neighborhoods get shaped. Most recently, that played out in Sunset Park with local opposition to a redevelopment plan for Industry City, forcing the trio of developers behind the project to withdraw their proposal, which was years in the making. That failed rezoning has left the development community anxious about where that leaves future neighborhood-shaping projects. In the current landscape, can any major projects actually rise? Developers certainly lay blame on the city for creating this rudderless moment. "Without these kinds of projects, these kinds of investments in the city you also have to wonder how the city is going to provide all the necessary services and benefits that communities need and demand," said Eleonora Bershadskaya, a senior associate at TFC. "Because, ultimately, someone needs to pay for them."