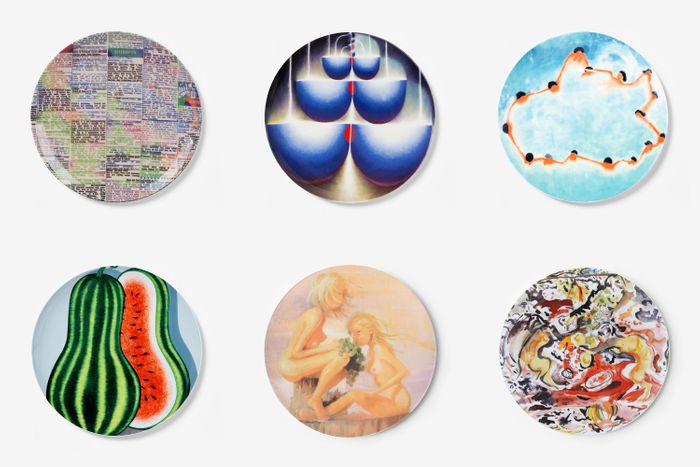 Art: Plates from the Coalition for the Homeless's Artist Plate Project by (clockwise from top left) Laura Owens, Loie Hollowell, Katherine Bradford, Cecily Brown, Lisa Yuskavage, and Julie Curtiss
As the winter sets in, along with what seems likely to be a second wave of the pandemic, the needs of the city's unhoused population are bound to increase. "What better symbol of serving, or nourishing, someone is there than a plate?" asks Dave Giffen, executive director of the Coalition for the Homeless. In lieu of its annual fundraising gala — made impossible due to the pandemic — the nonprofit has teamed up with 50 artists to design plates, the proceeds of which will go to providing food, shelter, and care for people in the city who are experiencing homelessness.
"I can't underscore how critical this effort is during these very difficult times," Giffen says, noting that the Coalition has been operating around the clock and scaling up operations since March. "Our Grand Central Food Program, which is the largest nightly mobile soup kitchen in the country, never slowed down, and in fact increased meal production by 40 percent, handing out more than a quarter million emergency meals since the onset of the crisis — as well as a couple hundred thousand masks, 50,000 bottles of hand sanitizer, and countless other essentials to help homeless people survive the pandemic."
Designed by 50 artists — including Tauba Auerbach, Nina Chanel Abney, Glenn Ligon, Lawrence Weiner, and Jenny Holzer — and manufactured by Prospect, each $175 plate is an edition of 175 and will be on sale from November 16 to December 15. The artwork ranges from the abstract (like Rana Begum's kaleidoscopic and hazy colorscape) to the more audacious (like Kenny Scharf's psychedelic creatures). The proceeds from each plate are enough to feed 75 people, and the fundraiser offers fans of the artists the opportunity to purchase something at a price that's more accessible than an original.