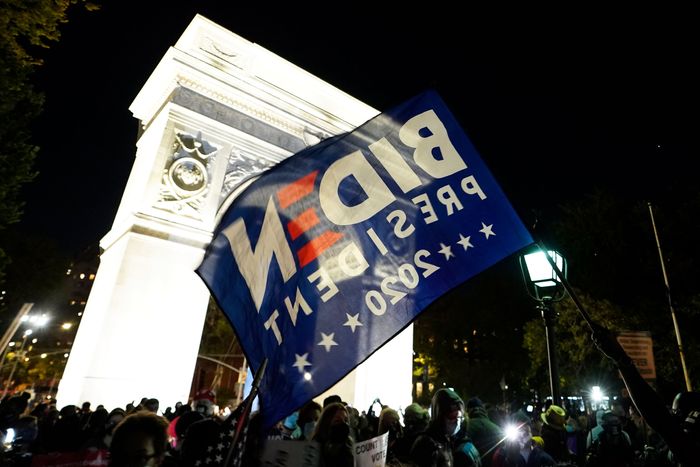 Photo: Timothy A. Clary/AFP via Getty Images
Here's our weekly roundup of the important — and unimportant — news you should know about from this week.
All aboard Joe Biden's Amtrak presidency! (Just a little bit of a delay on its arrival, not unlike … Amtrak.) Here's our New York wish list for his administration.
Are you, for some masochistic reason, looking to move to a Trump-friendly neighborhood? Check out this Gothamist map, which breaks it down by election district. Your choices are few: South Brooklyn, Staten Island, and pockets of Queens.
Though Mayor de Blasio says protests over the last few days have been "managed peacefully" by the NYPD, that doesn't seem to be the case. A 24-year-old protester who spat in an officer's face told Gothamist that a member of the Strategic Response Group instigated it by pushing her with his bike. And on Thursday night, a heavy police presence also confronted demonstrators and even shoved Public Advocate Jumaane Williams.
Meanwhile, a high-ranking cop who oversaw anti-harassment investigations is allegedly himself … a really big racist.
Coming soon to Staten Island: ten new city testing centers as new COVID-19 clusters emerge in the borough. Lockdown might be next.
Where have the homeless who used to ride the subway overnight gone? Six months into the subway's overnight shutdown, many of the unhoused struggle to adapt to the shelter system, WNYC reports.
The mutual aid movement has moved beyond neighbors feeding neighbors now: City Limits reports that groups are now assisting those who can't afford child care and those at risk of losing their homes.
Día de los Muertos, or Day of the Dead, took on extra resonance during the pandemic this year. A photo essay by the City captured how New Yorkers honored their loved ones and the day.
If you've ever had the dramatic and specific desire to jog through mist up to the Unisphere as if out of a scene from Rocky, we have good news for you: The parks department has restored the 1964 World's Fair misting garden, known as the Fountain of Fairs, that was damaged during Hurricane Sandy.
Sure, you can bike in the winter: The city rolled out 3.2 more miles of protected bike lanes; one of those new paths caps a three-year effort to add 8 miles of protected bike lanes along Fourth Avenue from Bay Ridge to Barclays Center.
Expect to see mounds of trash and grimey snow festing on city streets for longer this winter in the wake of coronavirus-induced budget cuts slashing the Department of Sanitation's workforce.
In the latest New York City tradition to be upended by the pandemic, the Union Square Holiday Market — a 25 year winter staple with its cheery candy-striped tents — has been canceled this year. The Columbus Circle Holiday Market also won't be setting up shop.