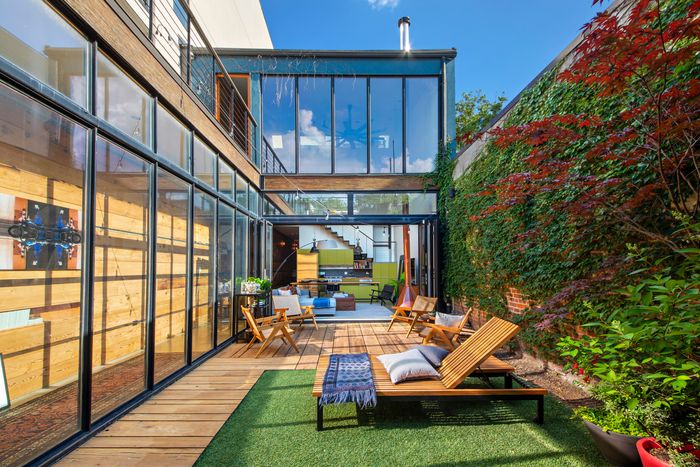 Completed in 2008 and first featured in New York Magazine in 2010, this meticulously converted former garage/woodshop in Williamsburg has a huge courtyard surrounded by so many accordion glass walls that you might think the house is in California.
In fact, it's located on a stretch of Powers Street between Union Avenue and Lorimer Street, and happens to be owned by the original Blue's Clues host Steve Burns, who enlisted Eric Lifton of Mesh Architectures to transform the garage. The local firm is known for bringing materials from old buildings into new ones. Wooden roof beams from the original structure were turned into long planks for interior walls. Salvaged pieces of the Coney Island boardwalk became the courtyard deck. The blue facade retains the garage and is covered in ivy that had always grown there.
Perhaps the most striking addition is the Nanawall wrapping around the over-400-square-foot courtyard, which was originally carved out so that the property could have second-floor living space without going over the maximum square footage allowed for the lot. Those glass walls extend from the open living room and kitchen at the front of the house (which has 28-foot ceilings and chartreuse kitchen cabinets) to a 27-foot-long walkway (lined with a metal rail system for hanging items) to a bedroom and bathroom (with a Jacuzzi sunken tub) at the back.
Upstairs, a second bedroom comes with its own bathroom and glass doors opening up to a deck measuring over 350 square feet, while a walkway overlooking the courtyard leads to another large roof terrace on the other end. Though the property is no longer quite as private as when we first wrote about it — the small parking lot next door became a four-story, 14-unit condo in 2018 — the outdoor space is so smartly distributed that it doesn't really matter (the middle courtyard feels so private, in fact, that Burns liked to sleep there on warm nights).