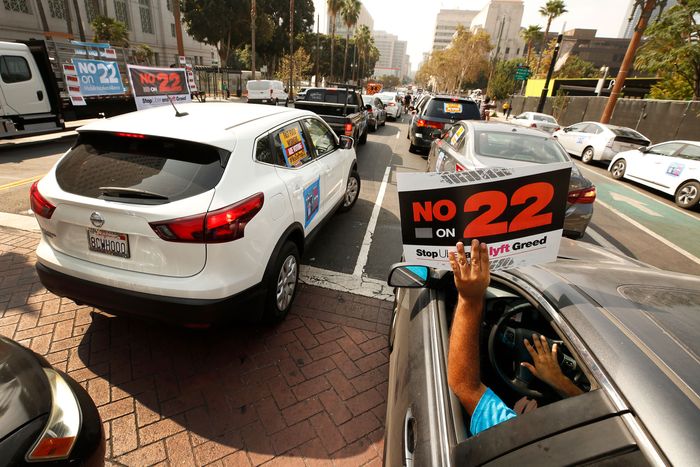 He didn't win.
Photo: Al Seib/Los Angeles Times via Getty Images
When you vote in California, you get used to wading through a dozen or so state measures at the bottom of each ballot that let the electorate determine the fate of everything from increases in education funding to the future of stem-cell research. Sometimes there's an industry supporting them, sometimes not. But the push behind Proposition 22, which California voters passed this week, was like nothing I've seen before. In all, Uber and Lyft spent almost $200 million to convince voters that paying their drivers a fair wage with benefits would kill their companies. And it worked.
For the past three months, Californians have been barraged by pro–Prop 22 propaganda. Commercials, billboards, mailers — the onslaught was steady, sustained, and inescapable. I couldn't help wondering, when both the Lakers and the Dodgers won world championships during the month before the election, if the playoffs, which broadcast wall-to-wall "Yes on 22" ads, had sealed the ballot measure's fate by generating hundreds of thousands of positive Southern California voter impressions just during those games. You've cheered for corporate sports — now cheer for corporate car fleets!
But it wasn't only ads. Uber and Lyft — as well as other driver-based delivery services like DoorDash — started using their apps, which are installed on the phones of millions of California voters, to send push notifications and in-app messages warning of longer wait times, much higher prices, and dire economics for drivers if Prop 22 failed. Riders had to confirm receipt of all of this information before they could book trips. This is actually a technique that Uber and Lyft have deployed often, using their apps to urge action against proposed legislation or regulations imposed by cities. In 2015, when Mayor Bill de Blasio proposed a cap on ride-hailing vehicles, the app showed a "de Blasio" version of New York with fewer available cars on the road. The action — as well as an enormous Uber-funded on-the-ground campaign — may have helped slow implementation of the cap, which took more than three years (after which Uber sued anyway). A similar pattern — texts, public tantrums, lawsuits — emerged in the battle over Prop 22, which started when Uber and Lyft were not granted exemptions under AB5, a new state law that required the companies to make drivers employees. As Uber and Lyft were sued for refusing to comply and threatened to leave the state, the companies started down the ballot-measure path, the most expensive, resource-consuming way to change legislation in California.
Prop 22 sets a frightening precedent for labor law by reclassifying gig-economy drivers as a new category of workers — not freelancers, not employees, but something in between. They are likely to receive, instead of the standard state-mandated employee rights and benefits, only the specific rights and benefits that Uber and Lyft want to give them. After California's yes, it's something the companies have already said they are going to try taking coast to coast. Uber and Lyft have proved they are able to outright purchase legislation that allows them to shape local transportation policy while actively undermining existing public services. Prop 22 demonstrates that not only do Uber and Lyft no longer have to play by the rules, they can now write their own.
In its first effort to subvert AB5 last year, Uber implausibly tried to argue that it was not a transportation company. Yet right around the same time, Uber's drivers were protesting in several cities for being forced to accept lower rates of payment, even as the company had just gone public. Coming from a company that wants to claim it's nothing more than an app, yet clearly relies on humans to drive cars, this is more than a disconnect. It explicitly shifts the financial burden of owning and maintaining a car to perform what is supremely stressful work — operating a vehicle is among the most dangerous jobs in the U.S. — without paid sick leave, worker's compensation, and (this year in particular) access to PPE, when Uber drivers have no death benefits. Nor does Uber offer drivers protection from itself. In September, an Uber contractor named Rafaela Vasquez was charged with negligent homicide in the 2018 death of Elaine Herzberg, when a self-driving vehicle with Vasquez behind the wheel failed to detect Herzberg crossing the street and stop in time to save her life. Uber, the company, didn't face any charges, and it continues to pour money into its self-driving operations, an industry that relies on contractors to test vehicles that may not be safe to operate on public streets.
All of this is bad news for drivers, but it's really bad news for humanity. The impact of ride-hailing companies has been heavily studied over the last decade, and the overwhelming consensus is that Uber and Lyft increase traffic congestion, carbon emissions, and air pollution — even while these companies publicly claim to be a solution for these problems. A letter signed by the Union of Concerned Scientists, Sierra Club, and the Natural Resources Defense Council argued that Uber's and Lyft's reliance on underpaid contract workers would dramatically slow progress toward achieving a zero-emission transportation fleet. "We can't have a race to the bottom by allowing the ride-hailing industry to have a special carve-out from labor protections or environmental standards by shifting these costs onto the backs of workers," said Victoria Rome, NRDC's government affairs director for California.
The pickle that California is in — that the entire country is in — is that we've already outsourced too much of our transportation to these two companies. Uber partners with cities to provide last-mile rides from public transit and in some cases replace it altogether on low-ridership routes, flat out getting paid from municipal budgets. It is blindingly evident that we need to share more car trips and shift other travel away from cars entirely, but exploited labor is not the way to do it. In the same way that employees of fossil-fuel companies will need new careers in a renewable economy, we need a just transition for the workers who move people through our cities, built around paying those workers a fair wage with benefits. If Uber and Lyft believe their transportation services are so essential to the zero-emission future they champion, they should be compensating their workers like city bus drivers — trained, unionized professionals who perform a civic service.
The short answer here is, as always, to delete Uber. (Extracting Lyft from your life is slightly trickier, as Lyft owns Motivate, the company that operates a half-dozen bike-sharing systems in the U.S., including New York's Citi Bike, where it recently paid for a major expansion.) Cities might start by charging a fee to offset the loss-leader price of ride-hailing services and then pumping that money into public transportation that makes the apps less necessary. Companies like Uber and Lyft have flourished — at least in the portfolios of their investors — because transit, bike lanes, and sidewalks are so desperately underfunded in this country.
Both Uber and Lyft went public last year and subsequently posted tremendous losses — at the end of 2019, Uber was down $8.5 billion and Lyft was down $2.6 billion. Both stocks were up, sharply, the day after the election. Prop 22, passed with a clear mandate from Californians who were happy to side with corporations, will now become a top national priority for two of the country's most powerful transportation companies — one of which has a former U.S. transportation secretary in the C-suite. Both will undoubtedly continue to pour billions of dollars into local campaigns like this. We pay for it.