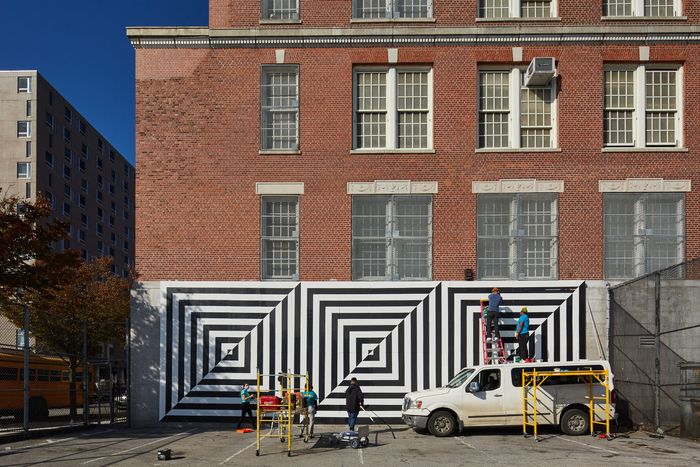 Carmen Herrera, the 105-year-old Cuban American abstract painter, has a new mural in East Harlem. Uno, Dos, Tres just went up on the walls of the Manhattan East Academy, a school on E. 100th Street. Painted by students from across the city, through a partnership with the arts and education nonprofit Publicolor, it's a mesmerizing black-and-white optical pattern that's two stories tall, and visible from the FDR.
When Herrera was approached to do the installation, what excited her the most wasn't the mural itself; it was that students would be painting it. The students were supposed to paint the piece ahead of her birthday in May, but the coronavirus pandemic delayed the process. It took the students ten weeks to complete the mural, which is composed of 96 separate boards that were assembled on site.
This is the second mural Herrera has created through Publicolor, which uses art projects as an applied learning technique for under-resourced students in NYC; her first collaboration with the organization is located in M.S. 44, in the Bronx.
"She truly believes that we, in New York City and in the country, are a little bit backwards in terms of understanding the importance of arts to education," says Tony Bechara, Herrera's close friend and neighbor for 35 years, chairman emeritus of El Museo del Barrio, and visual artist. (Bechara was also Herrera's liaison for the mural.) "She's told me many times that students should learn about art and be exposed to it, not necessarily to become practicing artists, but to get the faculties of their imagination activated. And someone with an imagination can do well in whatever they choose to do."
The mural is an adaptation of Diagonal, a painting Herrera originally made in the 1950s, lost, and repainted in 1987. It was included in El Museo's 1998 exhibition of her black-and-white paintings, which was the first major exhibition of her work. (Throughout her career, Herrera was underrecognized by major arts institutions, though she was known in New York's art circles and friends with many of the abstract painters who became famous.) When Publicolor told her about the site — facing a parking lot, playground, and highway — she looked to her archive for works that could shine in the setting and landed on Diagonal.
"You couldn't just do a mural with a bunch of colors, or a pretty tree, or a smiling person," Bechara says. "She wanted something unexpected … she wanted it to be different and noticeable."
The mural — with its precise, straight lines — was a challenge to paint, but it made the impact it needed to. At the mural's reveal and dedication on November 5, a teacher mentioned that her students' math scores went up since they started working on the mural, which involved a lot of geometry and calculations to paint. And visually, it is a salve — something beautiful, exciting, memorable, and uplifting.
"One of Carmen's favorite expressions is, 'When times are tough, art heals,'" Bechara says.