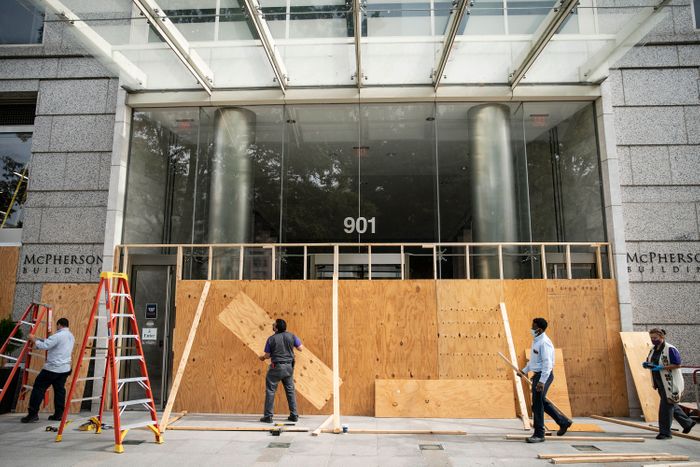 Businesses in D.C. and across the country are boarding up.
Photo: Sarah Silbiger/Getty Images
In many U.S. cities, plywood is going up (or back up, in some cases) in advance of Tuesday night's election results. No matter what the election's outcome — and it's highly unlikely that there will be an official outcome by Tuesday night — a majority of Americans are expecting Election Day demonstrations, and after several months of protests, many local governments, city agencies, and police departments are making plans to defuse any potential unrest. This time, it's in advance.
Although many cities had previously announced plans to keep voters safe as they cast ballots, this type of tactical preparation is slightly different. As a reaction to last summer's protests against police abuses, several municipal governments had put curfews in place, shut down transit, and sealed off public spaces to prevent gatherings. In anticipation of Tuesday, elected officials are preemptively proposing similar measures like restoring curfews and working to close off streets, while police departments across the country are advising businesses to secure their properties. (Many scrambled to have measures in place by Halloween, which fell on a Saturday this year, just three days before the election.)
While cities say these efforts are intended to keep people safe, imposing such measures to control demonstrators is unconstitutional, at least according to the American Civil Liberties Union. "It's a rare situation when a curfew is justified, and cities and counties are moving to impose them far too often," says Peter Eliasberg, chief counsel at ACLU SoCal. "This is a very powerful tool that threatens to substantially endanger freedom of speech and people's right to engage in free movement." In June, the ACLU sued the city and county of Los Angeles on behalf of Black Lives Matter, arguing that limiting freedom of mobility based on political views is discriminatory. (The suit was withdrawn once curfews were lifted.) Last week, the ACLU and the National Lawyers Guild sent a letter to 210 cities and eight counties in Southern California warning officials against taking such actions again. Here's what's happening in L.A., New York, and beyond.
Los Angeles
After all the protests since the summer, the Lakers and Dodgers both won their world championships this past month, leading to impromptu celebrations in the streets that have further strained relationships with police. In a letter to city leaders, L.A.'s downtown neighborhood council requested an enforced nightly curfew starting on the evening of November 3 that would last until the election results are finalized. Although there has been no curfew announced, flyers from a business improvement district are being distributed downtown that claim the LAPD is recommending businesses close early and "street closures and bus detours could go into effect." Elsewhere in the region, the city of Beverly Hills — where a large pro-Trump rally held Saturday was declared an unlawful assembly — has already declared a "full alert" for Tuesday. Both vehicles and pedestrians will be banned from Rodeo Drive, where businesses are boarded up tight.
New York
On Thursday night, the NYPD sent a letter to businesses in midtown Manhattan warning them to "move or secure items such as street furniture, trash cans and small planters." Over the weekend, major retailers like Macy's and much of Soho began boarding up, and some businesses have been closing early each night already. Mayor Bill de Blasio has not announced any specific plans about potential curfews or street closures, but on Tuesday NYPD warned it may implement "freeze zones" where streets throughout Manhattan would be closed to pedestrian and vehicular traffic.
Chicago
On Friday, Mayor Lori Lightfoot unveiled a ten-day "security plan" that will be in place through the weekend following Election Day, which includes positioning hundreds of trucks so they can be used to block local streets if needed. In addition, the police department has been testing new "crowd control" tactics, according to documents released to BuzzFeed. During recent protests, Lightfoot has come under criticism for shutting down transit and raising the city's bridges, stranding both demonstrators and essential workers. A coalition of transportation advocates in the city has signed a petition asking Lightfoot to commit to keeping transit running.
Portland, Oregon
In a city that saw 100 straight days of protests, local officials were unsure if streets would be back under their jurisdiction for the election, a decision that hinged on Governor Kate Brown declaring a state of emergency. Today, Brown issued an emergency declaration which gives joint command to the county sheriff and state police departments. And there's another twist that could further complicate any Election Day demonstrations. In September, U.S. Marshals deputized at least 50 city police officers, meaning there is, already, a federal response team on the ground. A report out Monday from the Armed Conflict Location & Event Data Project listed Oregon as one of the highest-risk states for violence from right-wing militia groups in addition to Georgia, Michigan, Pennsylvania, and Wisconsin.
Philadelphia
Protests reignited after last week's killing of Walter Wallace Jr. by police. On Friday the city announced a 9 p.m. curfew, causing some to wonder if it would stay in place until the election, however, the curfew has since been lifted. The National Guard, which arrived last week, will remain in town through the election, officials said. The latest unrest in Philadelphia was cited by Walmart when announcing that the company was temporarily removing all guns from retail shelves.
Washington, D.C.
The boarding-up of businesses has become a regular occurrence in the capital, with many businesses and federal offices in the District now going behind plywood for the third time this year. Meanwhile, the police department is preparing by purchasing $130,000 of tear gas. With Trump moving his Election Day celebration from his hotel to the White House — for yet another brazen Hatch Act violation — it can only be seen as a move to put himself behind the property's concentric rings of security barriers. And he's adding one more: Today, an additional "non-scalable fence" will be erected around the White House, Ellipse, and Lafayette Square.