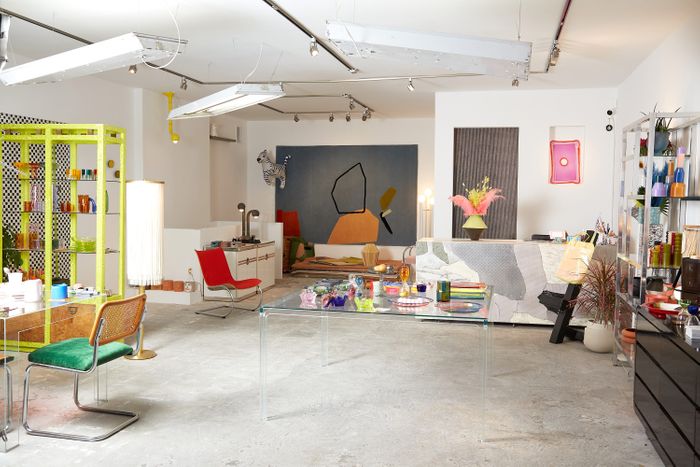 Photo: Courtesy of Coming Soon
If you passed Coming Soon's boarded-up storefront at 37 Orchard Street this summer, you likely thought the design store, a fixture in Chinatown for the past seven years, had closed. In fact, it has simply moved — into a larger space halfway down the block.
Co-owners Fabiana Faria and Helena Barquet decided to expand in July, when they spotted a "For Rent" in front of Alexander Olch, a tie shop on the corner of Orchard and Canal. The idea of doubling down when so many of their neighbors — among them, the Tenement Museum, An Choi, and Alexander Olch — were forced to close because of the pandemic, was daunting. But they'd needed more room for years. Before COVID, 60 to 80 people a day piled into the 640-square-foot space — they were often so packed that they'd even considered converting the bathroom into display space. And though foot traffic naturally has been reduced during the pandemic, they were still doing good business. Online traffic was high, as shoppers eager to improve their homes ordered stacks of Dusen Dusen hand towels and Anna Karlin decanters.
"The question was: If someone else takes that spot and we walk by it every single day, will it be heartbreaking to know we didn't take the chance?" Barquet says.
The build-out wasn't at all that extensive. They already liked the layout, and the polished-concrete floors. So they simply removed a wall, added track lighting, and replaced the door to a back area with a beaded metal curtain. When they discovered some black-and-white checkerboard tile behind a wall, they decided to use it to show a vignette of bathroom products — some (always popular) Cold Picnic bath mats and soap dishes. They also brought over the pink concrete bench and the fluorescent lights from the old space, and updated their neon sign. And they created a new, small section for eccentric items, like an exclusive dish made from rare uranium glass, which glows under a black light, displayed on shelves salvaged from the now-closed Mission Chinese.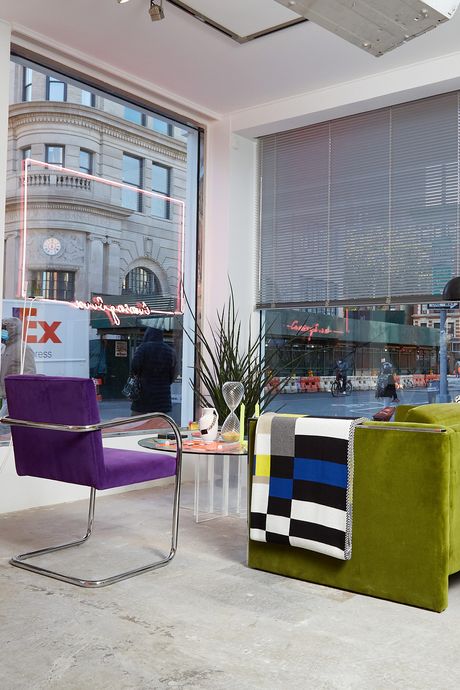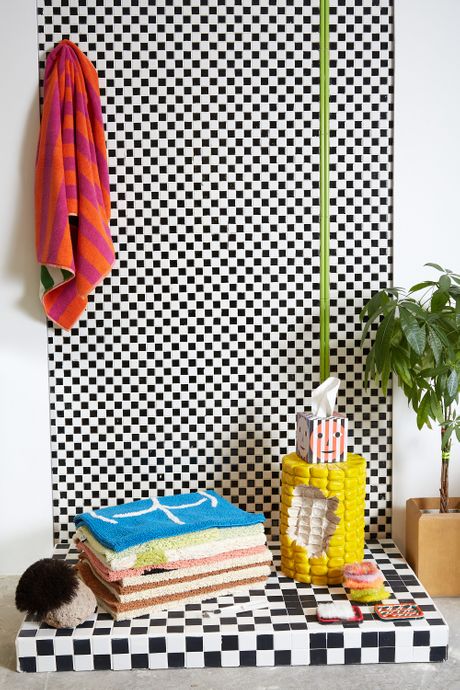 Their friends, the designers Chen Chen & Kai Williams, also created two installations for the place: a window collage made from multicolored silicone (which riffs on stucco) and a cash-wrap counter composed of different stones and marbles they've collected over the years, puzzled together with aluminum mesh.
"Making something for Coming Soon is a difficult line to straddle: They're maximalist, but you don't want something to outshine the products," Chen says. "The palette of the counter is more reserved, but the construction is wacky." The counter is Barquet's favorite part of the new space. "It's irreverent, not precious, fun, and slightly odd, which are probably all of the things that both of us like a lot."
53 Canal Street (at Orchard), New York, NY, 10002