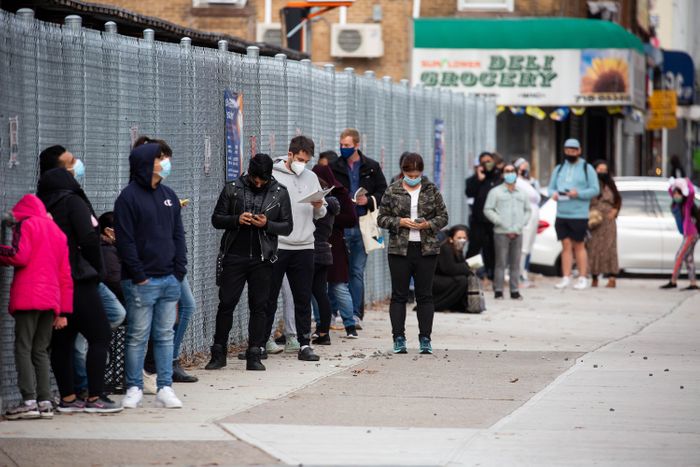 Photo: Michael Nagle/Xinhua News Agency/Getty Images
In the weeks leading up to Thanksgiving, hours-long waits at COVID testing sites have become commonplace. Wealthy New Yorkers, of course, have begun paying their way out, whether by hiring testers to come to their homes, or using TaskRabbits to hold their spots in line. Others have attempted to game the line more traditionally: by cutting, which also happens to be the quickest way for a group of people waiting in a six-hour line in order to eventually get nose swabbed to all turn their simmering rage against one person.
Alleged bad actors run the gamut from B-list celebrities to maskless cops. Author Jenny Han tweeted, after witnessing a line-cutter last week: "I've been waiting in the line for COVID testing for two-and-a-half hours, and a lady comes up to the front of the line by the entrance and goes, 'Do you guys have kids?' We just looked at her and then she went inside, and I guess they let her cut the line [because] she's still in there!"
Just like in grade school, not every cut in line is actually a cut in line. One Brooklyn resident reports that while waiting in line at a Bed-Stuy CityMD, a woman briefly stepped out of the four-hour line to move her car. When she tried to come back to her spot, the line turned on her, forcing her to move to the back. But plenty of others have opted to make their way to the back in order to assuage the crabby, agitated mob.
The ire isn't limited to New York City. In other parts of the country, people in drive-through lines are being ratted out on Twitter for treating the line like a lane you can just merge into on the freeway.
It's basically already Thanksgiving, and today's lines do appear to be shorter, but we'll probably be back here again come Christmas.