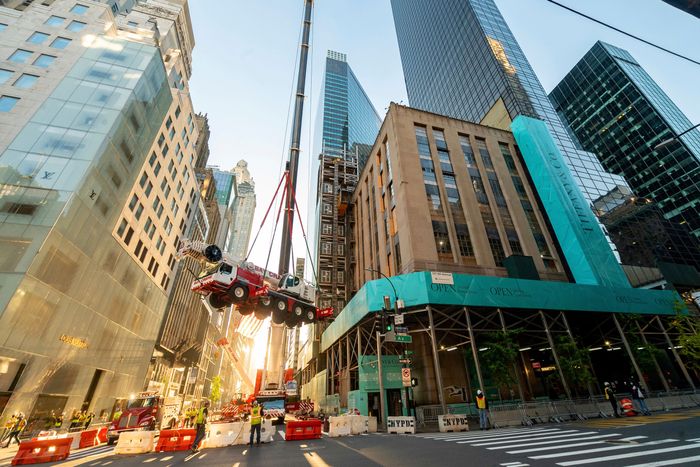 Photo: Diane Bondareff/AP/Shutterstock
Somehow we missed this last weekend, but our inner 4-year-old is so excited by it that we need to tell you today: A crane picked up another crane last Saturday in order to deposit it atop the Tiffany & Co. building on 57th Street.
A crane.
Picked up another crane.
And put it on the roof!
This real-life, full-size Tonka moment was a step in the renovation of the flagship Tiffany & Co. store, during which an old addition to the building's rooftop is being demolished and replaced with a sleeker three-story glass one. The double-crane lift is not all that uncommon in construction; you sometimes see one on a building's roof that is hauling up parts for a second. (And here's a video that'll blow your mind: a crane lifts a crane that's lifting another crane that is lifting another crane.) But it is rare in dense New York; reportedly this is only the fourth time it's ever been done. And this time it's a big goddamn truck, yanked off the street and plunked down — as we have noted — on the roof. Yay.
It's right next door to Trump Tower, but the big-truck-enthusiast-in-chief was out of town playing golf in Virginia on Saturday morning. A shame, because it was a moment when he perhaps needed cheering up.