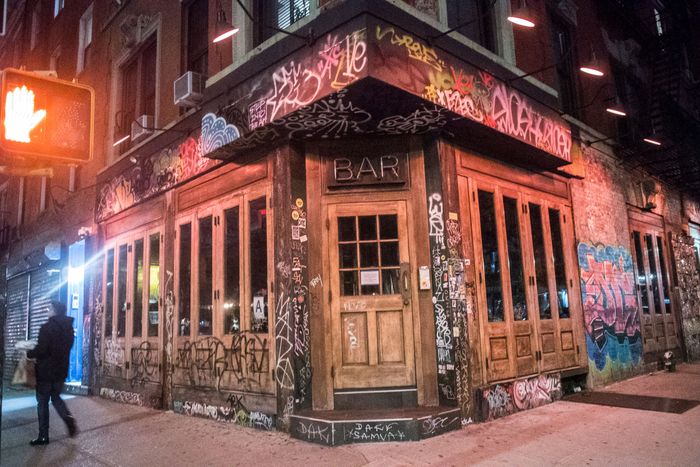 Closing at 10 p.m. won't be enough.
Photo: Bill Tompkins/Getty Images
It's been completely overshadowed by the closure of schools, but starting Friday, New York City is imposing a 10 p.m. curfew to counter rising COVID-19 cases, just as dozens of other cities, counties, and states have done. Most of these aren't technically full curfews at all — they're more like an earlier "last call" for bars, restaurants, and gyms. California governor Gavin Newsom just announced that 40 counties — much of the state — would be placed under a similar curfew starting Saturday at 10 p.m., along with some more substantial restrictions. And a few other places are taking more punitive measures beyond mandating closing times. Ohio governor Mike DeWine has issued an order "confining Ohioans to their homes between 10 p.m. and 5 a.m. for three weeks" starting today. People seen in groups during curfew hours may be approached by police.
The trendiness of curfews has perplexed public-health officials, who say they're just a weaker form of more effective stay-at-home orders from leaders resistant to completely shutting down cities. According to experts at the Johns Hopkins Bloomberg School of Public Health, who today shared a road map to reverse the country's alarming coronavirus trends, the best way to halt the exponential progress of COVID-19's march — as it always has been — is "closing high-risk activities where the epidemic is worsening and reinstituting stay-at-home orders where healthcare systems are in crisis." Curfews are found nowhere on their list of recommendations — and may even make the situation worse. "I understand what they're trying to do," says Dr. Amesh A. Adalja, senior scholar at the Johns Hopkins Center for Health Security. "There's a desire to not have these blanket restrictions." But Adalja says that while indoor bars and restaurants have become easy scapegoats, indoor Halloween house parties are more likely to blame for the recent spike. "The epidemiology shows that this is happening at private gatherings in homes, and I wonder if a curfew would just create even more of a desire for people to have private gatherings."
Like the word "lockdown," which quickly became politicized, "curfew" is a curiously vague bit of public-health messaging. There are certainly very good reasons to close bars early — for example, patrons may get lax with protective measures over the course of an evening of drinking, endangering themselves and the workers around them. (Although Adalja thinks people are more likely to mask up and socially distance in bars that require it than they are among friends in someone's apartment.) In other places, however, effectiveness is not time-based, and certainly not late-night specific — the goal is simply to keep people apart as much as possible — and that's why a "stay at home" order is far more direct. (Newsom did indeed call it that in California; New York did not.) The phrase, in and of itself, provides clear, easily repeatable directions. Instead of going back to that policy, which worked before, now cities and states are introducing a completely new term, with new sets of rules, and new conditions for compliance. An elected leader threatening to impose a "10 p.m. curfew" does not convey the same urgency as a stay-at-home order; in fact, a curfew almost reinforces the idea that continuing regular activities in public is safe as long as they're conducted before a certain time. Mostly, all a curfew does is suggest that people run errands or get dinner earlier — when everything is more crowded.
Right now, more Americans are getting sick because they've been too casual about communal activities that they should consider unsafe. Even though the number of infected people who are wandering around is much higher, cities aren't shutting down as tightly as they did in the spring. Pairing a false sense of security with increasing pandemic fatigue is a recipe for disaster. As the holidays have drawn near, publications have gone ahead and published guides to traveling "even though you're not supposed to" (wink wink). Airlines are still offering deals and discounts. There may even be some lining up at malls next week for Black Friday sales. Dictating a city's bedtime isn't enough here. The message needs to be not "go out and go home at 10 p.m.," it's "stay in with your own household." Home for the holidays! Separation until the inauguration!
Meaningless half measures like curfews also don't provide enough guidance to help Americans navigate the looming holidays, which are built entirely around risky private gatherings. In March, the Washington Post's coronavirus stay-at-home simulator showed how physically distancing yourself from other humans could prevent random encounters that would most slow the spread of the disease. It went viral and likely saved lives. Currently, the most-shared coronavirus simulator allows you to plug in your county and the number of people hypothetically eating Thanksgiving dinner with you, which generates a statistic for how likely your guests are to bring COVID to the table, like it's some kind of regional side dish. In the absence of more explicit warnings around in-home gatherings, seeing these numbers — 24 percent? That doesn't sound so bad — will cause some people to conclude that moving ahead with their own large celebrations as they always have is fine. "Behave like you're in a pandemic," recommends Adalja. "It doesn't mean you don't ever leave your house, but avoid crowded and congregated places. And use common sense — a little will go a long way."
Instead of issuing not-really-a-curfew curfews, elected leaders need to make the hard choice, urge their constituents to hunker down with their own households as much as they can for the rest of the year, and direct their energy toward dismantling Mitch McConnell's death cult, a U.S. Senate held hostage by the GOP, where Republican officials are fist-bumping congrats to Vice-President-elect Kamala Harris, while denying the relief package for Americans that she and President-elect Joe Biden have been pleading with them to pass. Closing bars at 10 p.m. wouldn't have saved the lives of 250,000 Americans we've lost this year. Paying people to stay home while providing safe, sensible ways to stay connected to each other will help us ride out this hellacious winter — and end our suffering for good.