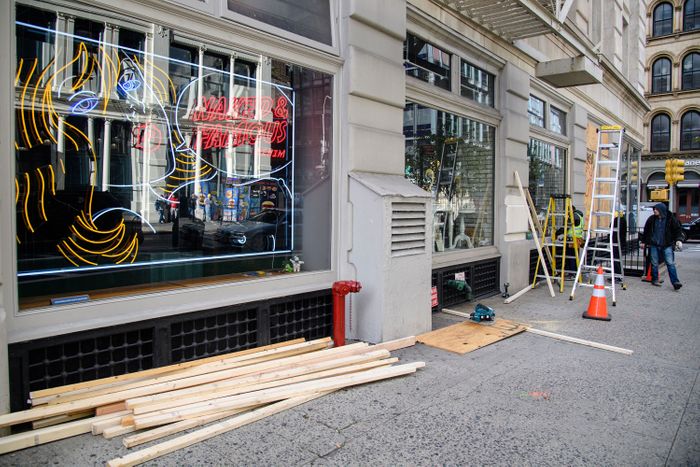 Photo: Amy Harris/Shutterstock
While the results and aftermath of the 2020 election are unpredictable, many American cities are anticipating property damage, looting, and vandalism. (Or, as some people frame it, a correction.) In New York, plywood is (again) going up on storefronts, the Guardian Angels have announced that they'll patrol the city on Election Night in anticipation of "violence and unrest," and Mayor Bill de Blasio has said he's "prepared for anything."
Soho — perhaps more than any neighborhood in the city — has seen dramatic changes already this year: ghostly streets and boarded-up storefronts during the shutdown, shattered windows from looting during the Black Lives Matter protests, and the growth of outdoor dining over the summer. It's come full circle this past week as stores, once again, put up the plywood. This time it isn't just Louis Vuitton and Dior: Small shop owners aren't taking their chances, and they tell us that they're saddened and concerned at what they see around them.
David Drummond, co-owner of Ground Support, a café on West Broadway, is still deciding what to do:
The election is definitely making me worried. We have some regulars who work for the NYPD, and they have been whispering to us for over a week that it might be a good idea to board up. Last time there were protests here, there was a lot of damage to the street. Nothing happened here, and we were pretty lucky since a lot of other businesses on West Broadway saw some looting. But we're thinking a small investment to protect ourselves might be a good thing. If there is damage, when would the glass company be able to fix it? There might be a waiting list. What I am texting my business partners now is: Do we consider ourselves lucky the first time and just pay for peace of mind now? We're thinking positively, which is an important thing in life, and especially with all the things that are happening these days.
Victor [who wished to keep his last name anonymous], owner of the Spring Street Wine Shop, has had his windows boarded up since Halloween:
Looters didn't bother us before, but our neighbors were severely damaged, so we planned to board up before Halloween, with mischief night and all, and have been since. I don't blame shops for boarding up their windows. They lost thousands and thousands of dollars from looting this summer. It's unfortunate, but these are the times we live in.
Maris Kreizman, marketing director for McNally Jackson, says it's business as usual at the bookseller:
McNally Jackson has always been a community gathering place — we would never shut our neighbors out by boarding up our windows, and we're planning to keep the store running as usual.
Guy Vardi, an art dealer and the director of DTR Modern Galleries' New York location, is preparing, but not with plywood:
We are not boarding up, but we are emptying out the floor. We feel that boarding up our store is more enticing to possible looters because it's hinting that we're protecting something and we have something to hide. We feel like if we leave the floor empty, and less enticing, we'll just get passed by. Last time, both businesses on each side of us were looted, but we were left alone. I feel it's a bit paranoid to board up the storefronts since the police have learned how to deal with things since the last go-around in June. I don't think looting is going to be an issue with the election.
Georges Bergès, owner of the Georges Bergès Gallery, on West Broadway, is saddened by the boarded-up streets:
It's a little disheartening. We've been trying to restore some sense of normalcy this whole year, and every time we do that, it seems like something else happens. People are a little traumatized, and they're trying to get ahead of the curve this time, and the act of doing that is a bit depressing. It's tough to be a business in New York City. Hopefully after the election we can all just get back to work.
I think there will be demonstrations, and I am hopeful there won't be property damage. We're ready for anything. We didn't experience any damage the last time around. We have a gate on our storefront, so we're planning to leave it un-boarded but with the gate down and locked. But there is a possibility we'll board up; I'm still debating. At the end of the day, we're an art gallery, and we are for some sense of advocacy, but we're also trying to survive just like any other business.
Nick Hartman, owner of Olive's, a 30-year-old café on Prince Street, boarded up his windows after the cafe was looted during the summer, and never took the plywood down:
The people who broke into our space — we have video cameras so I know who they are — weren't protesters; they were looters who were carrying Louis Vuitton bags. They looked in the window, saw delivery bikes, and smashed the window so they could have a bike to ride.
We painted the wood the colors or our store so it was presentable, and also added a mural. I'm a classically trained painter, and unfortunately being a restaurateur meant I didn't have time to paint. Now I do.
A month in, customers asked, "Why are the boards still up?" My response was, "I am not going to take these down until the election." I ran into a friend who's a real-estate broker last week, and she said, "I hope you're boarding up your windows." I told her, "This is why I never took them down." If Biden wins, there isn't going to be much threat here. If Trump wins, there will be a huge threat. You don't have to have an opinion on who you vote for to know that's the reality.