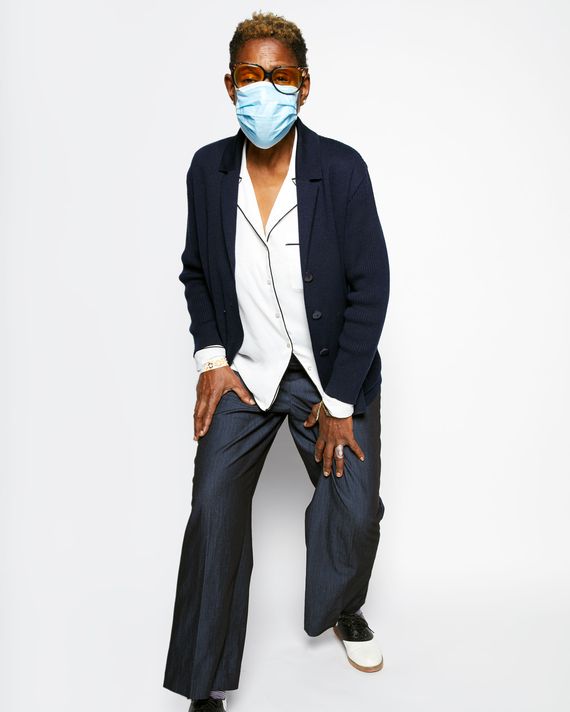 M. Saidia McLaughlin.
Photo: Jake Chessum
M. Saidia McLaughlin (pictured above), Retired public-health adviser, Cobble Hill.
Is this your first time as a poll worker?
No. I worked as a poll watcher when Nelson Rockefeller ran for governor. So that was at least — I'm 69, and I was about 15 years old then. I was at the Bronx High School of Science at the time, my father was a cutter in the Garment District — one of the few who knew how to match stripes and plaid. My stepmother worked at the post office, which was one of the few organizations that employed a great number of black people. In 1985, I joined the Navy because I was fed up with what I saw around me, the crack epidemic in my city. I was one of the few women who passed the test. I campaigned for Newark's first Black mayor. I worked in public health. I was a secondary mathematics teacher, I've taught adult education, and now I work at 99.5 FM as a producer. Throughout all of that, I've worked the polls.
How has it been going today?
Some long lines because of social distancing. People coming in to drop off absentee ballots because they just moved here from Nebraska. It's been beautiful. But back to Rockefeller for a second: You know how he died, right? In the sack. He was messing with a woman, and it was not his wife, Happy.
Lilibeth Colon, Courtside attendant, Brownsville.
Have you met a lot of first-time voters?
Oh, absolutely. They're coming in a little nervous and not sure what to do. A lot of them are embarrassed to admit that. Some are older. I say, "It's okay. You're here now. You're doing good. You should be proud of yourself." This is my first time being a poll worker. I am usually a courtside attendant. I could've said, "Nah, I don't want to." The course online was pretty long. It's a lot of reading. At the end, you have to take a test. It took like six hours, because I don't have a laptop computer, so I had to do it on my phone. And listen, it makes me nervous, because I don't know what's out there. There's a lot of mad people out there. I'm just hoping that we have enough security at each voting site just in case, just to keep everything in order. I have to get home to my disabled husband somehow. But still I'm glad I'm doing it. I'm glad I get to tell my kids I'm part of history.
Jacqueline Torres, Usher, Brownsville.
How's it been?
This is my third year doing this. The difference with this one? The voters that came to my table are emotional. A few of them even cried tears as they were standing before me and I was processing them, taking their name and all that. They keep saying, "I'm sorry, I'm sorry, I'm just so emotional." I never expected that kind of response.
Michael Ring, Disability-rights activist, Park Slope.
What's your job here?
I'm helping people submit their ballots. Today, I helped a 95-year-old guy vote. He didn't remember the last time he voted. The effort he put in—he was alone. He left his house by himself. No aide, no family member. He had to sign a touch-screen tablet. He couldn't really see. I helped him see the ballot. I walked him over to insert it into the machine, and he was joyous. I said to him: In two days, I'm going to run a whole marathon and it's going to be easier for me compared to what you just did.
Deidra M. Booker, Unemployed, Brownsville.
Is it hard to not talk politics on the job? 
Absolutely. You're excited, you're in the moment, but you're like, Keep still lips, can't talk about it in here.
*This article appears in the November 9, 2020, issue of New York Magazine. Subscribe Now!