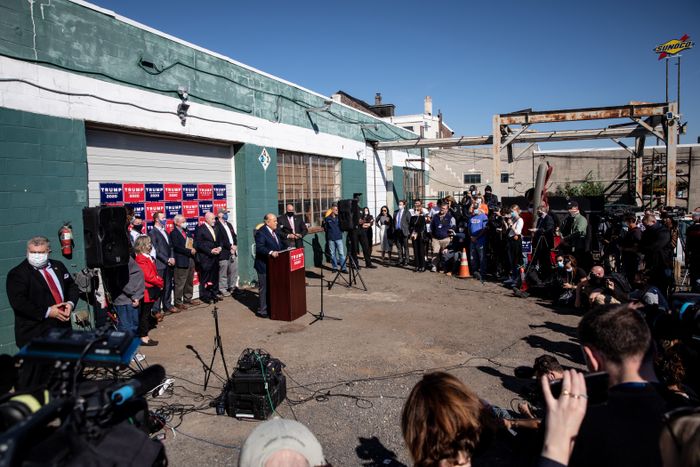 The golden escalator of 2020.
Photo: Chris McGrath/Getty Images
It's been 24 hours and yet it's still hard to believe … that a presidency erected on gilt and deception met its end in a ramshackle industrial-zone parking lot near an I-95 exit in Philadelphia. Trump, a real-estate and showbiz man, understands the symbolic power of location, location, location. He entered the political arena riding a golden escalator in the skyscraper that bears his name and contains his penthouse, a reminder that the affairs of state and his own possessions would always be intertwined. He gave interviews in the Lincoln Memorial, hoping the architecture's grandeur would obscure his pettiness. He must have appreciated the idea that his personal lawyer, Rudolph Giuliani—who came to national prominence standing amid the rubble of another architectural landmark—would choose the Four Seasons Hotel in Philadelphia as the spot to challenge the will of the people. It is, after all, the city's newest, fanciest, highest hotel, occupying the upper floors of its tallest tower, the Comcast Technology Center, designed by an actual Sir, Lord Norman Foster. What better place to broadcast lies?
But the president was mistaken; the press conference was in fact scheduled to take place at a different, unrelated business ten miles away: Four Seasons Total Landscaping. The name itself is magnificently Trumpian, goosed by that meaningless, grandiose modifier, total, which suggests that the firm is in the business of dynamiting mountains or, on a different scale, will mow any patch of body hair its customers desire. Instead of being invested in the majesty of the law and a democratic crusade, Giuliani managed to look diminished by a one-story taxpayer (the ironic term for a generic commercial building that generates barely enough revenue to keep the property from going into default) fronted by a garage door plastered with newly obsolete Trump-Pence campaign signs.
Four Seasons Total Landscaping joins the slabs of forlorn border wall and the graffiti-encrusted bathroom in Lafayette Square as the real monuments of an administration intent on ugliness and pathetic façades. Maybe the choice of venue was a not-at-all understandable mix-up. Perhaps it was sabotage on the part of a minion who had had enough. There's speculation on Twitter that Trump announced an event at the Four Seasons (hotel) before it had been booked, and aides had to scramble to find any venue that made his words true. None of these explanations makes sense, because the site was simultaneously too perfect to be accidental and too elaborate to be intentional. The end of an administration marked by episodes of sordid sex, wishful thinking, and mass death took place next door to a dildo-and-porn store named Fantasy Island and across the street from a crematorium. If you were hunting for such a symbolically rich stage, how would you even Google it?
The photos that emerged from the event had the tawdriness of America's worst cityscapes and the richness of an allegorical painting. The sound system's snarl of cables lay sloppily piled on the asphalt, the emblem of every garbled message. A Sunoco sign presided over the end of an administration desperately addicted to fossil fuels. Windows covered in blackout shades and bars recalled ICE detention centers. A rusting steel scaffold appeared to be propping up the whole derelict structure. And at the center of it all, a small man behind a cheap lectern trying to persuade a tired nation that this gimcrack spectacle must never shut down.